Reflections and Advice:
1.) What do you think makes your school unique relative to other boarding schools?
St. Paul's is a small all-boarding school set in a beautiful 2000 acre campus in Concord, NH. The small student body of around 500 allows students to live in an intimate, friendly setting. We get to know each other thoroughly as schoolmates, classmates, teammates, friends etc. Moreover, all faculty live on or around the campus. Each dorm also has around 3 live-in faculty families. Not only do they know you as a student, they also know you as a person from dorm life, the classroom atmosphere, team sports etc. They are a very friendly, supportive group of people who are always ready to help and support students. Even after graduating from St. Paul's, I still keep in close contact with my both my fellow students and faculty friends. Every Monday, Tuesday, Thursday and Friday mornings, we have an all-school gathering for half an hour in the Chapel. Also, the school gathers for a semi-formal dinner twice a week where there is table rotation so that we get to meet new friends and faculty. There is an advisee dinner every term where advisors either invite students to their homes or take them out for dinner, and just have a good time.St. Paul's is also a very diverse school. Diversity in the student body and students' talents alike. Despite being a small school, St. Paul's has a representative international student body. Furthermore, student talents extends out of the classroom. We have great athletes, musicians, debaters, actresses, artists etc. And St. Paul's provides an environment that fosters these talents.There is never lack of activity in the school. Throughout the year, there are drama productions, concerts, sports games, debate tournaments etc. Also, the school very frequently sponsors extremely special talented people from all over the US and other countries like England, to come and perform. It also sponsors students to fly to New York to watch the opera at the Met, to go to Boston to enjoy the Boston Symphony Orchestra, and to fly to McGill for the North America Debate Tournament.There is a strong Study Abroad program as well as Independent and Topics Study program where students can pursue their interests outside of the set school curriculum.Community service plays a big part in St. Paul's schoolife. Not only do students go to local Concord to help children, the elderly, the poor, the sick, the disabled...twice a year, these people are also invited to our school to enjoy the facilities and the company of our students.
2.) What was the best thing that happened to you in boarding school?
Boarding schoolife has helped me grow up and become a more mature, independent person. Although the process of growing up is not always pleasant, SPS is a good place that offers wonderful support. It challenges you, yet you know that there is always someone, or some group of people cheering you on.I treasure every aspect of my school life at St. Paul's. In terms of academics, I have learnt to be a more analytical person. In terms of sports, I am given the opportunity to display my skills and improve myself, as well as to develop into a team player. In terms of arts, I get to experience theatre performances, and join singing groups. Opportunities to see professional performances is also a very valuable experience. Socially, I miss my friends a lot. In fact, we're meeting up for Thanksgiving. I also miss the faculty. It is the first time I consider my faculty members friends as well as teachers. This is very special to me.
3.) What might you have done differently during your boarding school experience?
I arrived St. Paul's an extremely shy person. I wish I could have been a little more outgoing in some aspects.I would have applied earlier because I felt like there was so much more for me to explore. There are so many more classes I would have liked to have taken but didn't have the opportunity to.
4.) What would you never want to change about your school?
St. Paul's is a school with rich traditions that should never ever change. It should also always remain as a small all-boarding school in order to maintain the intimate setting that allows good integration among students and faculty.
5.) What things could be improved about your school?
One thing I was not too impressed was the gym, but the school is now in the process of building a brand new gym complex.
6.) Do you have any final words of wisdom for visiting or incoming students to your school?
* Go to breakfast. It's the best meal of the day, and you get to order your own omelette.* You have to go to the astronomy center at least once before you graduate. Occassionally, they will host an open house. I went during the meteor shower and it was a great experience.* Don't afraid of being ponded (in a non-malicious friendly way, of course). You'll know what that is when you get there. It's part of the tradition.* Despite the early hours, go to morning chapel. You'll never have the same experience again once you graduate, and you'll regret not going.* Get to know your teachers. They're a great group of people.* Go to "I forgot it's name" for the world's best ice-cream. Sorry about that, but I'm sure the whole school knows about it.* Go to Rectory Open House whenever there is one, and savor the lemon poppy seed cake.* Don't be afraid of challenges, and make sure you have fun.
7.) How was your experience as an international student?
There is an ESL program for international students who are need extra support in the use of English.Because there are quiet hours, the phones are cut off late at night. If there is a time difference from home, it might become a problem.Internet is available 24/7 in the libraries, but there are internet hours in the room.The Concord Trailways makes traveling to Boston more convenient, esp. for international flights that only leave from Boston.Share your experiences with people. It's a good way to make friends.
Academics:
1.) What did you like best about your school's academics?
St. Paul's focuses on a small classroom setting where you can get individal attention. Classes are no larger than 16 students. Not only are the classes challenging, they are also very innovative. It helps you think critically and encourages you to express yourself.There is a wide range of classes. There is also a very unique Humanities system. Not only are there electives in humanities, students of grades 9-11 are assigned a mandatory Humanities course where reading, writing and critical thinking are emphasized. It is a course that combined history, philosophy, literature and sociology in one. This gives students a basic knowledge of the integration of society as a whole.
2.) What did you like least about the academics in your school?
The competitiveness of the academic environment can be a good or bad aspect of the school. Some students welcome challenges, yet some students do not feel comfortable with the work load and the pressure. However, the faculty are very supportive and helpful at all times.We have Saturday classes in the morning.
Athletics:
1.) What did you like best about your school's athletics?
Joining sports team is one of the great methods to make new friends. Not only do you get to have fun together playing a sport, friendship and sportmanship are two of the most important aspects you learn through sports. There are frequent team gatherings and feeds to foster good team spirit.Your coaches are also your teachers or advisers, so they really get to know you as a person.The new gym is currently under construction.
2.) What did you like least about the athletics in your school?
Depending on the kind of sport you do, St. Paul's varies on the level of competitiveness relative to other schools. However, there are a few sports, like Football, that do not benefit from the small student body. Also, there is no swim team. Crew, however, is one of the biggest sports in the spring.
Art, Music, and Theatre:
1.) What did you like best about your school's art program?
Art is taken very seriously at St. Paul's. We have a very strong fine arts, music, theatre and dance programs. There are classes ranging from introductory drawing classes to AP Arts. In music, students can take individual music lessons as well as other music classes. Drama classes are very popular at St.Paul's. Mr. David Newman, a very passionate actor/director, used to head this department. However, he has recently retired. And the department is now headed by Mr. Stan Cahill, who I do not have the pleasure to work with yet, but I believe his experiences with professional theatres and Hollywood can bring about valuable inspirations to students. SPS also has one of the best dance programs around.
2.) What did you like least about your school's art program?
The dance program focuses mainly on ballet. However, we do have a hip-hop group in school.
Extracurricular Opportunities:
1.) What did you like most about the extracurricular activities offered at your school?
There is a wide range of extracurricular activities to choose from. There are singing groups, dance groups, debate teams, religious groups, academic groups, cultural groups, community service...and you are also free to start any new organizations you want.Each group has at least one faculty adviser who gives you his/her full support. Most groups also get generous funding, if appropriate.
2.) What did you like least about the extracurricular activities offered at your school?
Some groups have better committment than others.
Dorm Life:
1.) What was the best thing about dorm life in your school?
Dorm life is THE way to make new friends. Also, you get to know faculty families since most of them live in apartments attached to the dorms. Prefects and head of houses will occasionally arrange dorm activities, such as apple picking, and meetings. At the beginning of the year, there is a school-wide House Day, where we all hang in as a dorm, doing something fun.There are dorm meetings every Monday night when we discuss dorm issues. There are different curfew/check-in times for students of different grades. There is no lights-out. Dorms are single-sexed, and there is intervisitation hours at night. Most rooms are singles.
2.) What did you like least about dorm life?
The dorm selection process can be quite complicated. Also, room transfers are infrequent and discouraged.
Dining:
1.) What was the best thing about your dining arrangements?
Students and faculty use the same dining hall, so you get to meet faculty and their families, or even eat with them.There is an egg counter where students can order omlettes in the morning.Every Tues and Thurs night, there is a school-wide semi-formal sit-down dinner where seats are assigned so that we get to meet new people.
2.) What did you like least about your dining arrangements?
There is only one dining hall. The food is decent, though nothing spectacular...very typical cafeteria food (we get those really red and sweet strawberries though).
Social and Town Life:
1.) How welcome did you feel by the other students when you first arrived at the school
There were multiple welcome ceremonies for new students. Also, all new students get their respective Big Brother/Big Sister as a guide/support.I was rather homesick the first couple weeks I was there. However, my head of house and other faculty were always there. Things start to settle in really quickly once classes and sports started and in no time, I felt very comfortable.
2.) Describe the level of diversity and integration of students in your school:
There is a good percentage of international students in the school. It is unavoidable that little cliques form, but in general, all groups mingle very well.Cultural clubs also sponsor activities to raise cultural awareness within the school.
3.) Describe typical fun activities you did on a weekend:
We have Saturday classes in the mornings. Then I usually grab a quick lunch and hop on the bus for sports games at other schools. We usually grab dinner on the road, and arrive at the school after dinner. Then I usually hang out with friends and go to play productions or concerts that are happening that weekend. Or sometimes we would go out and watch a movie. The Rector of our school also hosts an Open House whenever he is around for the weekend. And they have the world's best lemon poppy seed cake! On Sundays, my friends and I will occasionally go out for lunch, then the rest of the day is devoted to work/study.
4.) What was the town like?
Town is a 15-20 min walk, or 5-8 min drive away from the campus. Students like to go to town for meals and for grocery shopping during the weekends. It's a cute town lined with cute little stores.The mall is a little farther, and the movie theatre is right next to the mall.
Daily Schedule:
Weekday
10:00 PM
Check-in and study
Weekend
1:00 PM
Lunch & Bus Trip to sports game
6:00 PM
Bus trip back & dinner on the road
8:00 PM
Watch performances
10:30 PM
Go to Rectory Open House
12:00 PM
Check-in & Hangout with drommates and dorm advisers
Mastering the Boarding School Selection Process: A 5-Step Guide
Discover the ultimate 5-step guide to choosing the perfect boarding school for your child. Explore essential factors, such as academics, campus facilities, extracurricular activities, and more. Make an informed decision to provide your child with an enriching and transformative educational experience. Read now!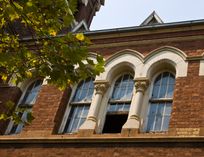 5 Founders and Their Boarding Schools
What prompts somebody to start a boarding school? The motives range from idealism to munificence right on through to capitalism. The common thread seems to be ample capital and a vision of what education can do.