St. Paul's School - Review #2
About the Author:

College Enrolled
Swarthmore College
Home Town, State (Country)
Boston, MA
Years Attended Boarding School
4
Activities During Boarding School
I was a pitcher and a catcher on the school's varsity softball team for four years, and a captain in my senior year. I played soccer for four years, and was captain of the junior varsity team my sophomore and junior years before moving onto the varsity team my senior year. I was a member and a project coordinator of the MISHionary society (dubbed MISH), a volunteer group that coordinated various activities and fundraisers, both on campus and in the local town. I was a tour guide for the admissions committee for three and a half years, and a chairmember on the Residential Life Committee for two years. I also volunteered time in study hall as a writing tutor in English and Spanish.
Daily Schedule:
Weekday
| | |
| --- | --- |
| 8:00 AM | morning chapel |
| 8:30 AM | classes |
| 12:15 AM | lunch |
| 1:15 PM | classes |
| 3:15 PM | sports |
| 6:00 PM | dinner/seated meal |
| 7:00 PM | studying/socializing/extra help |
| 10:00 PM | check in, socializing within your dorm, finishing up homework, etc. |
| 1:00 AM | bed time |
Weekend
| | |
| --- | --- |
| 9:00 AM | classes |
| 12:15 AM | sports bus leaves for an away game/report to the field for a home game |
| 5:00 PM | dinner |
| 7:00 PM | socializing, evening activities (dances, performances, etc.) |
| 12:00 PM | checkin |
Review

Description

Davidson College

St. Paul's was unique in that it was 100% boarding. Attending a school where absolutely all of the students (and the majority of the staff) reside on the same campus for the entire academic. . .

Swarthmore College

One of the most memorable and unique aspects of SPS is the boarding atmosphere. Everyone lives on campus in school housing, even students who hail from the local town. Teachers live on campus. . .
April 20, 2018
Actually, there is no secret to getting your child into boarding school. Just a lot of hard work and a heavy commitment of time.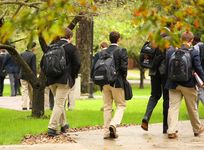 March 22, 2018
Some cynics think single-sex education is old-fashioned. The Kiski School shows how educating boys in a single-sex school is successful.
March 08, 2018
The wide range of fine academic, athletic, and other facilities found in boarding schools underscores the determination of schools to provide the very best for their students.