Reflections and Advice:
1.) What do you think makes your school unique relative to other boarding schools?
One of the most memorable and unique aspects of SPS is the boarding atmosphere. Everyone lives on campus in school housing, even students who hail from the local town. Teachers live on campus as well, many of them in luxurious apartments attached to the dormitories. The proximity of all members of the school community creates a close knit, family atmosphere. Students know each other by name, and chances are, if you pass someone on the path on the way to class, you know their name, and you've had a class together, played on the same athletic team, or participated in the same extracurricular activities. Twice a week, the entire campus gathers for a family style meal -- called seated meal -- where students, faculty and administration dine together. Every school morning, the entire school community convenes in a short, non-denominational church service, where we pray for people on their birthday, and hear prayers pertaining to different events in our community and around the world. When I first arrived at the school as a very young freshman, it was this close-knit feeling that made the transition to living independently at a boarding school so much easier. During my four years at SPS, it truly became my home away from home: I formed several very close, lasting friendships, not only with fellow students, but also with teachers, and even the Bishop (headmaster) of the school. The friendships formed and the communal living atmosphere helped shape the person I am and to ready me for college and the world beyond.Academically, one of the most unique aspects of SPS is the humanities program, in which History and English were combined into one class. This class teaches impeccable writing skills, as well as critical thinking and debate skills through analysis of history, literature, theater, and artwork. In this unique class, history did not happen in a bubble, nor was great literature written in a vacuum. Historical events are studied through contemporary literature and artwork, and the literature is understood within the context of the historical setting. That is to say, instead of studying ancient Greek and Roman history in one class, then reading the Odyssey and the Illiad in another class, the two facets of humanities (History and English) are combined, so that the students understand the context in which these epics were written and the ways in which the literature reflects the attitudes, customs, and current events of the time period. I found that this approach helped me to understand both subjects much better, and to appreciate the field of humanities much more. As someone pursuing an eventual career in medicine, my interest in the humanities, stemming from my humanities classes at SPS, prompted me to choose a liberal arts college, where I am still taking classes of interest in the departments of English and History.
2.) What was the best thing that happened to you in boarding school?
One of the best experiences I could ever have was the bond I formed with my freshman Humanities teacher. She helped me to grow so much as a writer, a thinker, and as a person. When I entered her class I was a perfectionist and a very "intense" (that is the word my teachers always used till then) student. For my first semester, I obsessed over my grades and my progress. She taught me what was most likely the most important lesson of my life: that it is the journey, and not the destination, that matters. I learned to cherish the learning process, and find value in things I discovered, or figured out, or the impossibly tough math problem I solved, rather than to worry about whether or not I got an "A." This is most likely the most important and memorable lesson I learned and will learn throughout the course of my education.
3.) What might you have done differently during your boarding school experience?
I wish I would have become involved in more activities. There were undoubtedly countless opportunities missed because I chose not to attend QSA meetings, or join the debate team, or to go abroad. My advice is to follow whatever and however many interests you have in high school. Its' your opportunity to explore your interests, an opportunity you may lose in higher education. Find your passion, your niche, your skills, and learn something about yourself along the way.
4.) What did you like most about your school?
I liked the fact that every aspect of the school was attuned to foster the growth of each and every student's mind, body AND spirit. During my four years there, I didn't only grow as an academic, I grew as a person. I didn't leave SPS with just good writing skills and acceptance to a top three school, I also took with me an appreciation for the value of community and a much better understanding of who I was as a person.
5.) Do you have any final words of wisdom for visiting or incoming students to your school?
I highly recommend taking the Literature of Witness class... a class that studies some of the darker periods of history -- the Holocaust, the Armenian Genocide, etc. It is taught by an amazing professor, and has an amazing booklist, and culminates in a trip to the National Holocaust Museum in DC. Not to be missed!For visiting students: ask a lot of questions! As a tour guide I can tell you that we could never possibly tell you absolutely everything in a forty five minute tour, but we are very interested in helping you learn more about your particular interests (two particularly useful questions you should always ask, that will give you the best insight into ANY school are "what is your favorite memory thus far?" and "what one thing would you change about the school?"I'd also highly recommend trying something new once you get there: do something you've never done before, and see what you think. There are so many opportunities, take advantage of them!...and of course, one more recommendation: Ben and Jerry's at the snack bar!!!
Academics:
1.) Describe the academics at your school - what did you like most about it?
The small class size (averaging 8-10 people per class) allowed for a lot of attention in each class, most of which were taught in the style of the Socratic seminar, with everyone sitting around a table engaged in open discussion, rather than a lecture format. The range of classes and electives available was outstanding. I enrolled in classes that interested me -- i never felt like I was "settling" for a humanities or science credit.Undoubtedly the best part of the classes, though, was the caliber of professors. I mean "caliber" not only in academic knowledge, but also in their devotion to and care for their students. I am not sure I will ever again have the privilege of finding a school where the teachers care so much about their students, or were so invested in our education. I had teachers who shared in my successes, no mater how small, and offered guidance when I struggled, not only with homework, but with the sometimes arduous task of growing up. Most people are very lucky to find one such teacher during their school years, but at SPS, there is an entire school of them! It truly shows that SPS is committed to educating each and every student as a whole person, not only as a kid in a classroom.Boarding school students are often characterized as over achieving competitive teenagers, but this is not at all how I would characterize the environment at SPS. At SPS, everyone helped everyone else, an ethic that most likely stems from the Socratic method of learning, in which the classroom dialogue is only as engaging and enlightening as the students make it. During my time there, I collaborated with fellow classmates countless times, be it in study groups, or in proofreading each others' papers before a big due date. I found that at SPS, you not only learn from your teachers, you learn from your fellow classmates and dormmates and teammates as well.
Athletics:
1.) Describe the athletics at your school - what did you like most about it?
Athletics provides another opportunity to form tight bonds with members of the community with whom you might not otherwise have such close contact. Professors coach the majority of the sports, so again, the community aspect of life that SPS holds so dear is reinforced.I liked the fact that at SPS, there is a sports requirement. As a freshman and sophomore, a student is required to participate in a sport or athletic activity all three semesters. As a junior, a student may choose to opt out of one semester of athletics, and as a senior, athletics are optional. In order to fulfill my sports credits in my freshman year, I began playing soccer on a club team. I fell in love with the sport, and quickly moved up from the club team to the junior varsity team to the varsity team. What began as a mandatory requirement became a sport I fell in love with, and continue playing today. I doubt that I ever would have picked up the game otherwise.Unfortunately, there is still room in the athletics program for improvement. The school is currently building a brand new, much needed sports complex. However, I think it would be great if a little more could go into improving some of the traditionally less high profile teams. As a member of the softball team for four years, I was disappointed that we had little or no budget for four years (I had to buy my own catching mask, because no money was allotted for this) and the football team struggles perennially, while other sports, particularly crew, received incredible funding through endowment and school budgeting.
Art, Music, and Theatre:
1.) Describe the arts program at your school - what did you like most about it?
I had very little experience in the visual arts, theater or dance programs, but I did take piano lessons for four years. Musical lessons are included in tuition, and are taught by extremely talented and devoted music teachers hired by the school to match the personalities and interests of the students in the program.Despite the fact that I had very little experience in the fine arts department, I was amazed at the caliber of productions, performances, and recitals put on by the theater, dance, and music groups each year.
Extracurricular Opportunities:
1.) Describe the extracurriculars offered at your school - what did you like most about it?
There were such a diverse number of hobbies and interests that a student could pursue. There was literally a group for every individual. And the fact that such a large number of students participated in the activities only enriches the program further.
Dorm Life:
1.) Describe the dorm life in your school - what did you like most about it?
Dorm life was fantastic. Rooms were spacious and always very well maintained. Each dorm seemed to have its own personality: the quad was for the most social people, Armor and Foster is where the crew team lives, and Conover Twenty are for those people always in danger of oversleeping and missing chapel (stereotypes somewhat exaggerated.) Although the housing process was overly complex and sometimes stressful, the housing committee worked hard to make sure you lived with some of your friends and that the personality of the student was a good fit with the dorm and the students living there.Professors play a major role in dorm life: they lived attached to the dorm, and they are the advisors and mentors of the students living there, so there is a good deal of student-teacher interaction in a home environment, not only in the classroom. I have many fond memories of ice cream sundae-making "feeds" (late night snacks) and baking cookies and the annual "John Cusak marathon" in Brewster House.Mandatory check-in, although obviously important, seemed to get a bit stifling by the time you were a senior. By the time I got to be a senior, I was pretty sure that my curfew and privileges at home would be much more lax than they were at school. However, there was a unique privilege called intervisitation ("intervis") which allowed socializing with members of the opposite sex in dorm rooms during supervised hours, from 7:30 till 9:30 at night. These times were great for being able to hang out with a group of friends in a quiet environment, or for study groups in the comfort of your own room.
Dining:
1.) Describe the dining arrangements at your school.
The cafeteria served the best cafeteria food you could hope for, but then again, it was still cafeteria food. There was a good variety of foods, always something for every palate, but, as is the price you pay for cooking for the masses, sometimes the flavor was a bit lacking. However, as far as cafeteria food is concerned (and having moved on to a college cafeteria) SPS students are very lucky.
Social and Town Life:
1.) Describe the school's town and surrounding area.
Town was a bit far from school (a 15-25 minute walk) and the mall (a very small mall) was even further. However, the town was a quaint old mill town, with a neat main street lined with small shops that were fun for students to browse. And there was the world's best Thai food restaurant!!! I highly recommend Siam Orchid on main street to anyone visiting the area!
2.) Describe the social life at your school - what did you like most about it?
I liked how closely friendships were formed. I doubt that I could ever form such close friendships in an environment where I saw my friends for six hours a day, then took a bus home. Some of my best memories are throwing water balloons on a hot day in May, going swimming in the schools crew pond, and curling up and watching a movie with my best friend after I'd finished helping him with Spanish homework. I also really liked the fact that I knew everyone by name, teachers and students alike.
Daily Schedule:
Weekday
6:00 PM
dinner/seated meal
7:00 PM
studying/socializing/extra help
10:00 PM
check in, socializing within your dorm, finishing up homework, etc.
Weekend
12:15 AM
sports bus leaves for an away game/report to the field for a home game
7:00 PM
socializing, evening activities (dances, performances, etc.)
Mastering the Boarding School Selection Process: A 5-Step Guide
Discover the ultimate 5-step guide to choosing the perfect boarding school for your child. Explore essential factors, such as academics, campus facilities, extracurricular activities, and more. Make an informed decision to provide your child with an enriching and transformative educational experience. Read now!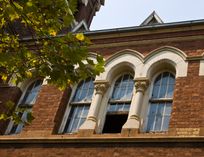 5 Founders and Their Boarding Schools
What prompts somebody to start a boarding school? The motives range from idealism to munificence right on through to capitalism. The common thread seems to be ample capital and a vision of what education can do.