St. Paul's School - Review #1
About the Author:

College Enrolled
Davidson College
Home Town, State (Country)
Attleboro, MA
Years Attended Boarding School
4
Activities During Boarding School
While I was at St. Paul's I participated in many of the club sports (club soccer and club hockey) as well as playing JV Baseball, and JV Football. Additionally, I was the MISH and ECO House Representative for my dorm (Manville). This position required that I provide my peers and house-mates with information about how they could best get involved in the Concord community as well as ensuring that dorm-life was environmentally friendly (shutting lights off, not leaving water running, recycling whenever possible, etc.)
Review

Description

Davidson College

St. Paul's was unique in that it was 100% boarding. Attending a school where absolutely all of the students (and the majority of the staff) reside on the same campus for the entire academic. . .

Swarthmore College

One of the most memorable and unique aspects of SPS is the boarding atmosphere. Everyone lives on campus in school housing, even students who hail from the local town. Teachers live on campus. . .
April 20, 2018
Actually, there is no secret to getting your child into boarding school. Just a lot of hard work and a heavy commitment of time.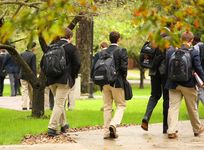 March 22, 2018
Some cynics think single-sex education is old-fashioned. The Kiski School shows how educating boys in a single-sex school is successful.
March 08, 2018
The wide range of fine academic, athletic, and other facilities found in boarding schools underscores the determination of schools to provide the very best for their students.