Reflections and Advice:
1.) What do you think makes your school unique relative to other boarding schools?
The value of Westtown's community is immeasurable. The teachers are knowledgeable and dedicated to the school and it's mission. The students are accepting of differences and want to be challenged. The 600 acre campus has much to offer and provides a safe place for students to learn and discover their passions.
2.) What was the best thing that happened to you in boarding school?
The Westtown education is so much more than just learning in the classroom. While many parents are skeptical of the boarding experience, seeing it as giving up the last 2 years with their children, they need to instead see the opportunity and experiences that they are giving their children. My experience at Westtown is something I, quite frankly, took for granted when I was there. It was only when I left, came to college in Boston, and heard about other high school experiences that I learned how lucky I was. I learned the value of managing my time which allowed me to excel in my first semester of college. I was able to learn my new school and make new friends, without being overwhelmed with balancing school work and being away from home. At Westtown I learned how to articulate my opinions and share my ideas, while simultaneously learning to listen and value the opinions of my classmates regardless of whether or not I agreed with them.
3.) What might you have done differently during your boarding school experience?
I would recommend keeping an open mind and embracing the Westtown community rather then resisting it. It can be hard to get used to at first but, once you realize what a unique opportunity you have, try not to take it for granted. Challenge yourself to break away from your comfort zone and be open to learning about others and their experiences. Have fun and take advantage of all Westtown and your teachers have to offer!
4.) What did you like most about your school?
The sense of community, mutual trust between teachers and students, living with my friends in a safe and trusting environment, participating in sports teams, and obtaining a global education that has continued to influence me throughout my college career.
5.) Do you have any final words of wisdom for visiting or incoming students to your school?
Remember to take time away from school work to hangout with your friends and de-stress. Enjoy your time in high school and stay connected with your classmates even after you've graduated.
Academics:
1.) Describe the academics at your school - what did you like most about it?
Westtown academics are challenging and classrooms are discussion based. Teachers are not only knowledgeable, but passionate about the subjects they teach. They encourage students to be engaged, ask questions, and dig deeper into subject material. Difference are celebrated at Westtown and that is also true with regard to students' varying opinions. Students feel comfortable expressing their views and respectfully debating with each other. While the workload is challenging at times, students learn to manage their time wisely (between school work, sports, and community activities) which is a skill that I've found to be very valuable in college.
Athletics:
1.) Describe the athletics at your school - what did you like most about it?
The mandatory participation in sports teams not only allows for bonding between students, but also encourages students to be confident in their abilities and leaders in the community. It provides a way for younger and older students to connect and learn from each other outside of the classroom. Classmates and peers from other sports teams support each other at home games, instilling a sense of unity and school spirit.
Art, Music, and Theatre:
1.) Describe the arts program at your school - what did you like most about it?
Participating in Westtown's orchestra for 9 years was a truly enriching experience and gave me the opportunity to make friends with people I might not have had the chance to get to know otherwise. Westtown's music program challenged me to become a better musician not solely for myself, but for my peers as well. I learned the value of practice, time management, and commitment. I was continually supported and encouraged whether I was performing for the Westtown community or in local competitions.
Extracurricular Opportunities:
1.) Describe the extracurriculars offered at your school - what did you like most about it?
Westtown constantly encouraged us to give back to the community, whether it was through community service days, clubs, or helping out in lower school classrooms. Being an active volunteer with Habitat for Humanity, I wanted to give others in the community a chance to give back to those in need. As a result, I started the Habitat for Humanity club and was fully supported throughout the entire process. Teachers were always asking to help out on builds and students were more than willing to dedicate a Saturday to work on-site. Westtown's Work Program taught us the power of teamwork and cooperation, as well as the importance of cleaning up after ourselves and the work that goes into running a kitchen in a boarding school. Weekend trips to local events, concerts, movies, and stores allowed us to further bond with our peers as well as get off campus and explore the surrounding areas.
Dorm Life:
1.) Describe the dorm life in your school - what did you like most about it?
I consider dorm life to be one of the most important aspects of my entire Westtown education. Boarding not only allowed me to learn about new cultures but to celebrate differences. Being a dorm prefect allowed me to become a leader and role model for my peers. Living with my teachers and getting to know them, and their families, outside of the classroom allowed me to build much stronger relationships with them that I wouldn't necessarily have at a typical day school.
Dining:
1.) Describe the dining arrangements at your school.
Community dinner once a week gave us the chance to come together as an entire student/teacher body to enjoy each other's company, share stories and experiences, and display talents during community sharing. Having a moment of silence before each meal served as a reminder of our school's Quaker values and being served family style enforced the importance of friends and community. The food was typical, but the company more than made up for it!
Social and Town Life:
1.) Describe the school's town and surrounding area.
Being from the area, I know the surrounding towns fairly well. West Chester is a bustling college town with many coffee shops, restaurants, and boutiques. Weekend van trips go to many surrounding grocery stores, shopping malls, concerts, and other area events.
2.) Describe the social life at your school - what did you like most about it?
There was no pressure to be someone other than yourself. Everyone is accepting of differences and encouraged to share their experiences and stories with the community. Doing well in school is encouraged and not something to be ashamed of as it is in many other schools. Students are self-motivated and strive to work hard and get the most out of their education. The friends I made and the relationships that I formed are ones that I will likely have for the rest of my life.
Daily Schedule:
Weekday
Weekend
Small Quaker school, tight group, not so much focused on strong academics as much as creating good individuals in society.. . .
Westtown has a beautiful campus. It was beautiful and especially safe to walk around any time of day. Also the style of teaching is very hands on and has small classes, usually with. . .
Two aspects of Westtown that stand out in particular are its sense of community, and the education driven towards social change. Its sense of community is in part due to the fact that Westtown is. . .
Show more reviews (

41 reviews

)
Mastering the Boarding School Selection Process: A 5-Step Guide
Discover the ultimate 5-step guide to choosing the perfect boarding school for your child. Explore essential factors, such as academics, campus facilities, extracurricular activities, and more. Make an informed decision to provide your child with an enriching and transformative educational experience. Read now!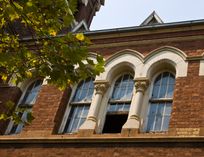 5 Founders and Their Boarding Schools
What prompts somebody to start a boarding school? The motives range from idealism to munificence right on through to capitalism. The common thread seems to be ample capital and a vision of what education can do.