Reflections and Advice:
1.) What do you think makes your school unique relative to other boarding schools?
I enjoyed the fact that Choate was a more liberal school. It allowed you to really figure out who you were without the social pressures of being a perfect, preppy kid. The general atmosphere of growing up without the pressures of parents encouraged everyone to reach out to the Choate community and find someone to click with. I found people who I've remained friends with and who are still possibly my closest friends of all.
2.) What was the best thing that happened to you in boarding school?
I figured out who I really was without the pressures of parents or a horrible social group.
3.) What might you have done differently during your boarding school experience?
Not much. I might have gone to more classes and possibly worked harder, but I got so much out of my experience while there, I don't think I would change a thing.
4.) What would you never want to change about your school?
The liberal atmosphere.
5.) What things could be improved about your school?
Nothing really.
6.) Do you have any final words of wisdom for visiting or incoming students to your school?
Talk to your professors, advisers, or coaches. You never know when you will need a shoulder to lean on, and they really care about you.
Academics:
1.) What did you like best about your school's academics?
The ability to take a variety of classes at any level. The teachers were really helpful in and out of class. Always available.
2.) What did you like least about the academics in your school?
Very rigorous. There was a lot expected of us at a very young age.
Athletics:
1.) What did you like best about your school's athletics?
Athletes held a different social position than the rest of the school. We could get away with a lot. Since all the schools in our league were scattered around New England, the long hours spent on a bus or in a van promoted team unity and encouraged strong friendships.
2.) What did you like least about the athletics in your school?
Some of the coaches were not adequately qualified for their positions.
Art, Music, and Theatre:
1.) What did you like best about your school's art program?
The guy's a capela group.
2.) What did you like least about your school's art program?
The separation between the artsy people and the rest of the school.
Extracurricular Opportunities:
1.) What did you like most about the extracurricular activities offered at your school?
A huge variety. There was something for everyone.
2.) What did you like least about the extracurricular activities offered at your school?
It required a huge time commitment at any level. Very hard to "just be involved" without spending hours a week.
Dorm Life:
1.) What was the best thing about dorm life in your school?
Living with students of your age range without adult supervision. That helped me to become responsible for myself and grow up.
2.) What did you like least about dorm life?
The fact that very few houses had students from various classes in them. Either all freshman or all seniors, and a few with juniors and seniors.
Dining:
1.) What was the best thing about your dining arrangements?
Everyone ate together and at the same time. The dining hall was one of the best social atmospheres at Choate.
2.) What did you like least about your dining arrangements?
The food wasn't very good.
Social and Town Life:
1.) How welcome did you feel by the other students when you first arrived at the school
I had a great time. Everyone was really accepting of the new kids, and I was 1,000 miles away from my parents and 14. What isn't there to love?
2.) Describe the level of diversity and integration of students in your school:
Huge. Kids from 49 states, almost forty countris, almost 20 languages spoken. The school's population consisted of almost 30% foreign kids. It was a level of diversity I miss and have never come close to again.
3.) Describe typical fun activities you did on a weekend:
Sports games and matches, then just sort of hung out, relaxed, and slept in. It was nice just to have some time off. Senior year we took the train into NYC a lot since several kids had houses there, or went to day students' houses for some time away.
4.) What was the town like?
We venuted into town when we could. The town itself wasn't that spectacular but there was a coffee shop, a few restaurants, and places to hang out. Mostly, kids took cabs to the movies or the local mall to get away.
Daily Schedule:
Weekday
Weekend
9:00 PM
Saturday detention
At Choate, I felt that the faculty and administration really cared about my wellbeing and growth. Classes were mostly organized to allow for discussion and office hours were easy to attend and allowed for personal. . .
Choate has a diverse and interesting study body from all around the world. While it is an old and prestigious boarding school, I found Choate to be less traditional than some of its peer schools. . .
The community is definitely Choate's greatest asset, and the admissions folk do a great job of picking students. We're a pretty chill bunch, so you won't find much of the cut-throat competitiveness that usually accompanies. . .
Show more reviews (

27 reviews

)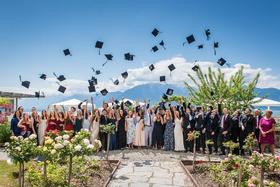 Nurturing Futures: A Journey through Boarding at Haut-Lac School in Switzerland
Nestled in the hills overlooking Lake Geneva in the French-speaking part of Switzerland lies an educational gem that embodies a unique blend of academic excellence, cultural richness and a profound sense of community. Founded over 30 years ago, Haut-Lac International Bilingual Day and Boarding School is now home to both 600 day students and a maximum of 30 boarders from around the world.
What To Wear at Your Job Interview
Navigating job interviews can be stressful, but knowing what to wear shouldn't be. Our comprehensive guide covers the essential dress code tips for men and women interviewing at boarding schools. Make your first impression count with style and professionalism.
Navigating the Modern Maze: Emerging Challenges for Boarding Schools
Explore the pressing challenges facing boarding schools, from marketing difficulties and rising insurance costs to facility maintenance and recruitment of competent trustees and teachers. This article delves into these complex issues and proposes innovative strategies to overcome them.