Reflections and Advice:
1.) What do you think makes your school unique relative to other boarding schools?
I think there are two things that make Webb unique from other boarding schools, which is the Honor Code and the bonds you build with your faculty when you're at Webb. As our founder Thompson Webb would always say "without honor, there is no trust; without trust, there is no community." The close-knitted Webb community is built upon the honor that Webb emphasizes. I remember the days when I could always leave my backpack outside of the dining hall and would not have to worry about being stolen. This is the trust and integrity that Webb students and faculty exemplify through their daily actions. This idea of community extends to my second point, which is the strong relationship you build with your teachers, even after Webb. My history teacher wasn't just my mentor in class but he was also my adviser outside of class, my coach on the field and my friend after Webb. This applies to all the other faculty on campus and I cherish the relationships we built over the years at Webb. This is definitely something that makes Webb very special.
2.) What was the best thing that happened to you in boarding school?
Holding leadership positions on campus and made a difference on campus. Although they were a huge time commitment that required a lot of effort, they provided me rewarding and memorable experiences that I could not get elsewhere. I would also encourage everyone to give a chapel talk, which is an opportunity for you to address the student body on a topic you're interested in.
3.) What might you have done differently during your boarding school experience?
I would do it again if I had the chance. Advice? Make the most out of any boarding school because it will be an amazing experience!
4.) What did you like most about your school?
Lifelong friendships. Can't stress that enough but people you meet at Webb will truly become some of your best friends in your life.
5.) Do you have any final words of wisdom for visiting or incoming students to your school?
Definitely get involved at Webb and hold leadership positions. Try out a weekend outdoor trip or an afternoon activity that is out of your comfort zone. And when you become a senior, give a chapel talk and hike down to Grand Canyon or Half Dome at Yosemite with your class!
Academics:
1.) Describe the academics at your school - what did you like most about it?
The curriculum was definitely challenging but manageable. Apart from all the AP classes, I also took interesting and fun classes such as 21st Century Inc. Think, which focuses on teaching student entrepreneurship and human-centered design, and journalism, which publishes the school newspaper. Teachers are very helpful if you have any questions and you can always visit them during office hours. Every student also has one or two free periods out of the 7 rotating blocks schedule. I liked this system a lot because I could use that time to either study for a test or just hang out with friends.
Athletics:
1.) Describe the athletics at your school - what did you like most about it?
Every day after class, every student is required to attend either a sports or afternoon activity. Webb offers a wide variety of sports for competitive students, ranging from football and soccer, to triathlons and mountain biking. As for afternoon activities, you can choose from art sessions to yoga, and from functional fitness to leadership workshops. The sports program is strong at Webb, especially for the Triathlon team, which I was very involved with. As a team, we competed in many triathlon and running races across the state, and we would almost always dominate in our age groups. One thing to note is that every student is required to participate in one season of sports.
Art, Music, and Theatre:
1.) Describe the arts program at your school - what did you like most about it?
I took Art AB class at Webb and I had a lot of fun with it. I've seen shows, art exhibitions and concerts put on by our students and they are always fabulous. The black box theater and the new auditorium has also strengthened the Webb's art and theater program. Every student is very encouraged to try out for choir or audition in an upcoming show.
Extracurricular Opportunities:
1.) Describe the extracurriculars offered at your school - what did you like most about it?
I was very involved with the school as I held multiple leadership positions on campus. There are organizations on campus ranging from community service to extreme sports and cultural immersion. Apart from clubs I liked a lot about the weekend trips Webb offers. Every weekend, a Webb faculty will drive students to different places around LA for a various activities, such as a overnight star-gazing trip at Joshua Tree, a day trip to Six-Flag, an evening to Santa Monica or an overwhelming food trip to Ding Tai Fung! Another event worth mentioning is the Unbounded Week help once every 2 years in February. There is no school for a week and students can sign up for a trip led by faculty members to do whatever interests them the most. I did a bike trip down the California coast and it was one of the most memorable experiences I had at Webb.
Dorm Life:
1.) Describe the dorm life in your school - what did you like most about it?
Dorm life is a huge part of the Webb experience. I became more mature and independent after boarding at Webb and I eventually became a dorm prefect, which I'll talk more about in this section. Every dorm is overlooked by a prefect and a dorm head, which is a faculty living nearby, to ensure every resident is safe and accountable. Apart from that, residents can always count on the prefects if they have any problems, either academically or just going through a low point in their lives. There are also dorm activities ranging from Dorm Olympics (athletic competitions between dorms), Webb Idol (a talent show) and Christmas parties. As for rooms, every boy has a single room with a sink and girls have double rooms. Rooms are pretty spacious and I encourage all students to apply for prefect if you want a bigger room (mine came with a balcony and could fit up to 20 people). Room selection process is determined by how many gold stars you have, which can be earned by passing the room checks every day.
Dining:
1.) Describe the dining arrangements at your school.
Dinners are buffet style, and always have an amazing salad bar. Formal dinner, which require every student to dress up and eat with a faculty member, happens twice a week. This is a very good opportunity for students to get to know others better. There are also snacks and fruits available throughout the day if anyone gets hungry.
Social and Town Life:
1.) Describe the school's town and surrounding area.
Webb is located at a small and peaceful town called Claremont. There are many good restaurants around the area as well as couple regional parks that I biked to. One of the reasons I chose Webb was because of its proximity to downtown LA and LAX, which is only an hour away.
2.) Describe the social life at your school - what did you like most about it?
It's hard to believe this but the friendships you make at Webb will last a lifetime. Since Webb is such a small community, I knew everyone's name on campus. I was friends with people not just from my class, but from other classes as well. Even now, I still keep in touch with many of my friends from Webb and we still manage to see each other even though we all attend colleges around the world.
Daily Schedule:
Weekday
8:00 AM
Breakfast at Dining Hall
9:45 AM
Chapel Talk/ All school meeting
12:45 AM
X-Block/ Office Hour
2:45 PM
Sports/ Afternoon Activities
Weekend
9:00 AM
Bike Ride/ Run around Claremont
11:30 AM
Go on a weekend run to Ding Tai Fung
2:00 PM
Go to Target for a snack run
3:00 PM
Hang out with friends
The classroom setting of a round table discussion instead of lecture based teaching. I believe it really puts the pressure on the student to understand what is going on in the class and bring an. . .
Webb has a clear focus on community and it really shows. When you are a student you become best friends with the faculty and your fellow students, traversing the boundaries of what most schools can. . .
The Webb Schools is unique in many ways different than other boarding schools. One being that it is a boy's school and a girl's school on one shared campus. This allows the freshman and sophomore. . .
Show more reviews (

26 reviews

)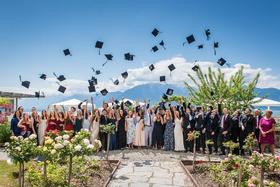 Nurturing Futures: A Journey through Boarding at Haut-Lac School in Switzerland
Nestled in the hills overlooking Lake Geneva in the French-speaking part of Switzerland lies an educational gem that embodies a unique blend of academic excellence, cultural richness and a profound sense of community. Founded over 30 years ago, Haut-Lac International Bilingual Day and Boarding School is now home to both 600 day students and a maximum of 30 boarders from around the world.
What To Wear at Your Job Interview
Navigating job interviews can be stressful, but knowing what to wear shouldn't be. Our comprehensive guide covers the essential dress code tips for men and women interviewing at boarding schools. Make your first impression count with style and professionalism.
Navigating the Modern Maze: Emerging Challenges for Boarding Schools
Explore the pressing challenges facing boarding schools, from marketing difficulties and rising insurance costs to facility maintenance and recruitment of competent trustees and teachers. This article delves into these complex issues and proposes innovative strategies to overcome them.