Reflections and Advice:
1.) What do you think makes your school unique relative to other boarding schools?
One really unique aspect of Miss Halls is the Girl's Leadership Project (GLP) which includes campus programs such as Horizons, PAaLS and MAPS. Horizons is a program where all students volunteer at severl local businesses and on campus. Freshman work in the greenhouse and on academic preparation seminars, sophmores and juniors work off campus as volunteers at different local sites such as schools, offices, nursing homes and many other sites. Seniors are also off campus, but their work experience revolves around an internship and a senior project. PAaLS is the Personal Authority and Leadership Source, which is responsible for the documentary A Seat at the Table, where MHS girls investigated the world of womens leadership. MAPS is Mira's Alliance for Philanthropic Sustainability, a project on campus that aims towards fundraising and philanthropy. These opprotunities are available to students at all grade levels.
2.) What was the best thing that happened to you in boarding school?
It is hard to pinpoint the best things to happen at boarding school. Everyday that I was at school I felt supported and challenged. One of my proudest moments was being cast as The Wiz in our production of The Wiz my junior year. This experience really put me outside my comfort zone, and taught me that I was much more capable of things that I had believed I couldn't do, and it was also another year in which I made and strengthened some of the best friends I could have during the musical process. Through this and many other aspects of MHS, I went from a very indecisive, hyper, unure and eager freshmanto a well-prepared, confident, and worldy-aware senior, with a drive and with the tools to make a difference.
3.) What might you have done differently during your boarding school experience?
I would have gotten involved in more extracurriculars right at the start of my freshman year instead of waiting until I was settled. My advice would be to remember that being away means learning, growing, and taking advantage of opportunities. Don't wait, and let yourself enjoy the experiences you have, and you will make families and homes at boarding school that are important, strong and life-long.
4.) What did you like most about your school?
The overall favorite thing I loved about MHS were the friends I made and the sense of home I got from being on campus. There is no better feeling than the sense of belonging that I felt at MHS, and it was through this that I felt comfortable taking the risks I did that prepared me well for college and influenced me as a person.
5.) Do you have any final words of wisdom for visiting or incoming students to your school?
It is worth it to take a trip to Dotties, Marketplace, or Ben and Jerry's if you are visiting as they are right on North street and are favorite places of mine (Dotties is owned by an MHS alum!). I loved being in the student center and the darkroom on campus, an if you have any interest in photography I highly suggest that you try and visit the darkroom in the Klien.
Academics:
1.) Describe the academics at your school - what did you like most about it?
The academics at Miss Halls are challenging but rewarding. Each class is small and each student is known by the teachers who actively work with students as needed. Honors and AP classes are offered for several different subjects to challenge those who wish to. I always valued the environment of the classrooms at MHS. The teachers are fantastic, and they are always approachable. I loved being able to have lunch and outside-of-class conversations with my teachers, who were always willing to have a discussion about countless topics. Even when visiting back a few months ago I spent over and hour speaking with one of my favorite teachers, and I am still in contact with several of my teachers now that I have left. I do not think that an excellent education is unique to MHS, although it certainly is a challenging four years that prepared me better than I ever could have known. However, I do feel that the teacher-student relationship is one of continuous support and care, that allows students to push their limits and know that they can succeed.
Athletics:
1.) Describe the athletics at your school - what did you like most about it?
I have met many people since going to MHS who were surprised to find that I played a Varsity sport. I think that in many places, it is hard to play on a higher level of atheltics unless you are already the best of the best, and that is not the case at MHS. Sports are mandatory, two a year, one being a team sport, although there is room to replace part of this requirement with participation in the play, musical, or outside sports. Varsity and JV tryouts are open to all grades, and even the less experienced players get a chance to improve their skills, learning from their peers and their coaches. This does not mean that the althetics are not competitive. Especially within the last several years, athetics have been on the rise and only getting better. MHS has also recently put money into new and improved fields including a new softball field, which is fantastic. The gym and fields are kept up-to-date, and are kept clean and safe. The best way to get a feel for the facilities is to visit them or see pictures. The coaches vary between those there to coach, and teachers who put in time to coach a sport that they play or have played. This entirely depends on the level and the sport. The coaches embody the spirit of a competition, and work hard, but they also are important mentors and are there for the athletes.
Art, Music, and Theatre:
1.) Describe the arts program at your school - what did you like most about it?
I was very invested in this area of the school, including takin Photography, participating in the musicals, being an active member of the Jazz band and a Rock band, taking vocal lessons, and participating in and leading the Vocal Ensemble my senior year. MHS dedicates the Klien building to the Arts, named after a beloved art teacher. In the Klien building there is a ceremics studio, art studio, digital lab (photography), a darkroom, and Woods Theatre. There is also a large music room in the main building and several practice rooms with pianos, drums, and space to rehearse. It is very easy to participate in arts on campus, through the opprotunities that I named above, as well as the school's acapella group, The Grace Notes, and the yearly plays. There is also a new event each year that celebrates the arts, as well as several shows throughout the year that provide the stage for students to show their work and have the opprotunity to enter their work to be displayed in the Norman Rockwell Museum and to be purchased by the school. There are countless opprotunities to take musical lessons in a variety of insturments, as well as several shows a year including Jazz and Rock nights (an intimate gathering where rock and jazz bands perform, as well as individual students), Classical Night (where students in the Classical music group perform, as well as individuals) and many vocal nights where individual and groups perform vocally. MHS also hosts an annual Coordinate Concert, where vocal groups from other schools join in a night of music.
Extracurricular Opportunities:
1.) Describe the extracurriculars offered at your school - what did you like most about it?
The horizons program was extremely important to me. I worked in the greenhouse my freshman year, and also spent the weekly Horizons block attending the plan for freshman to aid them in the transition to high school, including seminars and discussions centered around public speaking, wellness, academic skills, leadership, gender, diversity, and teamwork. I also participated in the making of A Seat at the Table my sophmore year, which is a documentary following the challenges and rewards of womens leadership throughout the world. Junior year I volunteered at a local pool, teaching an aerobics class and teaching young children how to swim, which I wanted to do to support my recent lifeguarding certification. My senior year I worked for MHS (although most seniors go off campus) to work on the marketing end of the documentary, where I helped run the website and blog, as well as traveled as close as the local middle-school and as far as Los Angeles to present the documentary.
Dorm Life:
1.) Describe the dorm life in your school - what did you like most about it?
I was not a boarder at MHS, but as an active day-student I found myself spending several nights in the available day-student room on campus.
Dining:
1.) Describe the dining arrangements at your school.
The food at MHS is fantastic, and the Dining Hall is a gorgeous atmosphere that feels very home-like. The food is served in a catering/buffet manner, and is diverse and healthy. There are several special meals throughout the year that allow students to try different sorts of food. These nights includes OctoberFest, Mardi Gras, Luau, and the fantastic ISA (international students alliance) dinner, where recipies and suggestions are provided by students involved in ISA to give the community a taste of food from their home country.
Social and Town Life:
1.) Describe the school's town and surrounding area.
Pittsfield is a great little historic town with many shops that is easy to walk to and walk around. There are also trips every weekend to places in Pittsfield as well as Great Barrington, another local historic town. There is a museum, movie theatre, coffee shop and a Ben and Jerry's aright on the main street of Pittsfield which are popular destinations by MHS students, but there is also a lot more!
2.) Describe the social life at your school - what did you like most about it?
Between on campus activities, extracurriculars, off-campus events with other school, and a great community of girls, there was never a reason to be bored socially. There is always so much to do, and the events with other schools are a great opportunity to meet new people and make new friends who share common interests.
Daily Schedule:
Weekday
8:00 AM
AP European History
12:30 AM
Honors English II
2:00 PM
Honors Chemistry/Lab
Weekend
11:00 AM
Homework and Movies in the Student Center with Friends
1:00 PM
Home Softball Game
4:00 PM
Relax/homework time
6:30 PM
Free time with friends in the student center
9:00 PM
Crepes with Mlle. Cressin, or maybe a Dance
Hallmark courses are pretty unique. They were created in my senior year and are meant to be a sort of intellectual substitute for AP courses. I say intellectual because I don't think they give college. . .
Miss Hall's offers a liberal-minded curriculum with incredible teachers. Many of the course offerings deviate from a traditional high school curriculum and focus on more abstract concepts. The horizons program is vital in both the. . .
One unique aspect of Miss Hall's is the horizons program. Freshman year, students stay on campus to participate in class bonding activities and learn interpersonal skills and social awareness. By senior year, students participate in. . .
Show more reviews (

3 reviews

)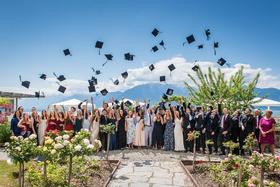 Nurturing Futures: A Journey through Boarding at Haut-Lac School in Switzerland
Nestled in the hills overlooking Lake Geneva in the French-speaking part of Switzerland lies an educational gem that embodies a unique blend of academic excellence, cultural richness and a profound sense of community. Founded over 30 years ago, Haut-Lac International Bilingual Day and Boarding School is now home to both 600 day students and a maximum of 30 boarders from around the world.
What To Wear at Your Job Interview
Navigating job interviews can be stressful, but knowing what to wear shouldn't be. Our comprehensive guide covers the essential dress code tips for men and women interviewing at boarding schools. Make your first impression count with style and professionalism.
Navigating the Modern Maze: Emerging Challenges for Boarding Schools
Explore the pressing challenges facing boarding schools, from marketing difficulties and rising insurance costs to facility maintenance and recruitment of competent trustees and teachers. This article delves into these complex issues and proposes innovative strategies to overcome them.