Reflections and Advice:
1.) What do you think makes your school unique relative to other boarding schools?
One thing that was unique about WMA was their Community Service and Enrichment hours that we were required to complete each year. I didn't appreciate it at the time, but looking back, it was amazing that I could attend theater performances, help local community organizations, get involved in my school and get credit for those great experiences! I also loved the arts and athletics requirements. As someone who didn't think I could be an artist and didn't play team sports, it was a great experience to spend three years involved in both those activities. Art is now a part of my career!
2.) What was the best thing that happened to you in boarding school?
I learned to be more independent and confident at boarding school. I went from a shy, quiet student who hid in the back of the class, to being a leader. I tried sports for the first time, developed a love of the arts, and tried so many new things. It was a life changing experience, and I'd do it all over again in a heartbeat.
3.) What might you have done differently during your boarding school experience?
I would have participated in more things, and not tried so hard to stay with my friends all the time. I wish I had taken photography, tried another sport, stepped on stage when the lights were on (I was stage manager, I only went out in the dark!) and enjoyed the opportunities that were available to me.
4.) What did you like most about your school?
The small, close-knit community was what I liked best. I met so many friends from around the world, tried a ton of new things that I wouldn't have ever tried, and pushed myself to work harder at everything I did. From successfully completing a ropes course as a peer counselor and making a goal in soccer, to rapping poetry in class and studying with friends, my three years at WMA were among the most memorable and meaningful I had growing up. It was such a wonderful experience for me.
5.) Do you have any final words of wisdom for visiting or incoming students to your school?
My best advice is to try everything, and I mean everything. Take a dance class, participate in a play, take several different arts classes, try at least three sports, have multiple groups of friends, get to know your teachers.
Academics:
1.) Describe the academics at your school - what did you like most about it?
The small classes were the best aspect of academics. It allowed the teachers to get to know us all well, and there was no hiding in the back row. We had a variety of classes to choose from, including levels of rigor and electives in several subjects. We also had a lot of teachers who went beyond the typical "stand and lecture" style of teaching, incorporating project and experiential learning into our classes.
Athletics:
1.) Describe the athletics at your school - what did you like most about it?
I wasn't an athlete by any stretch of the imagination, so having the opportunity to get involved was something important to me. We were required to play two sports a year. The coaches were competitive yet still supportive, as were my teammates. I often sat the bench in the games, which was fine by me, but I loved every minute of being on the teams. The facilities today are even better than what I had back when I attended WMA.
Art, Music, and Theatre:
1.) Describe the arts program at your school - what did you like most about it?
I wish I got more involved in the arts, but I let my insecurities hold me back. WMA had (hopefully still has!) an amazing touring acting troupe, ARC. I was never a member, but I loved watching them perform in the black box theater. There were also at least three plays a year in which students could get involved as actors, singers, dancers and technical crew. The visual arts were varied: ceramics, photography, drawing, painting, printmaking and more. We also had dance and music. So many ways to get involved. Since art is a graduation requirement, you have to try something, which is a great way to experience something new.
Extracurricular Opportunities:
1.) Describe the extracurriculars offered at your school - what did you like most about it?
There were always things happening after school at WMA. In addition to the school groups like peer counselors, student government, class officers, tour guides ... we also had evening and weekend activities. I signed up for trips in NYC and Boston, fan vans to cheer on our teams at games, and whatever caught my interest at the moment.
Dorm Life:
1.) Describe the dorm life in your school - what did you like most about it?
I wasn't a boarder, so I can't speak firsthand about dorm life, but I always enjoyed visiting friends in the dorms. Friends who were boarders often came home with me on weekends or vacations, too.
Dining:
1.) Describe the dining arrangements at your school.
We had one large dining room that served breakfast, lunch and dinner. It was always fun to hang out with friends, and we had great choices for food.
Social and Town Life:
1.) Describe the school's town and surrounding area.
Within school boundaries, we had a drug store and a the Village Store, which was a favorite for cappuccino and sandwiches. It is a small town, but there's lots within driving distance. As a day student, my friends and I often visited Friendly's or UNO's pizza after school.
2.) Describe the social life at your school - what did you like most about it?
On campus, we also had the SPA, our student center. We had pool tables, ping pong and maybe football? There were TVs, comfy chairs, and the food grill where you could order burgers, fries and a bunch of other snacks.
I think WMA is extremely unique when it comes to the diversity and cultures that students are exposed to. Throughout my years at WMA I have met many students from different parts of the United. . .
I attending WMA and unlike any other private school I was able to receive a global education, create great relationships and visit places all over the world. . .
One aspect that sets Wilbraham and Monson Academy a part from other similar private institutions is the CEGS Department. CEGS stands for Center for Entrepreneurial and Global Studies, and is in place of a traditional. . .
Show more reviews (

8 reviews

)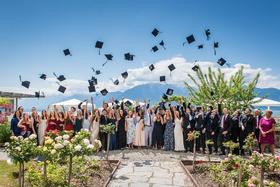 Nurturing Futures: A Journey through Boarding at Haut-Lac School in Switzerland
Nestled in the hills overlooking Lake Geneva in the French-speaking part of Switzerland lies an educational gem that embodies a unique blend of academic excellence, cultural richness and a profound sense of community. Founded over 30 years ago, Haut-Lac International Bilingual Day and Boarding School is now home to both 600 day students and a maximum of 30 boarders from around the world.
What To Wear at Your Job Interview
Navigating job interviews can be stressful, but knowing what to wear shouldn't be. Our comprehensive guide covers the essential dress code tips for men and women interviewing at boarding schools. Make your first impression count with style and professionalism.
Navigating the Modern Maze: Emerging Challenges for Boarding Schools
Explore the pressing challenges facing boarding schools, from marketing difficulties and rising insurance costs to facility maintenance and recruitment of competent trustees and teachers. This article delves into these complex issues and proposes innovative strategies to overcome them.