Berkshire School - Review #3
About the Author:

College Enrolled
Northeastern University
Home Town, State (Country)
Palos Heights, IL
Years Attended Boarding School
1
Activities During Boarding School
I played varsity ice hockey, but due to injury was not able to play a fall or spring sport. Even though I wasn't able to be apart of a team I did not feel left out. Everyone helped me get better, and healthier.
Review

Description

Columbia University

I wouldn't trade my time at Berkshire for anything because of the extraordinary community that I joined. The students, teachers, faculty, and alumni I met at Berkshire were amazingly genuine and inspiring. Teachers are invested. . .

Gettysburg College

One of the most unique aspects of Berkshire is the strong sense of community, which forms in a natural manner from year to year. Both faculty and peers provide a sturdy support system that enables. . .

Northeastern University

Berkshire is more than a school: it is a lifestyle, a culture, and a family environment that makes you want to be successful in and out of the classroom everyday. Every person at Berkshire is. . .

St. Lawrence University

Their are many different aspects of Berkshire School that makes it different from the majority of boarding schools in the country. I would have to say that the interactions between students and faculty are extremely. . .

Bates College

Berkshire School is a fantastic boarding school. The campus is secluded beneath Mt. Everett and the rest of the Berkshire Mountains. It has no main roads traveling through the campus which gives the students an. . .

Show more reviews

(4

reviews)
April 20, 2018
Actually, there is no secret to getting your child into boarding school. Just a lot of hard work and a heavy commitment of time.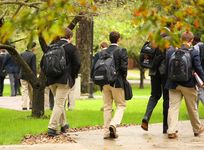 March 22, 2018
Some cynics think single-sex education is old-fashioned. The Kiski School shows how educating boys in a single-sex school is successful.
March 08, 2018
The wide range of fine academic, athletic, and other facilities found in boarding schools underscores the determination of schools to provide the very best for their students.