Reflections and Advice:
1.) What do you think makes your school unique relative to other boarding schools?
I wouldn't trade my time at Berkshire for anything because of the extraordinary community that I joined. The students, teachers, faculty, and alumni I met at Berkshire were amazingly genuine and inspiring. Teachers are invested in every student: they often hold extra help sessions outside of class and work with you to challenge yourself and to not only improve your academic skills but also to build your intellectual curiosity. Coaches strengthen your focus and abilities on and off the field and became valuable mentors and role models. You get to know your peers incredibly well and the friendships you form at Berkshire become irreplaceable. Overall, Berkshire's supportive community makes students strive to do better in every aspect, not only for themselves but also for everyone around them, and this environment pushed me and countless others to become better scholars, artists, athletes, and people.
2.) What was the best thing that happened to you in boarding school?
Something I thank Berkshire for everyday is the way this school gave me confidence as a person and as a leader. Going into high school, I was rather shy and nervous, but my four years at Berkshire not only taught me more about who I was, but also helped me believe in myself. I went from being scared to just walk across stage my freshman year to rapping on stage for dorm wars my senior year, from being nervous about giving a presentation in front of my English class to addressing the school as the student speaker at graduation, and from admiring my senior role models and prefects to helping lead the school as a co-head prefect. Looking back now, I almost can't believe how much I grew from my first year at Berkshire to my last, and I find that after graduating, I'm even more grateful for how I grew as I face the next steps in my life.
3.) What might you have done differently during your boarding school experience?
One of my biggest regrets is not becoming involved with as many student organizations at the beginning of my first year. I remember that when I gave my first tour at Berkshire to a prospective student and her family, I wasn't actually part of the Green Key Society. A member of the admissions office reached out to me when a family rescheduled and their original tour guide could no longer give the tour. After showing the family around campus, explaining life at Berkshire to them, and answering their questions, I realized I loved giving tours and talking to prospective students and families. I joined the Green Key Society, and my next year at Berkshire, remembering my enjoyable experience when I tried something new, I joined several other clubs and organizations.
4.) What did you like most about your school?
I could probably never say this enough: the community I found at Berkshire is one I treasured and will always be proud to be a part of. It's what stood out to me when I visited Berkshire as a prospective student, what helped me adjust to high school and living away from home, and what prepared me to face college and beyond. The friends and bonds I made at Berkshire are friends I know I will have for life.
5.) Do you have any final words of wisdom for visiting or incoming students to your school?
Berkshire is the perfect place to step out of you comfort-zone, so try something you normally wouldn't and talk to people you might not know too well. Although it may not be obvious right away, those times when you don't feel a hundred percent comfortable often end up being some of the best moments in high school.
Academics:
1.) Describe the academics at your school - what did you like most about it?
Academics at Berkshire are fostered by small classroom settings that encourage discussion-based learning and by teachers who challenge their students to always continuously demonstrate growth as a scholar. Humanities classes are taught around Harkness tables, which set up classrooms for plenty of discussion, interactive learning, and multiple perspectives. The variety of classes allows every student to create a challenging workload for him/herself. Berkshire requires at least 4 years of English, 3 years of math, 3 years of history, 2 years of science, and 1 year of fine arts, and Advanced and AP sections are offered in all of these core subjects. Building off of these courses, several classes and electives in multi-disciplinary fields, such as economics, philosophy, psychology, sustainable resource management, and journalism present students with opportunities to pursue their academic interests.Academic programs unique to Berkshire present even more opportunities for students. Pro Vita allows students to take courses typically not found in schools. Whether you're learning about sports media, how to ice skate, or about architecture, Pro Vita is a week of excitement for students and teachers alike. Aviation Science teaches students everything from aerodynamics to navigation and communication, effectively readying students for the FAA Ground School Certification Exam and setting them on a successful path to obtaining a pilot's license. One of Berkshire's greatest attributes is Mt. Everett, the mountain that sits directly behind Berkshire Hall. From everything to providing an outdoor classroom to allowing students to explore trails and teaching them about the maple syrup making process, the Ritt-Kellog Mountain Program takes teaching outside of the classroom. The Advanced Math/Science Research Program and Advanced Humanities Program offers students resources that rival some of the best colleges and universities. These programs match students with mentors from colleges such as Williams and research institutes like Albany Medical Center and allow them to design and carry out college-level research.My favorite part about Berkshire's academics was that even outside of classes, I never stopped learning. I was able to have engaging conversations with my dorm parents in the evenings, talk about ongoing world events with my history teacher, or even learn how to make amazing "pizza dip" to go with chips in a teacher's kitchen.
Athletics:
1.) Describe the athletics at your school - what did you like most about it?
From my first year athletics were always a big part of Berkshire, and each year the athletic program seemed to be improving with more facilities, athletes and coaches, and traditions. The Jackman Stewart Athletic Center, fondly known as 'The Jack,' houses two hockey rinks, a large workout room, several locker rooms, and a whole lot of school spirit. Being part of a team at Berkshire went further than playing the sport you love with inspiring coaches and dependable teammates: your team became an exceptional support system. Your coaches became valuable advisors on not only athletics, but also important life values, your senior leaders and captains were admirable role models to look up to, and the team was your family. It's because of this dynamic I learned an so much about myself as an athlete and as a person and found myself striving to be faster, train harder, and play better.The best part of Berkshire's athletic program was the passion and school spirit that could be felt everywhere during games. When watching a game, one could see players cared greatly about the team's goals, each other, and the school they represented -- they showed it in the way they carried themselves on the field. But it wasn't only the teams that cared about their games, it was the students, faculty members, alumni, and family and friends that stood behind the teams. I clearly remember the semi-finals boy's soccer game my senior year. There was a sea of supporters, plenty of face paint, and an incredible amount of heart. I'll never forget the masses of green all cheering for our peers and routing for our team to bring in the big win.
Art, Music, and Theatre:
1.) Describe the arts program at your school - what did you like most about it?
The fine arts program at Berkshire includes programs from studio art to ceramics to dance to chorus. Every student takes at least one year of art, choosing from a variety of options and expressing themselves through a creative means of their choice. Students can also elect to do art option or theatre afterschool, both programs that allow students to develop as an artist, musician, or performer while working closely with faculty who encourage unique perspectives and original interpretations. One unique opportunity was becoming a DJ for WBSL, a local radio station. Students could sign up to take control of 91.7 FM for an hour, playing music and creating their own radio broadcast.I was not as involved in the arts program at Berkshire as some of my fellow classmates, but what stood out to me was the way our program was integrated into the school community and the local community. The atrium in Berkshire Hall constantly displayed my peers' impressive work, The Dome, our school's fine art's magazine, gave students a chance to publish their creative writing and art pieces, and seasonal concerts for dance, music, and theatre gave the entire community a chance to appreciate student's work. Local art museums such as MASS MoCA and visiting music groups like Yale's Whiffenpoofs also played an important role in exploring art outside of Berkshire's community.
Extracurricular Opportunities:
1.) Describe the extracurriculars offered at your school - what did you like most about it?
Berkshire's extra-curricular activities ranged from outdoor groups such as rock climbing and hiking groups to academic groups like the investment club and debate to social groups like the philanthropy society and Green Key Society. The diversity and sizeable quantity of extra-curriculars provide multiple organizations for every student's unique interests. Perhaps my favorite activities are those that come from years of tradition and bring the school's community together, introducing new students and faculty to Berkshire's fondest events and activities and bringing back memories for older students, teachers, and alumni. The annual Pinnacle-to-Pinnacle hike, a four-hour journey from South Pinnacle to North Pinnacle, is one such activity. Students set out to hike along Mt. Everett and set foot on the highest point and then return to campus for homemade chili and cornbread. Another is Gracious Living Day, a day of community service in Sheffield, Great Barrington, and the local area. All students and teachers set out to make a difference in local organizations such as the volunteer fire department, a plantation for endangered vegetation, and local farms or public spaces.
Dorm Life:
1.) Describe the dorm life in your school - what did you like most about it?
Dorms at Berkshire generally have 30 to 40 students, with students in different grades living in the same environment. Students at Berkshire can typically choose between doubles and singles, and all dorms have faculty apartments where dorm parents live, providing support for all dorm residents. All third-formers are paired with a roommate, giving students a peer to connect with from the very first day of school. The best thing about Berkshire's dorms is the inclusion of students of all ages in each dorm. Third-formers live with fourth, fifth, and sixth-formers, forming invaluable relationships between younger and older students. Coming into Berkshire as a third-former, I was nervous about living away from home, meeting new people, and starting at a new school. However, living in my dorm helped me transition smoothly because not only did I live with several other freshman whom I bonded with, but also I looked up to older girls who set great examples. One of my favorite dorm traditions is dorm snack, a late-night snack prepared by the dorm parent on duty every Saturday. Another greatly anticipated event is Winter Carnival, or as students call it, 'Dorm Wars.' Every year, a theme is chosen and dorms compete together, constructing onstage skits, competing in relay races and broomball, and working together for trivia night. For instance, my first year our theme was the Olympics, and dorms competed against each other as different athletic teams.
Dining:
1.) Describe the dining arrangements at your school.
The dining hall has a variety options, with different main entrées everyday, a deli bar, a soup station, a salad bar, and a rice station. Students and teachers attend community dinner, a sit down dinner with a randomly assigned table, twice a week in the fall and once a week in the spring. For community dinner, students rotate as waiters, and the dinners help everyone in of community to meet each other. I always looked forward to Wednesdays, interactive cooking days, which give students a chance to make their own food, such as burritos, grilled cheese, pasta bar, and stir-fry, on top of all the usual options provided by the dining hall. The dining staff also decorates the dining hall and cooks special meals around holidays such as Halloween, Thanksgiving, winter holidays, and Mardi Gras, providing a treat for everyone.
Social and Town Life:
1.) Describe the school's town and surrounding area.
With about 500 acres of land and Mt. Everett as a backdrop, students often venture out onto the mountain for a hike, swim in the watering hole or Guilder Pond, or sprawl out on a grassy field. The campus is located in Sheffield, MA, a quiet town with small, local stores and restaurants. A short fifteen minutes away is Great Barrington, a larger town with great dining places, grocery and department stores, and several boutiques. Teachers drive buses every Friday, Saturday, and Sunday, letting students spend an afternoon or evening in town eating, catching a movie, or shopping.
2.) Describe the social life at your school - what did you like most about it?
On days with sunshine, kids at Berkshire can be found tossing around a Frisbee, passing around a soccer or lacrosse ball on the turf, or relaxing together in Buck Valley. On colder days, kids hang out together at Shawn's place (a snack bar / lounge area) in the student center or in common rooms found in every dorm. Every Saturday night, the Student Activities Committee plans an event like a school dance, a campus-wide game of capture the flag, or a volleyball tournament. My personal favorite is the Saturday night before midterms: open house. On this Saturday teachers prepare different dishes in their houses and students travel from house to house, chatting to each other, bonding with faculty members, and enjoying delicious homemade food.Social life at Berkshire revolves around its small community. As a third-former, I not only met everyone in my grade with ease, but also formed several friendships with older students. All freshmen are also assigned two or three 'big brothers' or 'big sisters,' students from the junior class who help younger students adjust to life at boarding school. I found that going to school with just under 400 other students encouraged friendships between students of different ages, backgrounds, and perspectives, which taught me a lot.
Daily Schedule:
Weekday
3:00 PM
Practice/theatre/art option
8:00 PM
Study Hall (light out at 11:00)
Weekend
2:00 PM
Game/theatre/art option
8:00 PM
Saturday night activity
One unique aspect of a boarding school could be its integration of technology and innovative teaching methods. The school might have a strong focus on incorporating technology into the learning process, using interactive educational tools. . .
Berkshire's campus in unparalleled. The pristine architecture fits into the pristine beauty of the surrounding mountains beautifully.. . .
During my three years at Berkshire, I was able to take advantage of many unique opportunities that other boarding schools just did not offer. For example, I was able to attend The Island School during. . .
Show more reviews (

15 reviews

)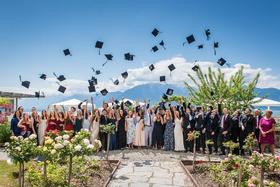 Nurturing Futures: A Journey through Boarding at Haut-Lac School in Switzerland
Nestled in the hills overlooking Lake Geneva in the French-speaking part of Switzerland lies an educational gem that embodies a unique blend of academic excellence, cultural richness and a profound sense of community. Founded over 30 years ago, Haut-Lac International Bilingual Day and Boarding School is now home to both 600 day students and a maximum of 30 boarders from around the world.
What To Wear at Your Job Interview
Navigating job interviews can be stressful, but knowing what to wear shouldn't be. Our comprehensive guide covers the essential dress code tips for men and women interviewing at boarding schools. Make your first impression count with style and professionalism.
Navigating the Modern Maze: Emerging Challenges for Boarding Schools
Explore the pressing challenges facing boarding schools, from marketing difficulties and rising insurance costs to facility maintenance and recruitment of competent trustees and teachers. This article delves into these complex issues and proposes innovative strategies to overcome them.