Reflections and Advice:
1.) What do you think makes your school unique relative to other boarding schools?
I think what makes Webb unique relative to other boarding schools is Webb's student life. Student Life at Webb encompasses so much of what a student's day-to-day life entails. From weekend trips to the beach and the mountains to on campus class competitions, there is never a dull moment at Webb. Even if there isn't a large school-wide event happening that weekend, such as Webb Day (a huge competition between the classes) or a dance, there are always numerous other activities for you to partake in. You can always find something to do that is new and exciting. One of the many great components of Webb's student life is the involvement of faculty and staff. The same person who stood in front of you explaining a complex theorem during the week will be hiking Mt. Baldy with you that weekend.
2.) What was the best thing that happened to you in boarding school?
The best thing that happened to me in boarding school was not only the life skills I learned, but meeting my best friend. Webb fostered an environment where I was able to dive deep into my friendships and because of that, the friendship I have with my best friend will last a lifetime. The life skills I gained far outreach what I can describe. From the simple things, like learning how to do my own laundry to making my bed every day, I learned how to be an honorable person. Honor is at the center of everything Webb does and it bleeds through everyone on campus. It is not something we are taught one day, like a rule. It is a way of living that is taught each day through actions. I learned how to be an honorable peer, student, friend, and leader. Webb taught me how to be those things and I will forever be grateful.
3.) What might you have done differently during your boarding school experience?
I think I may have taken advantage of the outdoor activities more. I tend to be a homebody, but looking back I think a hike or two would have been great to do. I also wish I had enjoyed Webb for what it was while a student. We can get so wrapped up in ourselves and our work that we miss what is so great about the school. Even though I hated when the internet would shut off for an hour during study hours each night, in college I so wished someone would turn my internet off! Sometimes you don't know what you have until it's gone, and I wish I had realized some of Webb's greatness while still a student. My advice would be to take advantage of everything the school has to offer. Dive right in and enjoy your time!
4.) What did you like most about your school?
What I liked the most about Webb was the community. I felt at home when I was at Webb. There were always people around to help you no matter what. If you needed a home cooked meal, a faculty member would open their home to you. If you needed homework help, a teacher or fellow student would drop what they were doing to help you. I liked how close-knit the entire school was. I never felt alone. It often felt less like a school and more like its own little world.
5.) Do you have any final words of wisdom for visiting or incoming students to your school?
There are no dumb questions. Ask every question you have. This ensures that you have all the information you want/need before making an informed decision about where to attend school. Also, for incoming students, don't be afraid to ask for help when you need it. Ask anyone. It will not be construed as a sign of weakness. Instead, it is viewed as a sign of strength that you can recognize when you will benefit from seeking help. In the end, it will put you ahead of your classmates that maybe didn't seek help when they needed it. Also, I have some very fond and hilarious memories of going to extra help at teacher's houses that I will remember forever.
Academics:
1.) Describe the academics at your school - what did you like most about it?
Webb likes to look forward and well as back when it comes to academics. They search for where we came from and make sure we do it justice, while continuing to try to be ahead of the curve, implementing the newest technologies and creating spaces for students of the future to learn and achieve. Students take traditional courses, such as Algebra, World History, and Physics, as well as one of a kind courses in areas such as Paleontology, Museum Research, Oceanography, and Sculpture. No matter what the course material is, the teachers make each subject interesting and engage every student. The teachers throw themselves into the course material, whether that means using their arms to show the difference between sine and cosine curves in math or acting out various characters in a book in English class. Webb also offers a variety of honors and AP classes for those who want to advance their knowledge in a particular subject area or challenge themselves. Webb has added even more honors and AP courses since I was student and I have a feeling they will continue to do so. Every class presents its own set of challenges. The way students handle those challenges is by working with classmates to solve problems or going to their teacher's office hours (sometimes held in their own homes). Teachers are always open to help a struggling student and I never felt bad that I sometimes needed to ask for a little extra help since it is a typical occurrence at Webb. The academics at Webb are tough and you are grateful for it after.
Athletics:
1.) Describe the athletics at your school - what did you like most about it?
We have a very diverse athletics program at Webb. We may not be known for our athletics program, but we are able to hold our own against some tough competitors. Webb requires that you are a part of at least one sports team per year for your first few years. This may sound rough, but it is a great way for students to stay active, get to know each other outside of the classroom, and engage with faculty and staff on a different level. I rarely hear anyone complain about that requirement. In a society where staying indoors has become the norm, the athletics program gets and keeps students outside. The athletics program provides the framework for each student to be very well-rounded individuals.
Art, Music, and Theatre:
1.) Describe the arts program at your school - what did you like most about it?
The art program at our school is headed by a master artist so it is hard to say anything negative about that program. It allows students the freedom to be creative while teaching them the core principles of the medium. The school puts on Art Café a few times a year where student artwork is exhibited for everyone to see. Often, you will hear students saying, "I had no idea they could draw/paint/etc." I was not involved in the music program so I can't say too much about it. The orchestra puts on two shows a year for the entire student body and they are fantastic. It is great to see your classmates showcase a talent you may not know they have. When I was at Webb, I don't think there were many other opportunities for music classes other than orchestra, which could hinder some musicians who want to play but not in that way. The theatre program continues to outdo itself every year. Although sometimes I think they may be attempting to stretch the talent a little too far, the production is always fantastic. Webb just renovated the auditorium and turned it into a performing arts center. Everyone who has entered it since its completion, myself included, has only had great things to say about it. It is amazing! The technology that was placed in the new theatre is outstanding. It took the theatre program to a completely different level, a level I don't think many other schools can match let alone top. From a student's perspective, the most notable upgrade was the seating. The old wooden seats were replaced with cushioned ones which made everyone who had ever sat in the old auditorium instantly smile.
Extracurricular Opportunities:
1.) Describe the extracurriculars offered at your school - what did you like most about it?
Aside from athletics, there are a large number of extracurricular activities each student can partake in. From clubs to leadership positions, each student can find an activity to fit their tastes. ASB, Honor Cabinet, and Dorm Council are the most substantial leadership positions on campus. They are the most time-consuming and prestigious to be a part of. I was a member of the VWS Dorm Council my senior year so I know the most about that program. The leadership positions teach you a lot about what it means to be a great leader amongst your peers. Being a Dorm Councilor at Webb set me up wonderfully to be a Resident Advisor in college. The number of clubs seems to increase every year and the quality of each club varies. Some are more involved than others, but the variety of clubs is outstanding. Webb's weekend activities program is phenomenal as well. Weekly trips to the movies and Target are accompanied by hiking excursions, surfing trips, and cultural outings. Also, the afternoon activities program offers more than just sports. You can participate in community service, drama tech, debate, and many others. No matter your interests, you will find something (more likely many things) to do and be involved in at Webb.
Dorm Life:
1.) Describe the dorm life in your school - what did you like most about it?
The dorm life is one of the best parts about Webb. For me, it was probably my favorite thing about Webb as a student. I grew so much as a person living in the dorms. I learned basic skills that I later had to teach my college roommates (i.e. laundry). I felt like I had a huge jumpstart compared to my college counterparts. I was lucky enough to be paired with a roommate freshman year that I actually got along with. We roomed together through junior year, were dorm councilors together in the same dorm our senior, and are still best friends. If it weren't for the dorms, I don't think we would have become such great friends. One of the best features of dorm life is that you get to know other students that you may not have known otherwise. I was able to become friends with students in other grades, ask the older students for advice, and become someone younger students could come to for anything. Each dorm is very tight-knit. We have a lot of dorm pride, so much so that I lived in the same dorm all four years which is rarely heard of at Webb. In the girl's dorms, we had something called Dorm Olympics, where each dorm would compete against the other dorms in events. These events help foster that dorm pride, and Webb students love a good competition. What helps make the dorms so amazing are the dorm heads, the faculty advisors to each dorm. They truly help make the dorms feel like home, often inviting us into their homes when we need a slightly homier environment. I can't say enough about the dorm life at Webb. It truly is amazing.
Dining:
1.) Describe the dining arrangements at your school.
Webb has one main dining hall. It is a great space, not only in size but in architectural beauty. Over the years, the food has become increasing better. The options have also expanded so you will always find something to eat. The dining hall is open for three meals a day and the cost is included in tuition. Outside of meal times, they always have out a bagel and peanut butter and jelly bar, along with fruit. During lunch, the busiest meal, there is the hot buffet, the salad bar, the panini, sandwich, and wrap station, and the noodle bar. No one should go hungry with this many options. I'm very jealous of the options current students have, as opposed to the much fewer options there were when I was a student. About once a week, there is formal dinner. Formal dinner is exactly what it sounds like. It is a scheduled, sit down meal with assigned seating and uniforms. Formal dinner is not the students' favorite activity but one that grows on you over time. It provides another way for you to interact with students and faculty that you may not have otherwise. One great thing about the dining hall at Webb is that you get to interact with faculty and staff outside of the classroom. You also get to know their families, making Webb feel that much more like a community, not just a school.
Social and Town Life:
1.) Describe the school's town and surrounding area.
Claremont is a very quaint little town. It is relatively quiet even though it is considered a "college town" because of the Claremont Colleges. I like that Webb is on the outskirts of LA, as opposed to right in the thick of the city. Webb is close enough to just about everything that a day trip can be made anywhere. We are an hour away from the beach and mountains and about 30 minutes from downtown LA, without traffic. Everything a student could need is pretty close by as well: Target, grocery stores, a mall, restaurants, etc. Claremont is a very friendly town with a low crime rate. The weather is always nice as well. It can get cold at night during the winter, but nothing like winter on the east coast! Due to the nice weather, Webb students spend a lot of time outdoors.
2.) Describe the social life at your school - what did you like most about it?
The social life at Webb was wonderful. When you first get to campus, everyone is always amazed at how nice everyone is. And they truly are nice! Being a boarding school, your friends are never far away. I loved that I could stop by my friend's room for dinner or for homework help whenever I wanted. Webb students probably spend more time around friends in social activities than students at a regular high school. Webb is a relatively small school – only 400 students – so everyone knows everyone. This can be a great thing because you never feel overlooked. With students from all over the country and world, you get to learn about so many different cultures and perspectives that it helps to round you out as a person and consumer of the world. I feel like Webb students have a great school and social life balance. Even though the boarders are on campus almost all the time, they learn to separate school life from their social life to create a balance that works for them. We know when to work and when to play. All in all, the social life at Webb is fantastic.
Daily Schedule:
Weekday
8:15 AM
Breakfast Check-in for some students, not all
10:00 AM
Chapel/Advisory/Class Meeting (rotates depending on the day and week)
3:30 AM
Afternoon Activities (sports, theatre, community service, etc.)
7:30 AM
Check-in in the dorms and then study hours
10:30 AM
Lights out for underclassmen and check-in for upperclassmen. At this point, you have to stay in the dorm for the night.
Weekend
11:00 AM
Wake up (for me at least)
1:30 PM
Off campus outing of some sort (Target, the mall)
3:30 PM
Hanging out on campus with friends
5:30 PM
Dinner and dinner check-in
7:00 PM
Hang out with friends some more or do some homework
11:00 PM
Dorm check-in. At this point you have to stay in your dorm for the night.
The Webb Schools is unique in many ways different than other boarding schools. One being that it is a boy's school and a girl's school on one shared campus. This allows the freshman and sophomore. . .
I think there was generally a good work-life balance, or more like study-life balance at Webb. The community was small enough that we would know most everybody, teachers cared tremendously for the students, sports were. . .
The classroom setting of a round table discussion instead of lecture based teaching. I believe it really puts the pressure on the student to understand what is going on in the class and bring an. . .
Show more reviews (

26 reviews

)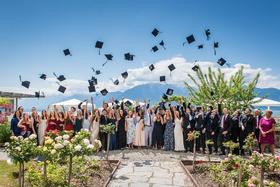 Nurturing Futures: A Journey through Boarding at Haut-Lac School in Switzerland
Nestled in the hills overlooking Lake Geneva in the French-speaking part of Switzerland lies an educational gem that embodies a unique blend of academic excellence, cultural richness and a profound sense of community. Founded over 30 years ago, Haut-Lac International Bilingual Day and Boarding School is now home to both 600 day students and a maximum of 30 boarders from around the world.
What To Wear at Your Job Interview
Navigating job interviews can be stressful, but knowing what to wear shouldn't be. Our comprehensive guide covers the essential dress code tips for men and women interviewing at boarding schools. Make your first impression count with style and professionalism.
Navigating the Modern Maze: Emerging Challenges for Boarding Schools
Explore the pressing challenges facing boarding schools, from marketing difficulties and rising insurance costs to facility maintenance and recruitment of competent trustees and teachers. This article delves into these complex issues and proposes innovative strategies to overcome them.