Reflections and Advice:
1.) What do you think makes your school unique relative to other boarding schools?
NMH is unique because of the strong sense of community built in the short or long time you are at NMH. Since I have graduated, I have talked to at least one if not more faculty members every day and I miss my school a lot. I am very proud to be an NMH alumni and I can't wait to go back and visit!
2.) What was the best thing that happened to you in boarding school?
The best thing that i gained from NMH was being prepared for college. I didn't realize it but all of my experiences made me academically and socially ready for that transition. It made this huge change in life a little smaller not to mention the classes in my first semester being much easier than the ones at NMH. You will learn to work hard in a way that is best for you, learning now you study best and time management skills that you can't gain anywhere else.
3.) What might you have done differently during your boarding school experience?
I would have been more confident going into high school. I was really scared the first week but there was no need to be because everyone was so supportive. Just remember that you're not alone. It's everyone's first time at boarding school so you're all in the same boat! And be yourself. It's your chance to have clean start so don't be who you think other people want you to be. Being cool in other people's eyes doesn't matter if you're not being yourself (I know that's really cliché but it's so true!)
4.) What did you like most about your school?
I loved the connections that I have made that will last for the rest of my life. They are completely unique and I know That I could not have met the amazing people I did at any other school. I have people that I can call at anytime of day or night that I can count on to be there for me when I need them. That's one of the most important things you can get from your time at NMH because the faculty and staff truly care about you.
5.) Do you have any final words of wisdom for visiting or incoming students to your school?
Make peanut butter milkshakes in the dining hall! My not so secret recipe is: Get a cup from the drink par and put a gob of smooth peanut butter in it. Pour a half inch of chocolate milk in it and microwave for 30 seconds. Stir in chocolate soft serve (slowly so that the PB doesn't get chunky). Add more chocolate milk and stir with a fork until smooth! Now you have all of my hard earned NMH secrets... :)
Academics:
1.) Describe the academics at your school - what did you like most about it?
I loved that there was a huge selection of courses of all difficulties at NMH. For example, my junior year I got to take human physiology and discovered my love for health care. I now go to a school that specializes in health care and I love it. I could not have realized my dreams without the help of NMH and would not be where I am today without their academics.
Athletics:
1.) Describe the athletics at your school - what did you like most about it?
I loved playing sports at NMH because I had the option to try five new sports while I was there. I played soccer, field hockey, ice hockey, I swam, and I tried dance. These were all completely new sports for me and I loved being on teams with such positive people and coaches.
Art, Music, and Theatre:
1.) Describe the arts program at your school - what did you like most about it?
I had the opportunity to take a design theory class my freshman year with students of all ages and I ended up making great friends with upperclassmen that really helped me in all aspects of life at NMH.
Extracurricular Opportunities:
1.) Describe the extracurriculars offered at your school - what did you like most about it?
I participated in a mentor group where students played with faculty kids once a week. I loved the kids and ended up getting to know their parents who I can now call extremely close friends.
Dorm Life:
1.) Describe the dorm life in your school - what did you like most about it?
I loved the dorm that I chose because we were really a family. After freshman year you can pick your roommate and your dorm and they almost always honor your preferences. The faculty that lived in my dorm were truly like parents to me and I still talk to them all of the time. My dorm was on big family of sophomore, junior, and senior girls along with dorm parents and their kids.
Dining:
1.) Describe the dining arrangements at your school.
The food at NMH absolutely can't be beat! There are always more then 6 different entrees to choose from. In addition there is a vegetarian bar, deli bar, salad bar, fruit/cereal bar, and dessert bar that is almost always open. There is no assigned seating and on weekends students often bring their homework and sit in the dining hall all day! I know I did :) I have visited countless other boarding schools and colleges and I can safely say that NMH has the best food out of them all. My only complaint is that sometimes there are so many options it is hard to choose!
Social and Town Life:
1.) Describe the school's town and surrounding area.
NMH is in a very rural area, but Greenfield is a few minutes away. Northampton is a little farther but a beautiful place to visit on weekends! There are many great restaurants and shops around the area too!
2.) Describe the social life at your school - what did you like most about it?
I liked all of the fun (and free) activities on the weekends. I went to many games and athletic events as well as dances and other organized activities. We often had mall trips and other off campus trips. There were magicians and hypnotists and other fun things to do! We even had fireworks for prom!
Daily Schedule:
Weekday
8:00 AM
A block first class
9:15 AM
X block free period
1:45 PM
D block (usually free)
NMH allows students to dive into the community and passions. The college like scheduled of four classes allowed me to seamlessly transition into college academics. Also NMH has a four hour per week work program. . .
Northfield Mount Hermon School helped me become the man I am today.The best thing about NMH was its sense of community. I like to think that I knew almost everyone there, while everyone knew me. . .
This school was different from a lot of other boarding schools in the area because it fostered an environment where everyone wanted everyone else to achieve. Unlike other schools where every student made sure that. . .
Show more reviews (

12 reviews

)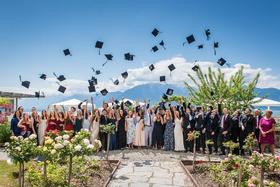 Nurturing Futures: A Journey through Boarding at Haut-Lac School in Switzerland
Nestled in the hills overlooking Lake Geneva in the French-speaking part of Switzerland lies an educational gem that embodies a unique blend of academic excellence, cultural richness and a profound sense of community. Founded over 30 years ago, Haut-Lac International Bilingual Day and Boarding School is now home to both 600 day students and a maximum of 30 boarders from around the world.
Navigating the Modern Maze: Emerging Challenges for Boarding Schools
Explore the pressing challenges facing boarding schools, from marketing difficulties and rising insurance costs to facility maintenance and recruitment of competent trustees and teachers. This article delves into these complex issues and proposes innovative strategies to overcome them.
What To Wear at Your Job Interview
Navigating job interviews can be stressful, but knowing what to wear shouldn't be. Our comprehensive guide covers the essential dress code tips for men and women interviewing at boarding schools. Make your first impression count with style and professionalism.