Reflections and Advice:
1.) What do you think makes your school unique relative to other boarding schools?
Avon Old Farms truly is a one-of-a-kind school, designed and built by Mrs. Theodate Pope Riddle in the 1920's. The Cotswold Tudor architecture is unlike any other prep school in New England and is set on 1,000 acres of beautiful Connecticut woodland. Through the years the campus has been expanded and improved to provide one of the finest facilities for education today.
2.) What was the best thing that happened to you in boarding school?
Acquired a great level of discipline that has served me well through college years and throughout my professional career.
3.) What might you have done differently during your boarding school experience?
Wouldn't have done anything differently.
4.) What did you like most about your school?
There is so much to like about the Avon Experience. Above all, I cherish the long term relationships I have with my fellow students, alums and the faculty over the many years since I graduated in '73. Avon is truly a special place.
5.) Do you have any final words of wisdom for visiting or incoming students to your school?
Avon Old Farms is a place where boys grow into men. The school's mission is to be the best college preparatory school for boys by cultivating young men of integrity, who honor wisdom, justice, inclusion, service and the pursuit of truth. The School motto: "Aspirando et Perseverando," effectively communicates the expectations for students; in every aspect of a boy's life, we expect him to strive consistently for his best. Here you will both be challenged and given the opportunity to thrive in a terrific setting and become a part of the Avon Brotherhood. Many of the alumni remain active and interested in the school - it will become a big part of your life.
Academics:
1.) Describe the academics at your school - what did you like most about it?
Avon is, and remains committed to be, an all boys school. In the classroom this affords fewer distractions and allows the boys to focus on their academics. The teacher to student ratio is small and the faculty is entirely engrossed in the education of young men. In fact, I believe the longevity of the faculty members and their level of dedication is unrivaled. Most faculty members reside on campus and are available for the boys beyond the classroom and create a true learning environment. Can't say enough about the faculty - they are teachers in the classroom, coaches on the playing fields, mentors in the dorm and terrific role models for the students. In the many years since I attended there have only been two Headmasters and they both have created great continuity for the entire school community.
Athletics:
1.) Describe the athletics at your school - what did you like most about it?
In a word, the athletics program at Avon is superb. Boys have been known to reach levels that they previously thought unattainable. There is a true sense of camaraderie among the student body, fostered by great coaches coupled with the availability of top-notch facilities. In particular, the Hockey, Lacrosse and Baseball programs are renowned for their success, and many of the other sports are very competitive in the New England Leagues. Many graduates have gone on to become college athletes and Avon can boast a number of athletes that have made it to the professional ranks.
Art, Music, and Theatre:
1.) Describe the arts program at your school - what did you like most about it?
I can observe that, under Headmaster LaRocque the Arts, Music and Theater programs have flourished. Boys are encouraged to participate in the Arts as well as Athletics.
Extracurricular Opportunities:
1.) Describe the extracurriculars offered at your school - what did you like most about it?
There is a long list of activities. As stated in the schools website: the boys take the lead in extra-curricular activities such as writing and laying out the school newspaper and yearbook, coordinating social affairs, or community service initiatives. Students have a large role in shaping the quality of life at Avon Old Farms.
Dorm Life:
1.) Describe the dorm life in your school - what did you like most about it?
There is a great deal of structure for an Avon Boy, from morning till lights out. The dorm life at Avon was very agreeable for me (a long time ago) and I get the sense that not much has changed over the years. Let me just say that there is a real sense of community at Avon and I think that many of the students and Alums, alike, would share with you that the dorm life is one of the better aspects of life at Avon!
Dining:
1.) Describe the dining arrangements at your school.
The Refectory, where students and faculty dine is simply beautiful. Students and faculty dine together - check out the website for some pic's. By the way, the food IS really good!
Social and Town Life:
1.) Describe the school's town and surrounding area.
Great area of the country.
2.) Describe the social life at your school - what did you like most about it?
Prefer not to comment - the boys today may not to relate to the observations I had from many years ago.
Morning meeting every morning at 7:45 am really brought the community together and started each day off right. Also mandatory lunches, they gave you assigned seating which give you the opportunity to meet new people. . .
The physical campus is probably the most unique thing about it. There is nowhere that looks or feels like Avon and it instills the community with a sense of togetherness in ways that are often. . .
The all-boys atmosphere provides a working atmosphere similar to a giant team of students banding together to tackle their education. It establishes trust amongst the student body and allows the same kind of trust to. . .
Show more reviews (

3 reviews

)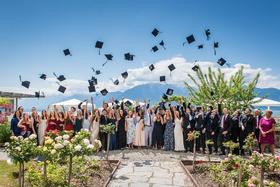 Nurturing Futures: A Journey through Boarding at Haut-Lac School in Switzerland
Nestled in the hills overlooking Lake Geneva in the French-speaking part of Switzerland lies an educational gem that embodies a unique blend of academic excellence, cultural richness and a profound sense of community. Founded over 30 years ago, Haut-Lac International Bilingual Day and Boarding School is now home to both 600 day students and a maximum of 30 boarders from around the world.
What To Wear at Your Job Interview
Navigating job interviews can be stressful, but knowing what to wear shouldn't be. Our comprehensive guide covers the essential dress code tips for men and women interviewing at boarding schools. Make your first impression count with style and professionalism.
Navigating the Modern Maze: Emerging Challenges for Boarding Schools
Explore the pressing challenges facing boarding schools, from marketing difficulties and rising insurance costs to facility maintenance and recruitment of competent trustees and teachers. This article delves into these complex issues and proposes innovative strategies to overcome them.