Reflections and Advice:
1.) What do you think makes your school unique relative to other boarding schools?
Priory has a high student-to-teacher ratio, which means that each and every student is taken care of by the teacher and the teachers really know the students well. It helps with accommodating individual student's needs and learning styles in order to maximize the student's potential. It is a close knit community and due to the small scale, the dorms feel like one big family with sisters and brothers from all over the world. The Priory campus is gorgeous and conveniently situated in Portola Valley, kind of secluded, but also close enough to Palo Alto and Stanford that it does not feel like it is in the middle of nowhere.
2.) What was the best thing that happened to you in boarding school?
I used to not participate at school at all, and just got by being pretty invisible in a huge all-girls school. Since going to Priory, I have become a lot more outspoken, willing to take chances and stepping out of my comfort zone. I am a happier person, and I really enjoyed being able to be involved with all aspects of school life. Going to Priory was the best decision I have made in my life and I do not regret it at all.
3.) What might you have done differently during your boarding school experience?
I was still shy and introverted my first year, so I missed out on doing some things that I would've really loved (like being in the school musical that year). I would say since you're new, there are endless possibilities. You don't have to be the jock, the nerd, or the quiet one, you can be anything and everything you want. I learnt to be more open and step out of my comfort zone the end of my first year, and I wish I had done that earlier on. Do not be afraid to ask. You never know what the answer is and the worst you'll get is a no.
4.) What did you like most about your school?
The people. I miss the people the most. It's just such a tight community and you really get to know all the people there. Especially the teachers and staff that are always there for you. The feeling of family and community is more prominent as a dormer, since you interact with the staff in a different way than you would normally with teachers.
5.) Do you have any final words of wisdom for visiting or incoming students to your school?
Priory cookies (chocolate chip) are the best. Everyone knows what it is and they send a bag of it to you after you graduate from Priory and are in your first year of college. I like to go to windy hill and hike. It's a short and simple one but you get good views and a break from school, especially when you literally live there.
Academics:
1.) Describe the academics at your school - what did you like most about it?
The teachers are very dedicated to students' learning, approachable, and make themselves available for extra help after class or just for a chat about life in general. Counsellors and teachers understand each student has individual needs and strengths, making sure they're on the right track and enjoy the high school process. Classes available are very diverse, not anything I would have experienced if I stayed in my hometown for high school. Electives are always fun and it is sometimes hard to decide what to pick out of all of them because they all sound very interesting (Art -- glass, metal, drawing and painting etc.; English -- fairy tales, beats and transcendentalism, gothic literature etc.). Electives offered differ every year due to teacher's availability and feedback from previous years, making sure that they are classes that students actually would like.
Athletics:
1.) Describe the athletics at your school - what did you like most about it?
I went into the tennis team with very little experience in tennis (took some lessons in elementary school). However, Priory welcomes students with any level of experience to try different sports. I was a complete beginner but because they let everyone onto the team, I improved a lot throughout my high school years and enjoyed being in a sports team. My brother was always a soccer player, but he picked up water polo and football (he was never an avid swimmer nor touched a football before), and played for the school team. Priory really does let you do whatever you want as long as you have the heart for it. They encourage everyone to try new things. I would not say we have extremely competitive sports teams, our good teams are different every year depending on whether we have dedicated students, but Priory is very good at being inclusive and encouraging.
Art, Music, and Theatre:
1.) Describe the arts program at your school - what did you like most about it?
We have concert choir (non-audition) and chamber singers (audition) who perform in concerts throughout the year and take field trips to perform off-campus. There are 3 school productions every year (all school, middle school, high school). Students can also take the drama or guitar as electives to fulfill their performing arts requirements. I participated in choir and several theater productions and they are always fun to be in. No experience is required in many of the activities. I am a dancer, but I have always been shy but interested in being in productions, and I was able to do that in Priory without feeling uncomfortable.
Extracurricular Opportunities:
1.) Describe the extracurriculars offered at your school - what did you like most about it?
I find that it is completely possible to go to tennis practice, drama rehearsal, dance, and take up student leadership roles while keeping up with my studies. Students are in general quite enthusiastic and have strong opinions on issues they care about, so clubs and student organizations are a significant part of student life. I was with the Daraja Club and we raised quite a lot of money for Daraja Academy. The school also offers international trips throughout the year. There is a trip to Kenya, Japan, Europe, and Argentina to name a few. Students get to learn about the culture while being at the country, while still having fun and bonding with fellow classmates who are on the trip. I also worked at the kitchen and school reception (work study).
Dorm Life:
1.) Describe the dorm life in your school - what did you like most about it?
The Priory dorm is a second home to me. It is a close knit community, where I became friends with people from all over the world and in various grades. We support each other and grow together. Being in the dorms and living with friends and my second family is the one thing I miss most when I graduated. We hang out, go to the pool, go on trip together. I never felt lonely, but can always find quiet and peace if I wanted to on campus. I had a roommate my first two years, then got a single room my last year at Priory. There is a communal kitchenette where we bake and make food together.
Dining:
1.) Describe the dining arrangements at your school.
Breakfast and dinner are at the school cafeteria/dining hall. There are set hours when meals are served. Meals are diverse and very good. I appreciate the food and relationships I make with the kitchen staff. It is a unique experience when the chefs know you by name and chat about life. It is always nice to sit outside at the balcony in the spring and summer for meals.
Social and Town Life:
1.) Describe the school's town and surrounding area.
Portola Valley is a very secluded area. It feels like the middle of nowhere but it is only 15 min away from Stanford and Palo Alto, and 40 min away from downtown San Francisco. It is far enough that you can enjoy fresh air and nature, but also accessible to towns and cities near-by. The dorms take us out on weekend and after school trips to the town and cities near-by for anything we needed or just simple In-n-out or bubble tea runs.
2.) Describe the social life at your school - what did you like most about it?
Students are welcoming. It is a small school, so social groups can appear easily, but we come together as a class and as a school when appropriate. You don't have to be best friends with everyone, but people are friendly to each other. Bullying is absolutely not tolerated. Even as a dormer, some of my best friends are day students and are in different grades than me. I feel like there is little barrier with social life despite the obvious difference in background.
Daily Schedule:
Weekday
7:30 AM
Concert Choir Rehearsal
Weekend
2:00 PM
Sandwich break/lunch
Our school is composed of about 20% boarding students and 80% day students in the upper school, meaning we are a smaller, very close-knit community within our larger school community. (The middle school is completely. . .
Priory has a high student-to-teacher ratio, which means that each and every student is taken care of by the teacher and the teachers really know the students well. It helps with accommodating individual student's needs. . .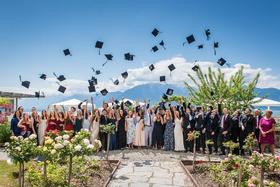 Nurturing Futures: A Journey through Boarding at Haut-Lac School in Switzerland
Nestled in the hills overlooking Lake Geneva in the French-speaking part of Switzerland lies an educational gem that embodies a unique blend of academic excellence, cultural richness and a profound sense of community. Founded over 30 years ago, Haut-Lac International Bilingual Day and Boarding School is now home to both 600 day students and a maximum of 30 boarders from around the world.
What To Wear at Your Job Interview
Navigating job interviews can be stressful, but knowing what to wear shouldn't be. Our comprehensive guide covers the essential dress code tips for men and women interviewing at boarding schools. Make your first impression count with style and professionalism.
Navigating the Modern Maze: Emerging Challenges for Boarding Schools
Explore the pressing challenges facing boarding schools, from marketing difficulties and rising insurance costs to facility maintenance and recruitment of competent trustees and teachers. This article delves into these complex issues and proposes innovative strategies to overcome them.