Reflections and Advice:
1.) What do you think makes your school unique relative to other boarding schools?
Our school is composed of about 20% boarding students and 80% day students in the upper school, meaning we are a smaller, very close-knit community within our larger school community. (The middle school is completely day students.) Boarding students proudly boast their "dormer" identity. Within the boarding community, the majority of students are international students from East Asian countries like China, Taiwan, Japan, Korea and Malaysia. This provides a unique experience for both students to exchange cultures in an environment in which they are also growing up and getting ready for college and adulthood. I fondly remember exchanging cultural perspectives and foods with my roommates from Taiwan and Hong Kong.Dorm Olympics! This multi-day event is probably one of the most memorable events of my high school career. It usually takes place toward the end of the Spring semester and involves every boarding student and sometimes even alums as surprise judges. Students are divided into four teams, each led by a student Prefect. Classic events include tug-of-war, spinning stick, karaoke and a dance competition. Other unique events include smoothie drinking contest, cooking contest, talent show and songwriting contest. This experiences allows boarding students to get to know and bond with other students whom which they perhaps otherwise would not have gotten close with.
2.) What was the best thing that happened to you in boarding school?
I love the lifelong friends I have made during my years in the Priory dorms. My Senior year roommate is still someone I frequently keep in touch with. Those friendships, those memories of staying up late in our room chatting and watching TV on Sunday mornings. I am also extremely proud to have served as a Prefect in my Junior and Senior years. I would meet weekly with the other Prefects and with the RAs and talk about the dorm community. I would also help lead the weekly community wide meeting every Monday evening and wish all the female dormers good night. This position of leadership in the dorm allowed me to grow a lot as a person. I learned about responsibility and time management as well as communication with varying kinds of people. I think this mentality of leadership has allowed me to succeed in my college academic setting.
3.) What might you have done differently during your boarding school experience?
Since I was a local boarding student, I went home on the weekends and didn't spend many weekends on campus in my first couple of years boarding. I wish I had stayed on campus more and gone on more weekend trips because it really allows you to bond with a smaller group of students and an RA. My advice to kids going to boarding school would be to go on many trips as possible, even if you're not inherently interested in the trip or if you're not going with a friend. Prioritize your homework, but whenever you have time, go do things with your students. Also take initiative and try to plan your own trips with the help of the RAs. Also don't be afraid to build relationships with the RAs because they are usually really cool people who have good advice to give about college and life.
4.) What did you like most about your school?
I love the location. Not only is it a beautiful campus surrounded by large trees and crisp air, it is also in the heart of the Silicon Valley. This area is a great place to grow scholastically as well as personally. I loved being close to so many start ups and creative people. Similarly, I loved the international aspect of my boarding experience. I was able to learn about new cultures and I even started to learn some different languages. This experience came in handy when going of the college and being part of an even larger, more diverse community with people from countless different backgrounds.
5.) Do you have any final words of wisdom for visiting or incoming students to your school?
If you're a pizza fan you should definitely talk a walk down Portola Road to Portola Cafe Deli. Most students like to go to Roberts (across the street from Portola Cafe Deli) but the deli is a hidden gem. I also recommend "hiking" up Windy Hill if it's not too hot. It's a nice way to take in the air and see if Priory is a place you would like to call home for the next couple of years. Lastly, if you are visiting I would try to visit on a Thursday night and stay for dinner because Fr. Martin (one of the Benedictine monks who lives on campus) makes pizza from scratch!
Academics:
1.) Describe the academics at your school - what did you like most about it?
Priory is full of passionate teachers, although since my time a lot of them have left the school (to my understanding mostly due to job or family opportunities elsewhere). I particularly loved the English Department at Priory, with special shoutouts to Mrs. Briggs and Ms. Yang. Freshmen and Sophomore years are foundational years, but Junior and Senior years you can choose which themes in literature you are interested in. In the past some classes have focused on literature surrounding women, the Transcendental and Beats movements, Gothic literature and Poetry to name a few. However, I struggled a lot with math and science classes. Mr. Tang is a gem, he teaches all levels of Chemistry. His sense of humor is interesting and keeps you on your toes. He cares a lot about his students and totally digs chemistry so if you do too you should be excited to take a class with him.In terms of AP classes, Priory offers most of the big ones. I've heard from literally all of his students that Mr. Cohen is absolutely superb at teaching AP US History. I took AP Psychology, Spanish Language, Statistics, English Literature and Composition and Calculus AB. I also took Honors Algebra II and honors English. Other than for my transcript, I didn't find AP classes to be extremely beneficial. However, I did enjoy AP English a lot due to the great discussions facilitated by Ms. Yang. From Toni Morrison and Franz Kafka, she made everything interesting.The workload was a lot more than I was used to in middle school, however the academic counseling services available are pretty helpful and the administrators are generally understanding. For example, underclassmen don't usually get a free period but this is adjustable if needed. Unlike other schools in the area, the academic atmosphere is not overtly competitive. Students don't incessantly talk about grades and GPAs during break or after school. However, I have heard that it is becoming a little more competitive due to trends in college admissions. Overall, the Priory mission and atmosphere is more of a learn for learning's sake type of school that really helped me develop a passion for learning.Lastly, diversity is definitely not the school's strong suit. The average student is white, upper-class, Catholic or non-religious and straight. However, this is also evolving and the school is for the most part being receptive. Teachers are for the most part very supportive of student's identities and promote diversity actively in curriculum and socially outside of the classroom.
Athletics:
1.) Describe the athletics at your school - what did you like most about it?
Participation in two seasons of sports or two semesters of "physical education" is mandatory. The PE class is usually taught by the head of Middle School Athletics and includes basic weight lifting training. Historically, Priory is known for having a competitive Varsity women's volleyball team and the JV team is also a very good opportunity for underclassmen to have fun and make friends. Recently, the men's basketball team has had tremendous success, winning the league championship in 2016. The women's and men's soccer teams are also very popular teams, although they are pretty competitive and the women's team usually doesn't have enough people to roster a JV team. The cross country and track and field teams are very good about participation. However, there is no track on campus so runners have to use a dirt track.
Art, Music, and Theatre:
1.) Describe the arts program at your school - what did you like most about it?
Some of my best experiences with Priory's theatre program were watching their Spring musicals. Beauty and the Beast and Urinetown were my favorites. For all people involved in the play, teachers are supposed to be lenient with work due during the week of the show, giving students a chance to catch up during a very busy week. Theatre directors are also somewhat flexible with students who have other important commitments like athletics. Priory's the kind of the place where the star quarterback can also be the lead in the play. Two semesters of performing arts is required, however, participating in plays do not count toward this requirement. Or at least they didn't when I attended. To fulfill the requirement you can either take a year or orchestra or choir (which are actually before school, so it's for early risers) or you can opt to take a class like stage production, guitar or advanced choir that are during the school day. In my experience, Ms. Paulson, the choir director, is extremely passionate and helpful to people new to music and seasoned veterans.
Extracurricular Opportunities:
1.) Describe the extracurriculars offered at your school - what did you like most about it?
The Daraja club is probably one of the coolest student organizations on campus. It is co-facilitated with Ms. Gonzalez and Mr. Bessin. The club focuses on fundraising opportunities and raising community awareness for the Daraja Academy, an all-girls secondary school in Kenya. There is also the opportunity to travel to the school through Priory's yearly travel trips, which are available when enough students sign up. (Other trips have been to Argentina and China). I personally went on the trip to Kenya and it was a life-changing experience to get to know the girls at the school on a personal level and exchange cultures through long conversations, music and food. When I go back to visit Priory, I still reminisce about the trip with Ms. Gonzalez and Mr. Bessin. What I like best about Priory is that if you are passionate about a topic, you can find a faculty member and group of students who share that interest and just start a club.
Dorm Life:
1.) Describe the dorm life in your school - what did you like most about it?
I love how the dorm community is a family. Most students have a roommate, except for Prefects (the student leaders in the dorms) or sometimes lucky upperclassmen. Every week we have a community-wide meeting listing upcoming events in the community and at school. That's also when weekend trips will be announced and sign ups posted afterwards. There is also usually some sort of snack at the meeting. The dorms also have "dorm moms" who volunteer to put on special events for the students--like goodie bags at Halloween or a winter party in December. Another really awesome part about the dorm experience is the annual haunted house we put on. Everyone gets dressed up in costumes or fake blood and we position ourselves in the hallways to scare our classmates. Lights out is pretty strictly enforced for underclassmen, but if you have to stay up for homework RAs are understanding. The Prefects walk to each room and wish everyone a good night, one of my favorite parts about being a Prefect in my years at Priory.
Dining:
1.) Describe the dining arrangements at your school.
Breakfast is open for about an hour before school starts and is available to faculty and day students who pay for it. This is unique because it allows boarding students to build relationships with their teachers. Lunch period is the same time for everyone. Dinner is mandatory on weekdays, but not weekends. If you want weekend meals you need to sign up for them earlier in the week. If you are not going to be on campus at that time or cannot go to dinner at that time because of some extracurricular activities or sports you can sign up for a "late plate" in the morning or the night before you need it and an RA will save you a plate of food in the fridge. While the timing of dinner can be inconvenient at times it is nice to be able to socialize in a communal setting everyday. All meals take place in the dinning hall, there is some seating outside but it is usually reserved for the seniors at lunch. Weekend brunch is arguably the best meal at Priory, although the weekend chef is different than when I attended.
Social and Town Life:
1.) Describe the school's town and surrounding area.
The immediate surrounding is kind of secluded with long roads and lots of trees--pretty serene too. A famous go-to spot for dormers is to walk to and hike up "Windy Hill." Portola Valley is a pretty small town, but it is close to a lot of cool cities nearby in the Silicon Valley. Weekend trips frequent Stanford Shopping Center or restaurants and activities on University Ave or Town and Country in Palo Alto. Trips to bubble tea are also extremely popular, although everyone will have a different opinion on which place has the best. Other fun trips include trips to San Francisco, Monterrey Bay Aquarium and even a sports game every once in a while. What I liked most about Priory is that I felt very safe in the surrounding area because it was not a big city, but the city vibe was close enough for me to experience when I wanted on the weekends.
2.) Describe the social life at your school - what did you like most about it?
I liked the sense of school spirit the most. From the annual school-wide dodge ball tournament, to spirit week to sports games, students feel proud to be a part of the Priory community. Like any high school, students form groups of friends, although nothing feels excessively exclusive at Priory like high school is often portrayed in movies. I also really liked that the social life of students isn't completely separate from faculty and staff. Students feel free to spend break and the tail end of lunch in classrooms going over work or simply chatting with their favorite teachers. As a boarding student, I really liked the family aspect of my social life in the dorms. I liked getting close with my peers and the RAs--I still keep in contact with some of my RAs.
Daily Schedule:
Weekday
8:15 AM
Classes Start (usually 3-4 before lunch and 1 after lunch...usually about 85 minutes)
3:15 PM
Practice or clubs start (usually 4-5 days a week, clubs 1 hour and practices )
6:00 PM
Mandatory dinner time for all boarding students
7:30 PM
Mandatory 2 hour study hall for all students
10:30 PM
Must be in own dorm
11:00 PM
Must be in room, lights out for underclassmen
Weekend
9:00 AM
Get up to watch tv in lounge
11:00 AM
Trips start as early as right after brunch but can also be later
2:00 PM
Sandwich lunch break, no prepared meals
6:00 PM
Optional dinner if you sign up for it
12:00 PM
Students must be back in their dorms
Priory has a high student-to-teacher ratio, which means that each and every student is taken care of by the teacher and the teachers really know the students well. It helps with accommodating individual student's needs. . .
Our school is composed of about 20% boarding students and 80% day students in the upper school, meaning we are a smaller, very close-knit community within our larger school community. (The middle school is completely. . .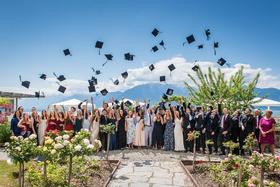 Nurturing Futures: A Journey through Boarding at Haut-Lac School in Switzerland
Nestled in the hills overlooking Lake Geneva in the French-speaking part of Switzerland lies an educational gem that embodies a unique blend of academic excellence, cultural richness and a profound sense of community. Founded over 30 years ago, Haut-Lac International Bilingual Day and Boarding School is now home to both 600 day students and a maximum of 30 boarders from around the world.
Navigating the Modern Maze: Emerging Challenges for Boarding Schools
Explore the pressing challenges facing boarding schools, from marketing difficulties and rising insurance costs to facility maintenance and recruitment of competent trustees and teachers. This article delves into these complex issues and proposes innovative strategies to overcome them.
What To Wear at Your Job Interview
Navigating job interviews can be stressful, but knowing what to wear shouldn't be. Our comprehensive guide covers the essential dress code tips for men and women interviewing at boarding schools. Make your first impression count with style and professionalism.