Reflections and Advice:
1.) What do you think makes your school unique relative to other boarding schools?
I think Choate is a lot less traditional than many of its peer schools, which was one of my favorite things about the schools. Choate has an open campus, so it's not as isolated or remote as most of its peer schools and as a result, the campus is also much more spread out than most school's campuses. Additionally, Choate has a lot of signature academic programs, but one in particular that stands out is the Kohler Environmental Center, which is a residential program based on another campus a mile away in which students take only classes that are related to environment (nature photography, environmental lit, etc).
2.) What was the best thing that happened to you in boarding school?
I studied abroad in Spain during my junior year, and it was my favorite part of my Choate experience by far and I lived with an incredible host family. All of my classes were in Spanish, and we had a 10 day trip at the end. I found some amazing friends and mentors, and I definitely become more mature at Choate and found my voice. I became comfortable putting myself out there and exploring new interests (such as Arabic, writing, and dance).
3.) What might you have done differently during your boarding school experience?
I came in as a new junior, which was a difficult transition for me because the returning students had established friend groups and most didn't go out of their way to meet new students. My advice would be to try to meet as many people as possible especially in the beginning if you are a new sophomore, but especially if you are a new junior or a PG. If you are returning and new students are entering, be nice to them and help them out. I wouldn't do anything differently other than do more to bridge the gender gap.
4.) What did you like most about your school?
My experience abroad by far and the bonds that I made during my years there. There are a lot of little moments that you remember forever and there's a really great sense of camaraderie towards the end of your senior year in which social circles don't really seem to matter as much. One of my best memories at Choate is ripping up my college rejection letters and burning them at Incendium, which is an event for seniors after all college notifications are out.
5.) Do you have any final words of wisdom for visiting or incoming students to your school?
Lanphy (the math building is really cool and is a good study spot). Arch is a great dorm for sophomore/junior girls. The two newest dorms are Soho and Noho. Try the penne alla vodka and the pizza at Half Moon and Reese's Nightmare ice cream at Mr. D's.
Academics:
1.) Describe the academics at your school - what did you like most about it?
I had several memorable and fantastic teachers during my time at Choate, particularly in the English department. The English teachers and many of the History teachers are fantastic, and I'm a big fan of the Biology department as well. Since Choate has over 800 students, your course options are practically unlimited, and you're able to delve fully into the subject of your interest. This rarely happens, but on occasion, students who have fulfilled all math courses at Choate have taken more advanced classes at Yale. Workload-wise, I think Choate is as much work as you make it. If you choose to take all honors or AP classes, or to take six classes, you will have a much heavier workload and higher expectations. Choate generally does not feel like a cut-throat environment, but as in any school, you'll find a few GPA-obsessed kids that can sometimes stress other students out.
Athletics:
1.) Describe the athletics at your school - what did you like most about it?
All students are required to participate in some sort of after school activity (mainly a sport), unless they are taking six classes (in which case, they are exempt from the requirement for a term. There are intramural, JV, and Varsity sports and there are many sports available and even some unusual options like farming and kayaking. Our best teams are Varsity Hockey, Varsity Football, and Varsity Volleyball. I wasn't very involved in sports at Choate, but the facilities are good and student-athletes have been recruited to some of the best schools in the country.
Art, Music, and Theatre:
1.) Describe the arts program at your school - what did you like most about it?
I wasn't very involved in the arts during my time at Choate, but Choate is well known for its arts programs, particularly in music and theater. The school just received a 10 million dollar donation to renovate the arts facilities. There is a specialized selective program called Arts Con for students involved in any part of the arts -- theater, music, visual arts, dance, and production, and students who are passionate can apply to Arts Con in their respective field of interest. If admitted, a small group of students will work with talented faculty members in that discipline for a few hours everyday after school to develop a portfolio.There are a lot of opportunities in the arts, but my one issue is that it can be difficult to get into a play or a musical if you don't know the directors well. It is also much easier for boys to be cast in productions than girls because of the gender disparity in interest.
Extracurricular Opportunities:
1.) Describe the extracurriculars offered at your school - what did you like most about it?
There are many organizations at Choate, and you can always technically create a new club if you feel like your interests aren't matched by existing ones. That being said, COSA, which is the committee that approves new clubs has been increasingly stringent with the creation of new clubs. There are some very active clubs on campus like Debate, the News, Spectrum, and SAGE, Young Dems, but there are also many clubs that aren't very active and tend to pass leadership positions down to younger friends. It's not a perfect system, but if you want to join an active club, you can definitely do so.
Dorm Life:
1.) Describe the dorm life in your school - what did you like most about it?
Overall, I loved living in a dorm and the girls that I lived in dorms with over the years are still some of my closet friends to date. I was never super close with any of my individual advisers, but I did get close with a few of my dorm advisors. Once a week, each dorm has a mug night that the advisers prepare. There are several prefects (seniors) in each dorm that are intended to help the younger students to get accustomed to dorm life and Choate as a whole. Choate doesn't seem to pay much attention to roommate surveys, so roommates aren't always perfect matches, but you get to choose your roommate after your first year. There are singles, doubles, triples, and quads available and dorms vary in size (about 10 to 60 people), with most occupying 30. One of the best things about dorm life is getting close to the advisers that live in your dorm, hanging out in their apartments, and getting to know them as people, instead of just teachers. They might ask you to babysit or to dog sit for them sometime, so that can be a good way to make money.
Dining:
1.) Describe the dining arrangements at your school.
Sunday brunch at Choate is amazing, and everyone loves it. There is one dining hall on campus, a cafe in the math building, the school store, and the tuck shop in the student activities center which is where you can get burgers, fries, ice cream, mozzarella sticks and the like. As for the other meals, I think Choate is ok. There are some vegetarian and vegan options, but there could be more. Lunch and dinner on Mondays is meatless (except for the cold cuts), and there are always burgers on thursdays. There is always pasta, salad, pizza, sandwiches, options on the grill, some sort of hot food, and then omelettes and waffles at breakfast. On Fridays, there is Community Lunch, which means that you are assigned to a random table (which stays the same for all term) with faculty and students that you may have not previously interacted with. We rarely have formal dinners. Socially, the dining hall tends to be separated by grades with a section for each grade.
Social and Town Life:
1.) Describe the school's town and surrounding area.
Wallingford, Connecticut isn't the most exciting place in the world, but I do think that it's a better place to go to boarding school than a lot of other towns. Choate is a few minutes walk away from Main and Center Streets, which have most of Wallingford's popular restaurants. Choate is 15 minutes away from an Amtrak station that can take you to New Haven, New York, Boston, or D.C., so public transportation is easily accessible. Walmart isn't far from campus and there are shuttles to Walmart and to New Haven almost every week. There are occasional trips to New York and Boston.
2.) Describe the social life at your school - what did you like most about it?
Most Choate students tend to be outgoing and friendly towards others and one of the things that I liked most about Choate was how much happier students seemed there than they did at other schools. I was able to become friends with all kinds of people from all over the world with different interests, and I loved that about Choate. What I dislike about the social life at Choate is that it is very athlete-oriented and very gender segregated. The hookup culture is one of my least favorite things about the school and I feel like it gets in the way of guys and girls having healthy friendships with each other.
Daily Schedule:
Weekday
8:15 AM
Wake up; breakfast
8:45 AM
American Political Institutions (AP Gov)
10:30 AM
Free period: I'd grab a bite to eat, get some homework done in my room, or work on a group project
1:00 PM
American Diplomacy; free after (clean room, run errands, get some homework done
3:30 PM
Homework, last-minute work for the News and other clubs
6:00 PM
The News Layout (Had an unusual Monday schedule because of the News)
12:00 PM
Return to dorm; sleep
Weekend
9:00 AM
Wake up, grab breakfast, shower, organize
9:30 AM
Netflix; edit articles for the News; do laundry
10:30 AM
Homework, SAT prep, or college apps
12:30 AM
Homework/hanging out with friends/ Walmart run
6:30 PM
Dinner with friends in town/ordering out
9:00 PM
Watch a play, movie, go to a dance, chill in friend's dorm room
11:45 PM
Hang out in the dorm, or sleep over in friend's room
At Choate, I felt that the faculty and administration really cared about my wellbeing and growth. Classes were mostly organized to allow for discussion and office hours were easy to attend and allowed for personal. . .
Choate has a diverse and interesting study body from all around the world. While it is an old and prestigious boarding school, I found Choate to be less traditional than some of its peer schools. . .
The community is definitely Choate's greatest asset, and the admissions folk do a great job of picking students. We're a pretty chill bunch, so you won't find much of the cut-throat competitiveness that usually accompanies. . .
Show more reviews (

27 reviews

)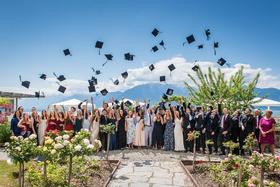 Nurturing Futures: A Journey through Boarding at Haut-Lac School in Switzerland
Nestled in the hills overlooking Lake Geneva in the French-speaking part of Switzerland lies an educational gem that embodies a unique blend of academic excellence, cultural richness and a profound sense of community. Founded over 30 years ago, Haut-Lac International Bilingual Day and Boarding School is now home to both 600 day students and a maximum of 30 boarders from around the world.
What To Wear at Your Job Interview
Navigating job interviews can be stressful, but knowing what to wear shouldn't be. Our comprehensive guide covers the essential dress code tips for men and women interviewing at boarding schools. Make your first impression count with style and professionalism.
Navigating the Modern Maze: Emerging Challenges for Boarding Schools
Explore the pressing challenges facing boarding schools, from marketing difficulties and rising insurance costs to facility maintenance and recruitment of competent trustees and teachers. This article delves into these complex issues and proposes innovative strategies to overcome them.