Reflections and Advice:
1.) What do you think makes your school unique relative to other boarding schools?
I think the senior project program was one was very unique aspect of Westtown. Allowing seniors to spend 1-2 weeks pursuing an adventure or interest they have in any part of the world whether through a school sponsored project or an independent one. Another aspect of Westtown that makes it unique is the different Quaker processes involved throughout the school. Meeting for worship being the most significant one, having a time to reflect and hear the experiences and sharings of the community as well as meeting for business when students get to share their inputs and bring proposals forward to the faculty.
2.) What was the best thing that happened to you in boarding school?
The best thing that happened to me at boarding school was how it taught me and allowed me to mature as a leader in my community. From freshman year to senior year, I went from a quiet, shy, student who was not really involved in much besides sports and schoolwork, to the student body president who led and represented the whole upper school. Without Westtown I would not have made this life changing transformation into the responsible, and diligent leader I am today in college.
3.) What might you have done differently during your boarding school experience?
I would have hung out with more people and spent more time in communal spots earlier in my Westtown career than I did. My first 1.5 out of 2 years boarding I spent too much time on my own dorm floor with my friend group playing video games or sports. It took me a little too long to realize you can always make new friends even with unexpected people, and about halfway through senior year, this hit me and I started spending time in the dining room after meals and then going out onto south lawn to just hangout with a large, jumbled group of other students. So my advice to future boarding students is to experience it to the fullest and spend a lot of time just hanging out and meeting new people.
4.) What did you like most about your school?
Overall, I liked the opportunities Westtown provided me. Through athletics, academics, and leadership, Westtown allowed me to grow and mature as a person in so many aspects that made me the person I am today and will always contribute to my success in college and life after that. I cannot thank Westtown enough for the experiences and teachings they gave me.
5.) Do you have any final words of wisdom for visiting or incoming students to your school?
Some final tips I have is use the belfry after study hall for food if you don't keep snacks in your room! And if you do keep snacks in your room, never leave it out cause mice will come to your room. Also, order from number one China Chinese restaurant if dinner isn't good that night! And go king of Prussia mall as much as possible.
Academics:
1.) Describe the academics at your school - what did you like most about it?
The academics at Westtown are tough, it's a college prep school so it's expected. But it's manageable and you will learn a lot from the course load. There is a wide variety of courses offered now that the science program has divided up into multiple levels for every subject as well as all the English electives offered. The other great thing about Westtown academics is the freedom to take independent research classes if you have a passion for something not specifically offered. I took independent history research and proposed my topic of studying the history of helicopter flight and design throughout the wars and how it has changed over time. Being able to do this made my course load more specific to my interests. Another aspect of the academics, is that there are kids at every level of thinking, slower learners, visual learners, etc. But there is always custom help offered to suit what you're looking for. Whether it's the learning resource center full of tutors (students and teachers) or meeting with your teachers who live on dorm with you, there is always help available to assist you through the challenging work loads.
Athletics:
1.) Describe the athletics at your school - what did you like most about it?
I know most people like the athletic program at Westtown because there is something for everyone, despite the sports requirement, there are sports offered for people who aren't into athletics. Whether it's gardening, fall theatre, dance, or soccer, you can find or try a sport you like. I played soccer all 4 years and had a frustrating first two years cause I was on JV and felt under appreciated. However, it's all a learning curve. I had to trust the process, that I was maturing on JV as a player and a leader until I was brought up to varsity junior year. Junior year I scored 3 goals as a center back (defense), I started every game, was elected to the All League team, and was selected captain for my senior season. The friends league is a competitive league as well as the DISC league which Westtown participates in. The other teams are respectable as well and it's fun fulfilling the rivalries Westtown has established. Westtown athletics also has greatly improved its facilities over the years, allowing for development on quality athletic fields and in the gymnasium. Along with the coaches who also provide the proper training and leadership to grow us not only as athletes but as people and leaders too.
Art, Music, and Theatre:
1.) Describe the arts program at your school - what did you like most about it?
This is one area of Westtown I was not too involved in. I fulfilled the arts requirement my freshman and sophomore years but despite art not being something I like to do, I still enjoyed learning the different techniques in a drawing class as well as how to use photoshop in a digital media class. And I had many friends who participated in theater and loved being in the plays and being apart of that community. Westtown has a good blend of everything. And at the end of the day it doesn't matter what group you come from, whether it's the athletes, the actors and actresses, or the academic lovers, everyone would mix and mingle at meals and share memories together participating in all the wonderful traditions at Westtown.
Extracurricular Opportunities:
1.) Describe the extracurriculars offered at your school - what did you like most about it?
There are a lot of extracurricular activities offered at Westtown. Whether it's clubs you can join or start your own, or service opportunities, the school has a wide variety of things to be a part of. Student leadership was one of the of organizations I was involved in that has a large presence on campus and allows so many people in the community to be leaders even if they don't have elected positions. Another popular one is service opportunities on the weekend offered for people to go out in the local community and help out.
Dorm Life:
1.) Describe the dorm life in your school - what did you like most about it?
Dorm life was my favorite aspect of Westtown. I always described it as a sleepover with your best friends every night and experiencing all of Westtown together. Going through the weekly schedule of having study hall at night then some free time after with your friends is always a good way to wind down and de-stress from life. Dorm life also teaches the students time management and how to be away from your parents and have independence and freedom but to be organized and stay on top your academics. This aspect of dorm life was so essential to my success in college while others were away from home for the first time and took a lot longer to adjust. Another thing to talk about is the room set ups, which are roomy enough and mine was actually bigger than my college triple room. One tip however, is always have snacks in your room for after study hall, cause you will get hungry.
Dining:
1.) Describe the dining arrangements at your school.
The food at Westtown is very diverse, no doubting that. However sometimes it can be too diverse. The food can be a little weird and foreign and the quality can decrease as they mass produce some of the food. However, there is always dominos pizza and a Chinese food delivery place that will bring you great quality food in 30 minutes. But, if you can't afford it, Westtown has more options than the main meal, whether it's the salad bar, the panini bar and press, and the pasta bar.
Social and Town Life:
1.) Describe the school's town and surrounding area.
The greater Philadelphia area (West Chester specifically) is where I have grown up, and I love it here. You have the rural feeling of beautiful Chester County while also being only a short car ride away from Center City, Philadelphia. While also being 2.5 hours from Washington D.C. and New York City, it is the perfect spot. On weekends there are always places to go, a favorite spot being the biggest mall in America, the King of Prussia Mall, or just dessert trips to Wawa or Dairy Queen, there is always some place to go for a fun time such as sky zone trampoline park, or food such as Qdoba, or entertainment such as movie theaters, malls, and other big shopping centers.
2.) Describe the social life at your school - what did you like most about it?
The social life at Westtown is interesting. But it is definitely fun, you make a ton of new friends almost immediately upon moving in on dorm. However, Westtown is a small school so everyone will know everything that happens in the community, as news spreads like wild fire. I liked the small community however, because I knew everyone in my classes and never saw a person for the first time halfway through the year like in college. Westtown create a safe social environment to make friends and experience relationships.
Daily Schedule:
Weekday
Weekend
Small Quaker school, tight group, not so much focused on strong academics as much as creating good individuals in society.. . .
Westtown has a beautiful campus. It was beautiful and especially safe to walk around any time of day. Also the style of teaching is very hands on and has small classes, usually with. . .
Two aspects of Westtown that stand out in particular are its sense of community, and the education driven towards social change. Its sense of community is in part due to the fact that Westtown is. . .
Show more reviews (

41 reviews

)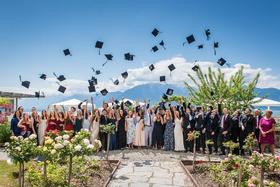 Nurturing Futures: A Journey through Boarding at Haut-Lac School in Switzerland
Nestled in the hills overlooking Lake Geneva in the French-speaking part of Switzerland lies an educational gem that embodies a unique blend of academic excellence, cultural richness and a profound sense of community. Founded over 30 years ago, Haut-Lac International Bilingual Day and Boarding School is now home to both 600 day students and a maximum of 30 boarders from around the world.
What To Wear at Your Job Interview
Navigating job interviews can be stressful, but knowing what to wear shouldn't be. Our comprehensive guide covers the essential dress code tips for men and women interviewing at boarding schools. Make your first impression count with style and professionalism.
Navigating the Modern Maze: Emerging Challenges for Boarding Schools
Explore the pressing challenges facing boarding schools, from marketing difficulties and rising insurance costs to facility maintenance and recruitment of competent trustees and teachers. This article delves into these complex issues and proposes innovative strategies to overcome them.