Reflections and Advice:
1.) What do you think makes your school unique relative to other boarding schools?
I think what sets Episcopal apart from other comparable boarding schools is its unique location. Situated right outside the nation's capital, EHS students are constantly exposed to the world beyond just the high school. Very few high schoolers have the opportunity to attend a presidential inauguration, tour the pentagon, or work for a senator, and these are all common occurrences for Episcopal students. I think boarding schools often come off as "confining," yet I never felt this way at Episcopal because the school does a great job of providing off campus activities.
2.) What was the best thing that happened to you in boarding school?
I went into my freshman year of EHS as a mediocre student who lacked confidence in pretty much every way. I was never the smartest in middle school, I struggled to get the necessary SAT scores to even get into Episcopal, and my best friends in middle school were never really from school. They were always the girls I met through my outside sports teams. Over the course of my four years at EHS, I grew into a completely different kid quite honestly, and who I am today is a direct reflection of the growth that took place during high school. The biggest change was probably my academic achievements. At EHS, it is "cool" to be smart in a way that I hadn't experienced at my previous school. People at Episcopal look up to the high achieving individuals and I knew starting my freshman year that I wanted to be one of those role models. After a lot of hard work and mentor-ship from my teachers, I grew into a confident academic powerhouse. I eventually was elected into the Cum Laude society my senior year and received a full-ride merit scholarship to my dream college.
3.) What might you have done differently during your boarding school experience?
I would tell incoming students to not be afraid of change. There is a strong possibility that the friends you make during your first week at boarding school will not end up being your core group of friends, and that is OK! It is also totally fine for your opinions about the world to change as you grow older and more mature throughout high school. The best advice I can give to an incoming freshman is to find an adult at EHS who truly understands you, someone you look up to--and latch onto them and soak up every piece of advice and knowledge they may have. The mentors I had at EHS played a huge role in shaping who I am today.
4.) What did you like most about your school?
Episcopal knows what it stands for. Not only has the school been around for a very long time, but EHS has managed to preserve the history and traditions of the school for over a century. While Episcopal has undergone many changes in these years, including the admittance of girls, the founding principles have remained the same. I think this aspect of EHS makes students proud to attend.
5.) Do you have any final words of wisdom for visiting or incoming students to your school?
The snack bar chocolate chip cookies are amazing. I also still believe that the EHS sunsets are some of the prettiest I have ever seen. I'm not sure why this is, but I miss sitting outside on the benches and watching the sky light up at night over the beautiful brick buildings.
Academics:
1.) Describe the academics at your school - what did you like most about it?
Episcopal's academics can be as rigorous as you want them to be. A great thing about EHS is most classes are taught at multiple levels, ranging from standard difficulty to honors or AP level. I came into my freshman year as a mediocre student, and by the time I graduated I was a self-proclaimed nerd who took seven AP's during my senior year. I think this transformation was inspired by the amazing relationships I had with my teachers at EHS. In the past, my relationships with teachers had been very formal and business-like. But the beauty of going to a boarding school like EHS is that most of the faculty lives on campus--this meant that I saw my teachers at breakfast, lunch, and dinner and then later on when they were out walking their dogs on a family stroll. Overtime, my interactions with teachers outside of class became more and more frequent and by the end of my time at EHS they became my parents away from home.
Athletics:
1.) Describe the athletics at your school - what did you like most about it?
There is no question that EHS has the best athletic facilities in the area. College teams frequently host tournaments on campus and professional teams have even used the athletic facilities for training purposes. Athletics were a huge part of my EHS experience--I was thankful that the school required everyone to choose an afternoon activity all three seasons because I was introduced to 2 new sports at EHS. I ended up playing both all four years. My coaches were some of my biggest mentors in high school because most of the time they were also teachers or administrators who probably lived on campus so I grew close with my coaches. Team dinners at our coach's house or team breakfasts before big games were not uncommon and were some of my favorite memories from EHS.
Art, Music, and Theatre:
1.) Describe the arts program at your school - what did you like most about it?
EHS requires students to participate in some sort of art program during their four year and many kids choose to participate in multiple arts programs. I chose to take photography and sing in the all-female a capella group which was a great way to meet new kids that weren't on my sports teams or in my weekly classes. The art teachers at EHS are so welcoming and friendly that I was inspired to take photography for the first time my sophomore year and by the time I was a senior I was taking AP Photography and including my photography portfolio as part of my college application. I also think something unique about Episcopal's arts scene is the fact that a lot of it is student driven. Students plan monthly coffee houses and show cases to highlight student talent.
Extracurricular Opportunities:
1.) Describe the extracurriculars offered at your school - what did you like most about it?
EHS is situated in a large city so the community service opportunities are pretty much unlimited. There is a community service organization that is specifically dedicated to finding opportunities for students and marketing them but I think my favorite part was the school sponsored trips. EHS offers trips to places like Nicaragua and Kenya for students to learn about other cultures and give back to communities. I had the opportunity to travel to Kenya for three weeks and teach English at a rural Kenyan boarding school. On campus volunteering is also common because outside organizations often use Episcopal spaces to host events. For example, I volunteered at the Special Olympics all four years during my time at EHS and it was a great way to give back without even having to leave campus.
Dorm Life:
1.) Describe the dorm life in your school - what did you like most about it?
I had a roommate all four years at EHS and I had such a positive experience. Curfews at boarding school are strict but EHS does a good job of providing dorm bonding activities after everyone is required to "sign in" for the night. Every dorm has "dorm parents" who live in the dorm building and usually schedule activities like cook-outs and movie nights with lots of snacks. I think it is smart that girl dorms and boy dorms are intertwined and there isn't a girls side of campus and a boys side because it makes hanging out between the sexes much more natural.
Dining:
1.) Describe the dining arrangements at your school.
The dining hall at EHS is beautiful and doubles as a student hang out during weekend brunch and non-seated meals. Seated meals occur usually four days a week and students either sit with their advisory or a randomly assigned table. I always thought seated meals were a great way to meet students from other grades that you may not run into otherwise. Episcopal does a good job of providing a variety of meals including many healthy options in addition to weekly staples like the pasta bar on Thursdays or the ice cream sundae bar on Tuesdays. The dining hall will also put on weekend events like cook-offs, which are always super popular with the students.
Social and Town Life:
1.) Describe the school's town and surrounding area.
EHS does a fantastic job of providing off campus weekend activities for students. A normal weekend for me would usually include at least one or two trips off campus, often to go shopping in Georgetown or to have dinner in Old Town Alexandria. Even if EHS isn't providing shuttles to where you might want to go, it is very easy for students to call cabs to campus. In addition to its proximity to Washington DC, EHS is also located in walking distance from a shopping center. Students often walk to the shopping center even on weeknights to grab dinner or grocery shop.
2.) Describe the social life at your school - what did you like most about it?
While there is certainly no shortage of activities in Washington DC or Alexandria, EHS does a great job of providing on campus activities for students to socialize. I loved attending weekend DJs or live bands in the student center and there were always people organizing movie nights or pickup basketball games. The social life at Episcopal can be as lively as you want it to be--while there are always activities going on, there is always the option to stay in bed and watch Netflix during your free time.
Episcopal is unique in the boarding school world in that 100% of the students are boarders. While the school advertises this statistic heavily, I personally do not think that it could be said too. . .
I think what sets Episcopal apart from other comparable boarding schools is its unique location. Situated right outside the nation's capital, EHS students are constantly exposed to the world beyond just the high school. Very. . .
One aspect of Episcopal that is unique is the fact that is 100% boarding. Since there is not this divide in the community, the sense of community at EHS is quite strong. Everyone is there. . .
Show more reviews (

9 reviews

)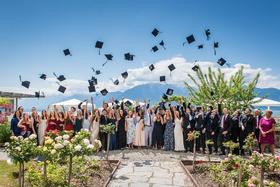 Nurturing Futures: A Journey through Boarding at Haut-Lac School in Switzerland
Nestled in the hills overlooking Lake Geneva in the French-speaking part of Switzerland lies an educational gem that embodies a unique blend of academic excellence, cultural richness and a profound sense of community. Founded over 30 years ago, Haut-Lac International Bilingual Day and Boarding School is now home to both 600 day students and a maximum of 30 boarders from around the world.
What To Wear at Your Job Interview
Navigating job interviews can be stressful, but knowing what to wear shouldn't be. Our comprehensive guide covers the essential dress code tips for men and women interviewing at boarding schools. Make your first impression count with style and professionalism.
Navigating the Modern Maze: Emerging Challenges for Boarding Schools
Explore the pressing challenges facing boarding schools, from marketing difficulties and rising insurance costs to facility maintenance and recruitment of competent trustees and teachers. This article delves into these complex issues and proposes innovative strategies to overcome them.