Episcopal High School - Review #1
About the Author:

College Enrolled
Northwestern University
Home Town, State (Country)
Reston, VA, VA
Years Attended Boarding School
4
Activities During Boarding School
From freshman year to my senior year I was captain of the Dance Program. I was a member of the school Vestry (religious counsel), and was asked to be Junior Warden during my senior year. I also held leadership positions for the school Gay-Straight Alliance, the waiting program in the dining hall, and Spectrum, Episcopal's diversity club. I was also an active member of the Girl's Christian Fellowship and SWELL, the student wellness club. I was a tour guide and mentor to an incoming student. During my senior year, i was a member of YALP, the young alumni leadership program. I participated in a play and a musical during my time at EHS as well.
Daily Schedule:
Weekday
| | |
| --- | --- |
| 7:15 AM | Get ready for the day and eat breakfast. |
| 8:00 AM | Class day begins. |
| 3:00 PM | Class day ends and tutorial period begins. |
| 3:45 PM | Tutorial ends and afternoon option practices begin. |
| 5:45 PM | Afternoon options finish and buffet dinner opens. |
| 7:00 PM | Club meetings/time with friends/call home/start HW early |
| 8:00 PM | Study hall begins. |
| 10:00 PM | Study hall ends. |
| 11:00 PM | Lights out is somewhere around here depending on your grade. |
Weekend
| | |
| --- | --- |
| 9:00 AM | Community service opportunities. |
| 11:00 AM | Lunch in the dining hall opens. People hang out on/off campus. |
| 5:45 PM | Saturday check-in with faculty on weekend duty. |
| 6:00 PM | Leave for dinner plans or movie plans off campus. |
| 9:00 PM | Campus party gets started. |
| 11:00 PM | Sign in on dorm is around here depending on grade. |
| 12:00 PM | Quiet dorm and no more ordering in food. |
Review

Description

Northwestern University

One aspect of Episcopal that is unique is the fact that is 100% boarding. Since there is not this divide in the community, the sense of community at EHS is quite strong. Everyone is there. . .

Duke University

I think what sets Episcopal apart from other comparable boarding schools is its unique location. Situated right outside the nation's capital, EHS students are constantly exposed to the world beyond just the high school. Very. . .

Rice University

Episcopal is unique in the boarding school world in that 100% of the students are boarders. While the school advertises this statistic heavily, I personally do not think that it could be said too. . .

Tufts University

Episcopal is a really well-rounded school, and there is always something for everyone. Although you might find yourself in the minority in some cases, but people at EHS were really encouraging friendly regardless of who. . .

Duke University

First, Episcopal High School benefits from its location. The proximity to Washington, D.C provides it with many educational opportunities, such as Weekly tours that take place on Wednesdays, May Program for seniors, which allows seniors. . .

Show more reviews

(7

reviews)
April 20, 2018
Actually, there is no secret to getting your child into boarding school. Just a lot of hard work and a heavy commitment of time.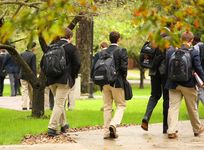 March 22, 2018
Some cynics think single-sex education is old-fashioned. The Kiski School shows how educating boys in a single-sex school is successful.
March 08, 2018
The wide range of fine academic, athletic, and other facilities found in boarding schools underscores the determination of schools to provide the very best for their students.