Reflections and Advice:
1.) What do you think makes your school unique relative to other boarding schools?
One aspect of Episcopal that is unique is the fact that is 100% boarding. Since there is not this divide in the community, the sense of community at EHS is quite strong. Everyone is there all the time, sharing in the same experiences together. Another thing that makes EHS unique is its location. There never has to be a dull moment on the weekends. It is not rare to find EHS students at Wizards games, watching musicals and other performances at the Kennedy Center, or trying out a new restaurant. Just as a note, some of these activities that I mentioned are included in tuition and available to all students. The location allows for academic and extracurricular stimulation outside of the classroom.
2.) What was the best thing that happened to you in boarding school?
The best thing I feel like that happened to me in boarding school was me graduating with a greater sense of self and heightened awareness of social dynamics. My friends were interested in participating in social activism and discussing our thoughts on current events. By living with each other and being so close to each other, we really felt comfortable grappling with difficult questions within the friend group. There are amazing teachers, administrators, clubs, and classes that helped heighten our awareness of social trends and how we could get involved. I would say my greatest achievement was being able to graduate with academic success and having participated in many different clubs. More specifically, I am glad that I helped grow the dance program to what it is today.
3.) What might you have done differently during your boarding school experience?
My advice would be to allow yourself to grow into your own person and to not allow yourself to feel like you should be something that you are not. This could be advice given to any kid going to a boarding school. Since everyone lives together, it is easy to adopt ideas from one another. This can be good except when people begin to lose themselves. It's okay to do something that's against the status quo and do what feels right to you :)
4.) What did you like most about your school?
I liked that I was able to meet people of so many different backgrounds. The academics and location are great as well but I feel like visiting DC with people who had different perspectives and being in class with these people made the experience that much more meaningful. I also think the teachers are amazing- great at teaching and great at helping guide students as the kids that they are outside of the classroom. The teachers really care about the students and their well being is top priority.
5.) Do you have any final words of wisdom for visiting or incoming students to your school?
There's always construction happening, but that's why the campus is absolutely beautiful! During my senior year, the student center, Stewart, was under construction and the blueprints for it were so cool! So please enjoy the new Stewart for me since I never was able to! DJ's are fun...especially if you go to have fun. Lastly, explore DC! It has so much to offer...there's really never any reason to go to the same restaurant more than once.
Academics:
1.) Describe the academics at your school - what did you like most about it?
The academics are rigorous, but very manageable. There are a lot of Advanced and honors classes offered, and most students do end up taking at least a few by the end of their time at EHS. The teachers do expect a lot from their students, however the teachers also do all that they can to teach their students in the best way possible and guide them down the path of success. I would say that I liked how available teachers were to work with students outside of class time and the course selection, especially during junior and senior year.
Athletics:
1.) Describe the athletics at your school - what did you like most about it?
The athletics at EHS are quite strong. I always danced so I only have an outside perspective but the teams are competitive, challenging, but also a good bonding experience. The facilities are beautiful and brand new. There are also a lot of sports to choose from. Everyone has to do 8 seasons of athletics if I remember correctly, but there are ways around this if someone is a passionate artist.
Art, Music, and Theatre:
1.) Describe the arts program at your school - what did you like most about it?
The Arts programs are all on the rise at EHS and it's quite exciting. There are 2 levels of chorus to take during the academic day. There are also acapella groups to join. The choir goes on a choir tour every year and always receives a lot of positive feedback. There are opportunities to take private voice lessons and compete in competitions as well. Main Stage Theater puts on 3 main productions a year, one of which is a musical. Students can also take acting classes during the day. Main Stage Theater has won a number of awards recently. Dance recently joined the Washington Area Independent School's Dance Education Association and puts on 2 major performances in a year. Students choreograph and learn choreography from hip hop, modern, and ballet instructors from the Dana Tai Sun & Burgess dance company. Also, the facilities are beautiful. The teaching staff were great and the school's commitment to the arts grows each year.
Extracurricular Opportunities:
1.) Describe the extracurriculars offered at your school - what did you like most about it?
There are many extracurricular activities to choose from. Also, if there isn't a club that exists, it really is possible to create one. A food and culture club was started during my time at EHS for example. There is always the difficulty of finding time to meet because the EHS daily schedule really is packed. Volunteering is popular, most students participate in at least some community service.
Dorm Life:
1.) Describe the dorm life in your school - what did you like most about it?
I like that all of the freshman are on the same dorm, it really helps student make close connections their first year. The dorms are nice- all dorms have AC, carpeted floors, desk, and a bed. There is a vending machine on most dorms for late night food access, however food cannot be delivered after 11 pm on school nights and 12 am on weekends. The dorms all have brother-sister dorms and they do activities together throughout the year. Also, there are dorm activities and excursions throughout the year that fosters a sense of community on each dorm. The dorm faculty and teams are also great, they care about the students as students, but as just teenagers as well.
Dining:
1.) Describe the dining arrangements at your school.
At EHS there are seated lunches 3 times a week and seated dinner once a week. I like being able to bond and get to know a set group of people and a specific teacher who is also your advisor. I also like how the students wait the tables during these meals, it is a nice way to earn money and give back to the community. The rest of the meals are buffet style and friend groups tend to choose to sit together during this time. The food is great and there are always other options (salad bar, chilli, sandwich bar, bagels, soup) to have if you don't happen to like a particular meal.
Social and Town Life:
1.) Describe the school's town and surrounding area.
There is plenty to do in just Alexandria alone...great shopping, restaurants, laser tag, ice skating etc. There is a plaza with casual dining, a drug store, and 2 grocery stores walking distance from campus that students are allowed to walk to Wednesdays and weekends. DC is just a metro or taxi ride away and there's a ton to do there- so much so that I feel like I didn't explore everything I would've liked to before I graduated.
2.) Describe the social life at your school - what did you like most about it?
The social life is vibrant at EHS. There is always something going on on the weekends, such as the off campus things I mentioned earlier. There are also casual parties almost every weekend that are fun. The school brings hypnotists, food trucks, and bands to campus as well. These activities make for close relationships.
Daily Schedule:
Weekday
7:15 AM
Get ready for the day and eat breakfast.
3:00 PM
Class day ends and tutorial period begins.
3:45 PM
Tutorial ends and afternoon option practices begin.
5:45 PM
Afternoon options finish and buffet dinner opens.
7:00 PM
Club meetings/time with friends/call home/start HW early
8:00 PM
Study hall begins.
11:00 PM
Lights out is somewhere around here depending on your grade.
Weekend
9:00 AM
Community service opportunities.
11:00 AM
Lunch in the dining hall opens. People hang out on/off campus.
5:45 PM
Saturday check-in with faculty on weekend duty.
6:00 PM
Leave for dinner plans or movie plans off campus.
9:00 PM
Campus party gets started.
11:00 PM
Sign in on dorm is around here depending on grade.
12:00 PM
Quiet dorm and no more ordering in food.
One aspect of Episcopal that is unique is the fact that is 100% boarding. Since there is not this divide in the community, the sense of community at EHS is quite strong. Everyone is there. . .
I think what sets Episcopal apart from other comparable boarding schools is its unique location. Situated right outside the nation's capital, EHS students are constantly exposed to the world beyond just the high school. Very. . .
Episcopal is unique in the boarding school world in that 100% of the students are boarders. While the school advertises this statistic heavily, I personally do not think that it could be said too. . .
Show more reviews (

9 reviews

)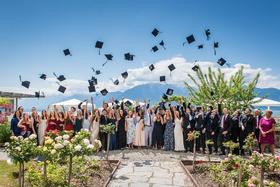 Nurturing Futures: A Journey through Boarding at Haut-Lac School in Switzerland
Nestled in the hills overlooking Lake Geneva in the French-speaking part of Switzerland lies an educational gem that embodies a unique blend of academic excellence, cultural richness and a profound sense of community. Founded over 30 years ago, Haut-Lac International Bilingual Day and Boarding School is now home to both 600 day students and a maximum of 30 boarders from around the world.
What To Wear at Your Job Interview
Navigating job interviews can be stressful, but knowing what to wear shouldn't be. Our comprehensive guide covers the essential dress code tips for men and women interviewing at boarding schools. Make your first impression count with style and professionalism.
Navigating the Modern Maze: Emerging Challenges for Boarding Schools
Explore the pressing challenges facing boarding schools, from marketing difficulties and rising insurance costs to facility maintenance and recruitment of competent trustees and teachers. This article delves into these complex issues and proposes innovative strategies to overcome them.