Reflections and Advice:
1.) What do you think makes your school unique relative to other boarding schools?
Episcopal is unique in the boarding school world in that 100% of the students are boarders. While the school advertises this statistic heavily, I personally do not think that it could be said too many times. The fact that 100% of students live, dine, and learn together is what, I believe, makes the community so tight-knight and special.
2.) What was the best thing that happened to you in boarding school?
Boarding school allows you to grow as an individual and challenge yourself in ways you never thought possible. I made incredible relationships with my teachers and fellow classmates that I know will also me a lifetime.
3.) What might you have done differently during your boarding school experience?
Jump right in and be yourself!
4.) What did you like most about your school?
I loved Episcopal, there is no doubt about it. I loved the lasting relationships I made and the support I received.
5.) Do you have any final words of wisdom for visiting or incoming students to your school?
Be sure to go to Guapos in Shirlington! Best texmex around!
Academics:
1.) Describe the academics at your school - what did you like most about it?
Academics at Episcopal are challenging without a doubt. Students are pushed to excel in all of their subjects, and the workload is heavy. That being said, there is a SURPLUS of support available to help students succeed. Episcopal is not a "scary" place. Faculty members are invested in students' growth as scholars, yes, but more so they are interested in facilitating students' growth as individuals and as members of society.Episcopal prepares you for college exceptionally well. I actually found college to be much easier than my classmates after having attended Episcopal. At Episcopal, students learn time management and writing skills that allow them to excel in their university studies.
Athletics:
1.) Describe the athletics at your school - what did you like most about it?
I had an incredible experience with the Episcopal athletics department. My teams (cross country and track) were both competitive within the ISL conference. I made my best friends on my athletic teams, and I am still in contact with all of my coaches today. I went on to run NCAA D1 cross-country and track, and felt that the structure of the running program at Episcopal prepared me adequately to succeed post high school.
Art, Music, and Theatre:
1.) Describe the arts program at your school - what did you like most about it?
The performing arts program was fairly small when I was a freshmen in high school. However, by the time I graduated, a large number of students were involved in several plays and performances throughout the year.I was involved in photography while at Episcopal and have nothing but positive things to say about my experience in that arena. The photography faculty are excellent, and are eager to help their students explore the arts.
Extracurricular Opportunities:
1.) Describe the extracurriculars offered at your school - what did you like most about it?
There were many opportunities to volunteer while at Episcopal, however, it was hard to get a big group of students to regularly commit to volunteering. The few times that I attended volunteering events I really enjoyed them, however, I felt that there could have been a more structured program in this area.That being said, Episcopal does host the regional Special Olympics track meet each spring, and that has a HUGE turnout of students and is REALLY fun to be a part of!
Dorm Life:
1.) Describe the dorm life in your school - what did you like most about it?
Dorm life was VERY fun. It really is a sleepover with your friends every night! Some of my best memories are from my nights on dorm, whether it be studying for an exam with the faculty member on duty, staying up late on a weekend to watch a scary movie, or just having a dance party with your friends. It is fun and exciting to have your own space away from home, and your dorm family really does becomes your surrogate family.
Dining:
1.) Describe the dining arrangements at your school.
I have zero complaints about my dining experience at Episcopal. I LOVED the food. All of it. There was always a variety of options, and there was a good balance between seated meals and buffet meals.
Social and Town Life:
1.) Describe the school's town and surrounding area.
Episcopal's location is another thing that makes it such an appealing boarding school. Located minutes away from the nations capital, Episcopal never has a lack of activities planned for students to engage in the surrounding areas. The restaurant scene is fantastic, and Episcopal makes it easy for students to experience Alexandria and DC.
2.) Describe the social life at your school - what did you like most about it?
The friends I made at Episcopal will be my friends for live. Living with your friends for 4 years really does create a special kind of bond that is not easily broken. I would not trade my nights spent on dorm for a traditional high school experience any day.
Episcopal is unique in the boarding school world in that 100% of the students are boarders. While the school advertises this statistic heavily, I personally do not think that it could be said too. . .
I think what sets Episcopal apart from other comparable boarding schools is its unique location. Situated right outside the nation's capital, EHS students are constantly exposed to the world beyond just the high school. Very. . .
One aspect of Episcopal that is unique is the fact that is 100% boarding. Since there is not this divide in the community, the sense of community at EHS is quite strong. Everyone is there. . .
Show more reviews (

9 reviews

)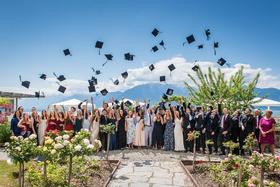 Nurturing Futures: A Journey through Boarding at Haut-Lac School in Switzerland
Nestled in the hills overlooking Lake Geneva in the French-speaking part of Switzerland lies an educational gem that embodies a unique blend of academic excellence, cultural richness and a profound sense of community. Founded over 30 years ago, Haut-Lac International Bilingual Day and Boarding School is now home to both 600 day students and a maximum of 30 boarders from around the world.
What To Wear at Your Job Interview
Navigating job interviews can be stressful, but knowing what to wear shouldn't be. Our comprehensive guide covers the essential dress code tips for men and women interviewing at boarding schools. Make your first impression count with style and professionalism.
Navigating the Modern Maze: Emerging Challenges for Boarding Schools
Explore the pressing challenges facing boarding schools, from marketing difficulties and rising insurance costs to facility maintenance and recruitment of competent trustees and teachers. This article delves into these complex issues and proposes innovative strategies to overcome them.