Reflections and Advice:
1.) What do you think makes your school unique relative to other boarding schools?
The four years that I spent at Holderness were, without a doubt, the most enjoyable and most transformative years of my life. I have worked at three different independent schools since college and it is very clear that Holderness truly is different - and better - than any other school I've come across.While a student, I was pushed outside of my comfort zone in so many ways - in the classroom, in the infamous jobs program, on the athletic fields, and in day-to-day life at the school. Holderness challenges students to think differently: to propose questions rather than answers; to explore solutions in new and innovative ways; and to consider the impact of their ideas and decisions.Holderness gives students the tools and the confidence to challenge the conventional way of thinking and its unique community offers the support and mentor-ship to be successful in anything that you choose to do. As a young, self-conscious, and self-centered teenager, Holderness taught me to think of others before myself and, in addition, it taught me how to be a respectful, humble, and engaged member of the school as well as the greater community. I would not trade my experience at Holderness for anything in the world.
2.) What was the best thing that happened to you in boarding school?
The best thing about Holderness was the community of students and teachers who enabled me to gain confidence and learn a great deal about myself - my strengths, weaknesses, and what I was passionate about. I developed excellent communication skills and the ability to solve problems and create new, innovative ways of doing things. This has helped me immensely in my career and just in my sense of purpose and happiness in my life.
3.) What might you have done differently during your boarding school experience?
I don't think I would have done anything differently, other than possibly trying a few new things such as music or acting. My advice for kids going to boarding school would be to take advantage of as many of the opportunities as possible, including things that you don't think you are going to like or that you have never tried before. Never again in your life will you be in such a supportive community in which to take on new challenges and risks.
4.) What did you like most about your school?
I cherish the relationships I developed with my peers and teachers more than anything. I am, to this day, still very close to many of my teachers and coaches, whom I speak with a few times a year. My best friends in the world are still those that I made while at Holderness (not my college friends)!
5.) Do you have any final words of wisdom for visiting or incoming students to your school?
Go up to the outdoor chapel sometime by yourself. Take time to observe your surroundings and reflect on your experience, with no distractions. I think you will find it both refreshing and very emotional. I know I did.
Academics:
1.) Describe the academics at your school - what did you like most about it?
I most enjoyed the way in which my teachers encouraged me to develop unique, creative ideas and explore different ways of thinking. My humanities teachers, in particular, taught me to take risks in my writing and to try using different styles and making unconventional arguments. Perhaps most importantly, my teachers genuinely wanted me to see them for help if I didn't understand something, even if that meant knocking on their door at 8:30 at night. They were patient and supportive, yet they demanded the utmost of my effort and ability.
Athletics:
1.) Describe the athletics at your school - what did you like most about it?
Holderness has more school spirit than any school I have encountered, especially since it has such a small student body. I was a big student-athlete and was fortunate to have the opportunity to continue playing sports (soccer and lacrosse) in college. My coaches at Holderness were not only knowledgeable and experienced, but like my teachers, they held me to an extremely high standard, yet one that was reasonable. They helped me develop the necessary skills and team strategy but more importantly, they helped me develop the leadership skills that would instill in me the confidence I needed to be the best that I could be. Holderness requires students to participate in sports in at least 2 seasons (most did 3 anyway), and this made every student a better athlete, a better teammate, and a better person. I was always a strong soccer and lacrosse player, but I had never played ice hockey before. I was not accustomed to not being one of the best players on a competitive team, so trying ice hockey from scratch was humbling and gave me an appreciation for the less skilled, younger, and less experienced players on my other teams.
Art, Music, and Theatre:
1.) Describe the arts program at your school - what did you like most about it?
I did not participate in very much related to studio or performing arts, or music, but I always was in awe of how many students did participate - even those that were also involved in sports or other extracurricular commitments. Holderness offers an incredible diversity of classes and opportunities to get involved in the arts and to try something that you have never done before. I tried a ceramics class, which was a bit nerve-wracking because I have always been a terrible artist with little patience, but my teacher was incredibly supportive and I learned a lot about art and how to deal with failure and challenges in that class!
Extracurricular Opportunities:
1.) Describe the extracurriculars offered at your school - what did you like most about it?
Holderness offers so many opportunities to take on a leadership role, whether in the jobs program, in a club, in the student government, or in less organized ways such as coming up with a weekend trip or a community service proposal. There is something for everyone, no matter what your interest, background, or experience. Holderness wants every student to feel that their ideas are being heard and that they are important, so they support students in virtually whatever endeavor they can dream up. Holderness students are very independent and it is not uncommon for students to take the lead on school-wide initiatives.
Dorm Life:
1.) Describe the dorm life in your school - what did you like most about it?
Living in the dorms at Holderness was an incredible experience. The girls dorms are very small (some only 8 students) and each has a wonderful, dedicated, and generous faculty member and family attached to the dorm. My dorm parents (I had 3 different ones in my 4 years) cared about our well-being and regularly spent up to an hour at evening check-in just learning about our days, asking if they could help us with anything, and making sure that we were having a good experience and were happy. The residential life curriculum at Holderness ensures that each dorm gets together for informal dinners and fun gatherings or activities, but it also has more structured activities to promote awareness, inclusion, diversity of thought and experience, and compassion, among other values. All dorms at Holderness are in excellent, state-of-the-art condition, yet they are very cozy and home-y. Not cookie-cutter whatsoever.
Dining:
1.) Describe the dining arrangements at your school.
Great food, all cooked homemade by the kitchen staff who is local and experienced. The kitchen staff knew me by name and always was looking to please the students and faculty. They were responsive to requests for specific foods or accommodating students with allergies (my roommate had a gluten allergy). The hours for meals are very convenient and fresh fruit is always available as well as bagels and drinks. Formal dinners twice per week help to instill a sense of community, responsibility, and they force students to step outside their social comfort zone and engage in meaningful conversation with new faces.
Social and Town Life:
1.) Describe the school's town and surrounding area.
Holderness is in an idyllic setting. Plymouth is a very nice, bustling little town, with several great restaurants and cultural events (due to the college in town). Opportunities abound for outdoor adventures - hiking, kayaking, canoeing, skiing/snowboarding, sledding, biking, etc. If you are a city person and miss the urban life, Holderness offers busses pretty regularly to Boston (about 1h45min away) on the weekend.
2.) Describe the social life at your school - what did you like most about it?
Holderness is truly a unique, incredible community. I felt comfortable talking to everyone on campus, no matter their role or their status (freshman vs. senior, for example). It is a friendly, inviting, and laid-back atmosphere in which you never feel self-conscious or uncomfortable. I arrived as a 13-year-old freshman who was initially very quiet and nervous. Within a month or two, my confidence blossomed and I matured at an incredible rate. I felt incredibly prepared to embark upon my college experience to meet new people and take on new challenges.
Weekend
1:00 AM
Watch TV show episodes on laptop in dorm with friends
2:00 AM
Go to sleep, finally!
8:00 AM
Wake up, go for a light run on the trails
10:00 AM
Walk to brunch with my roommate and sit in the dining hall a long time!
12:00 AM
Trip to Dunkin Donuts with Mr. Weymouth
1:00 PM
Hang out on the quad with friends, play soccer, frisbee
4:00 PM
Do some reading for homework, other schoolwork
6:30 PM
Go to dinner in the dining hall
8:00 PM
Study hall starts - stay in room or go to Hagerman Center to study
Nestled in rural New Hampshire a unique aspect of Holderness school is its proximity to the White Mountains and the integral part they play over the course of a students education at Holderness. Weekend trips. . .
The one thing about Holderness that I thought was incredibly unique, and one of my favorite aspects of the school, is the sense of community. I don't think I've ever been as close to a. . .
Holderness is a very unique school. Aside from the down to earth culture and genuine connections you will make with faculty, two things that make it unique are 'Special Programs' in the spring and the. . .
Show more reviews (

5 reviews

)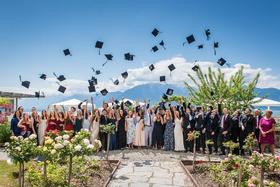 Nurturing Futures: A Journey through Boarding at Haut-Lac School in Switzerland
Nestled in the hills overlooking Lake Geneva in the French-speaking part of Switzerland lies an educational gem that embodies a unique blend of academic excellence, cultural richness and a profound sense of community. Founded over 30 years ago, Haut-Lac International Bilingual Day and Boarding School is now home to both 600 day students and a maximum of 30 boarders from around the world.
What To Wear at Your Job Interview
Navigating job interviews can be stressful, but knowing what to wear shouldn't be. Our comprehensive guide covers the essential dress code tips for men and women interviewing at boarding schools. Make your first impression count with style and professionalism.
Navigating the Modern Maze: Emerging Challenges for Boarding Schools
Explore the pressing challenges facing boarding schools, from marketing difficulties and rising insurance costs to facility maintenance and recruitment of competent trustees and teachers. This article delves into these complex issues and proposes innovative strategies to overcome them.