Reflections and Advice:
1.) What do you think makes your school unique relative to other boarding schools?
The Hill School experience is wonderful. Your classmates are very intelligent and hard-working and they expect 100% all the time. The Hill School prepares you for Ivy League colleges with a great background in many different fields the Hill school is a group of people that are fantastic.
2.) What was the best thing that happened to you in boarding school?
Being selected to the Hill school was one of the proudest achievements of my life. He gave me a chance to grow up make great friends and learn how to be a gentleman. I only got to stay for one year as my father was traveling the world and I needed to join him. It was an amazing experience one that I would recommend to anybody
3.) What might you have done differently during your boarding school experience?
Going to boarding school can be a very scary thing but after you get over being homesick and learn your way around the campus you become much more confident in yourself. Boarding school isn't for everybody you must be self motivated and sure of yourself before you can enjoy the experience.
4.) What did you like most about your school?
The best thing about boarding school is the people that you meet. You make lifelong friends with amazing instructors and your classmates
5.) Do you have any final words of wisdom for visiting or incoming students to your school?
I recommend did any prospective student definitely go to the campus check out the dorm rooms and the cafeteria and don't forget to go to the hill snack shop for any treats that you might want to have. Ask questions that are important to you because you're going to be spending a lot of time there. Check everything out talk to a few students to see if they're the right kind of people for you. Most of all enjoy yourself.
Academics:
1.) Describe the academics at your school - what did you like most about it?
The Hill school is a very demanding School. They give you all the tools you need to perform with excellent and well-rounded background in many different subjects.With courses like ancient history ,mathematics, Latin. All the things you learn is to give you a well-rounded background so that you can be able to speak confidently and become a leader in the field you choose to go in
Athletics:
1.) Describe the athletics at your school - what did you like most about it?
I played ice hockey and I played soccer. I was not much of a jock but my roommate was the goalie on the varsity team so I got to root everybody on.
Art, Music, and Theatre:
1.) Describe the arts program at your school - what did you like most about it?
The Hill school has a robust and well-rounded liberal arts program. The whole school is known for its glee club and you can take piano lessons singing lessons whatever makes you happy. The whole school is very competitive winning is what it's all about and sportsmanship. Some of our classmates became actors on famous shows. It's all there all you have to do is join and become the best you can
Extracurricular Opportunities:
1.) Describe the extracurriculars offered at your school - what did you like most about it?
I took piano lessons was in the Glee Club but the best part I like was just being able to have free time after study hall to hang out with my friends. Your friends become your lifelong friends and business partners later in life the Hill School is definitely part of your life forever
Dorm Life:
1.) Describe the dorm life in your school - what did you like most about it?
The Hill school has beautiful dormitories. You spend a lot of time in your room for studying and sleeping. You have a roommate and you have Hall monitors. H dormitory has a resident teacher living there with his family. All in all it was a clean and friendly atmosphere.
Dining:
1.) Describe the dining arrangements at your school.
The Hill school has a formal dining room where all students eat three meals a day that are served to you. Obviously eating was the fun thing to do but it was very structured.
Social and Town Life:
1.) Describe the school's town and surrounding area.
Pottstown is a blue collar town that we didn't actually go into all that often except to go home. We got along very well with the towneys.
2.) Describe the social life at your school - what did you like most about it?
The Hill school has organized dances with other girl boarding schools. It's a very social affair chaperoned by the teachers
Weekend
10:00 AM
Sleep in on Saturdays
The Hill was not only crucial to my education as a student, it also afforded the pleasure of learning how to be a gentleman. While I retain my "book knowledge" to a great degree, my. . .
Faculty "hall masters" and students live in dormitories and take meals together in the dining hall. There is a true sense of mentorship and family. . .
It's been 50 years but the school has developed a partnership with the town of Pottstown which is unique across the country. Several alumni (in my class of '67, including the Governor of Pennsylvania). . .
Show more reviews (

5 reviews

)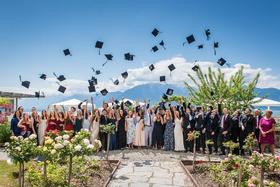 Nurturing Futures: A Journey through Boarding at Haut-Lac School in Switzerland
Nestled in the hills overlooking Lake Geneva in the French-speaking part of Switzerland lies an educational gem that embodies a unique blend of academic excellence, cultural richness and a profound sense of community. Founded over 30 years ago, Haut-Lac International Bilingual Day and Boarding School is now home to both 600 day students and a maximum of 30 boarders from around the world.
What To Wear at Your Job Interview
Navigating job interviews can be stressful, but knowing what to wear shouldn't be. Our comprehensive guide covers the essential dress code tips for men and women interviewing at boarding schools. Make your first impression count with style and professionalism.
Navigating the Modern Maze: Emerging Challenges for Boarding Schools
Explore the pressing challenges facing boarding schools, from marketing difficulties and rising insurance costs to facility maintenance and recruitment of competent trustees and teachers. This article delves into these complex issues and proposes innovative strategies to overcome them.