Reflections and Advice:
1.) What do you think makes your school unique relative to other boarding schools?
Kimball Union Academy has a unique blend of varying interests. While many schools have social divides between different groups such as arts students and athletes KUA does not. There is a great blend between artists and athletes and other competing interests. I can remember NHL hockey players dressed in tights performing in dance concerts and the start of the musical playing lacrosse. This ties into the general feel of the campus. It is very supportive and encouraging. As a student there is always a safety net to fall back on and plenty of resources to help you through your time. This is unique to KUA and something they work very hard at. They try to create an intimate community filled with close relationships.
2.) What was the best thing that happened to you in boarding school?
I was very proud to earn NEPSAC All-Star status as a soccer player and a ski racer. However, at KUA I always felt important and grateful to be a tour guide. Representing the school was always a joy. I think the one thing that KUA does is it makes you very independent. I noticed this when I got to college. I was far more comfortable and independent than all my peers. This is understandable because you have been living on your own for a long time by the time you're a freshman in college. I also found that I was far more mature than my peers. Boarding school and specifically KUA makes you a mature and independent person which has paid huge dividends for me as a college student and now trying to go out and get a job.
3.) What might you have done differently during your boarding school experience?
I would have been more involved earlier. It took me awhile to get going and really get involved in the various activities. This is in part because I wasn't aware of the awesome experiences KUA offered. I would encourage new students to boarding schools and specifically KUA to get involved as early as possible. Begin to build relationships with teachers, faculty, peers and alum. They will be very helpful for the college process and the real world. Also, the more you branch out the more you learn about other people, where they come from, how they think and who you might align with. This in turn helps you figure out where you stand in the world.
4.) What did you like most about your school?
I loved the community of the place. I still have some of my strongest relationships from KUA and whenever I visit I am greeted with a warm welcome. As I go out into the real world I am meeting more and more Wildcats and they all share the inclusive and welcoming attributes that KUA instills in its students. The academics were engaging and I really enjoyed them. Also, I loved the athletics and the arts. I learned some of my biggest life lessons in these arenas.
5.) Do you have any final words of wisdom for visiting or incoming students to your school?
Definitely branch out and get involved. There is a new pub that opened in Meriden and I've heard its good. You have to go to the deli and get a cranberry turkey panini. Its thanksgiving in between a warm panini. I've heard DR is a very good dorm but I do not know much about dorm life. I would say definitely try to have Mr. Weintraub, Ms. Halliday, Mr. Fauver and definitely get involved in the arts. It may seem daunting for new students who are "artsy" but they accept all skill levels and you will be surprised at your hidden talents.
Academics:
1.) Describe the academics at your school - what did you like most about it?
The academics at KUA are challenging but there are a number of levels to accommodate different students. The school focuses around the Harkness method where most classes are taught around an oval shaped table to encourage conversation, debate and discussion. This was really helpful in getting students involved and engaging with opposing views. In the language department the school focused on the Rassias method of teaching. This was started by John Rassias, a Dartmouth scholar. One of his prodigy's now heads the language department at KUA. The method is focused on speaking the language and learning through conversation. It is really unique and makes students almost fluent upon their graduation. It is very cool to be able to converse in a foreign language with some of the international students KUA had. The workload was manageable but you certainly had some tough nights. That said, teachers always had office hours to ask questions and there were plenty of resources to get the work done.
Athletics:
1.) Describe the athletics at your school - what did you like most about it?
I played on the men's soccer team at KUA and it was a fantastic experience. The coaches were dedicated and committed to me as an athlete. We were given a locker room with showers and our own lockers. We also had practice gear and gear for colder months. Our athletic equipment was washed after every practice and returned to us the next day. We practiced pretty much every day with games on Wednesdays and Saturdays. This is a normal prep school schedule and conveniently mirrors the college schedule. There were many different levels of competition. We had athletes drafted to the NHL all the way down to a first time soccer player. The men's hockey team, men's basketball team and men's soccer were all very talented and worked hard to get athletes recruited. I was fortunate enough to go on and play soccer at Kenyon College where we are currently ranked in the top 5 nationally. This speaks to the depth and quality of KUA athletics. The facilities were nice but not over the top. We had an indoor turf field that was awesome for playing pickup throughout the winter. The gym is being relocated and the new athletic facility they are working on funding is supposed to be top notch. The fields were the best part. KUA has some of the best grass fields I have ever played on. Better than any college field I have seen. There is also a turf field with lights. The coaches ranged in quality. We had former division 1 head coaches from top programs to rookie assistant and head coaches. One commonality was their dedication to you as an athlete. They focused on doing what was best for you, whether that be getting recruited or improving and enjoying the game.
Art, Music, and Theatre:
1.) Describe the arts program at your school - what did you like most about it?
The theatre department was fantastic. It was always a treat to go and see the winter musical or the fall play. I participated in Urinetown the musical my senior year and had a blast. The set design is really incredible and Mr. Weidman, the head of the department, fine tunes every detail. They are always very well done. On top of that the dance program is also very strong. There are fall and spring dance concerts and I even participated in one my senior year. This speaks to KUA as a varsity athlete could do a multitude of different activities. The facilities were nice and clean and the teachers were dedicated to their craft. There was always a strong commitment and group of students focused on the arts. In the classroom the arts department was strong. We had studio art, sculpture, theater, music and even jewelry. These classes really helped to supplement some of the core classes.
Extracurricular Opportunities:
1.) Describe the extracurriculars offered at your school - what did you like most about it?
There are a number of different groups to join at KUA. I was involved in Orange Key (the tour guides), Model UN and I was a day student proctor. That said there were outdoors clubs, a chess club, a French club and so on. There was truly a widespread amount of these organizations. There is always a club fair at the beginning of the year with teachers and students explaining what they do and encouraging you to join. There are also a cappella groups and community choir groups on top of the clubs. Theses meet regularly and perform concerts at the end of the trimester.
Dorm Life:
1.) Describe the dorm life in your school - what did you like most about it?
I was a day student so I did not live in the dorms. However, many of my friends lived in the dorms. They were cozy and ranged in size. Some were quite large and some much smaller. Each dorm had dorm parents who would host events regularly. Each dorm also had proctors who serve as the RA's of prep school. These were students elected to their positions. There were a few different delivery options for the campus and there were designated pizza nights where whole dorms would pitch in to get a bunch of pizzas and split the delivery fee. There were also many dorm competitions over dodgeball and other games.
Dining:
1.) Describe the dining arrangements at your school.
The dining hall is a central location and is connected to the student center. It is the heartbeat of the campus. The food was solid and I always found something good to eat. They had hot food every day along with a salad bar, sandwich bar, stir fry station, panini press, cereal, soup and fruits along with plenty of drinks. You could get creative and cook your own stir fry or press a panini or eat what they had cooked hot that day. I never had issues with the food. On the weekends they would always put out food at random places including Sundaes on Saturday nights where they rolled out an extensive Sundae bar. There was no assigned seating and the dining hall was a big room with communal tables.
Social and Town Life:
1.) Describe the school's town and surrounding area.
There wasn't much going on in Meriden but Hanover, NH was close by with plenty to do. KUA always had town trips on the weekend to go see movies, go out to eat, or go shopping. They also ran tips to Manchester NH, Boston and Burlington frequently. There is a small deli in Meriden that makes great sandwiches and milkshakes. It is walking distance from campus and is always filled with KUA faculty and students.
2.) Describe the social life at your school - what did you like most about it?
The social life at KUA was very inclusive. I bridged many different social groups and made some of my closest friends. My friend group is 3 years out of KUA and we still talk every day and have our group chat to discuss what's going on in our lives. The social life revolves around classes, meal times, activities and weekend fun. You can hang out in dorms or spend time in the student center. The people are very welcoming and orientation helps you easily make friends. The nature of prep school is to always be close to your peers and constantly connected so you build friends quickly, especially at KUA.
Daily Schedule:
Weekday
10:15 AM
All School Meeting
3:00 PM
Afternoon Activity (practice, musical, dance, etc.)
8:00 PM
Study Hall (you had to be studying in rooms)
Weekend
7:30 PM
Dinner on the road
8:30 PM
Weekend activities
At KUA students are encouraged to explore themselves through other means of learning for example exploring a specific scholar program or receiving a Cullman Scholarship. During my time at KUA, I dived into both ends. . .
I feel like the sense of community is like no other at KUA. I graduated nearly 4 years ago, yet I am still in daily contact with at least 15-20 students from my school. It. . .
What is really unique about KUA is that the school keeps the student size relatively small; thus, you can always feel like you're at home. Everyone knows each other and every faculty knows every student's. . .
Show more reviews (

3 reviews

)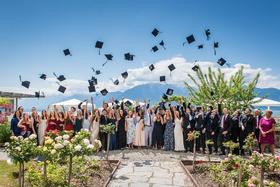 Nurturing Futures: A Journey through Boarding at Haut-Lac School in Switzerland
Nestled in the hills overlooking Lake Geneva in the French-speaking part of Switzerland lies an educational gem that embodies a unique blend of academic excellence, cultural richness and a profound sense of community. Founded over 30 years ago, Haut-Lac International Bilingual Day and Boarding School is now home to both 600 day students and a maximum of 30 boarders from around the world.
What To Wear at Your Job Interview
Navigating job interviews can be stressful, but knowing what to wear shouldn't be. Our comprehensive guide covers the essential dress code tips for men and women interviewing at boarding schools. Make your first impression count with style and professionalism.
Navigating the Modern Maze: Emerging Challenges for Boarding Schools
Explore the pressing challenges facing boarding schools, from marketing difficulties and rising insurance costs to facility maintenance and recruitment of competent trustees and teachers. This article delves into these complex issues and proposes innovative strategies to overcome them.