Reflections and Advice:
1.) What do you think makes your school unique relative to other boarding schools?
The very low student to faculty ratio was very instrumental in selecting Hill as my choice for a boarding school. Interaction with teachers was very important and they were always willing to accommodate their schedules with students' schedules. Classroom instruction always encouraged great dialogue and participation.As a southerner from Kentucky, it was great to have such a wide choice of sports to participate in: hockey, lacrosse, swimming, wrestling, squash, and several other sports that were not available at the time in my home state. The coaching staff was always first rate for the different sports and Hill's teams were very competitive against other boarding schools.
2.) What was the best thing that happened to you in boarding school?
Boarding school helped me to develop self discipline that I would not have gained otherwise. There is nobody there telling you that you have to study or do this or that - it is your responsibility. This helped prepare me for college by instilling better study habits, class participation, logical development.
3.) What might you have done differently during your boarding school experience?
I believe that I would have tried more of the different sports offered and would have tried some different classes, but I am satisfied with what I did take and participate in during my time at Hill.
4.) What did you like most about your school?
I liked being exposed to a the different lifestyle of boarding school and all of the choices and horizons that it opened me up to in life.
5.) Do you have any final words of wisdom for visiting or incoming students to your school?
WHATSOEVER THINGS ARE TRUE
Academics:
1.) Describe the academics at your school - what did you like most about it?
The computer age was just starting when I attended Hill, so at that time the library was one of our most important resources for research and projects.The teachers were all top notch in their fields with several of them having written the textbooks that we used in our classes. I really enjoyed history, French, and English at Hill and was very well prepared for college. The workload was significant, but not impossible. Even when you were just hanging out with friends, you were still learning and discussing things that had come up in class and getting different perspectives on topics.Most of the students had come to Hill because they were in the top of their classes in their home towns, so it was a very academically competitive environment.
Athletics:
1.) Describe the athletics at your school - what did you like most about it?
As I mentioned before, the athletics program at Hill was extraordinary. We had some of the greatest coaches who helped construct and motivate some great teams over the years. The athletic fields, facilities, equipment, and trainers were great. With Hill's endowment, we could always count on great facilities and equipment.You had the choice of participating at an intramural level or a varsity level in whatever sport you selected. The teams at Hill were always very competitive and ranked highly against other teams that we participated against.Where else would a southern boy be able to do a pick up game of ice hockey after one of game nights was over at the ice rink. Watching our hockey team compete was always great because we had some of the best hockey players at the time.
Art, Music, and Theatre:
1.) Describe the arts program at your school - what did you like most about it?
I did not participate in the Arts, Music, or Theatre programs, but I did attend many of the events that they had and their performances. I had friends in the Glee Club and they were very impressive with their performances.I know that several Hill alumni from my time went on to professional acting on television and movies.
Extracurricular Opportunities:
1.) Describe the extracurriculars offered at your school - what did you like most about it?
There were so many choices of extracurricular activities that it made time at Hill fly by. Students didn't have time to get homesick because there was so much to do. These possibilities helped shape many of the students and their future avocations in life.
Dorm Life:
1.) Describe the dorm life in your school - what did you like most about it?
Having a roommate and dorm mates to share experiences with during my time at Hill were some of the most enjoyable experiences that I had. Getting to know where other students are from and what their home towns were like and what cultural differences that we shared or didn't, was a great learning experience in itself.I had the same roommate for three years and many of our friends had the same roommates year after year. It was not hard to request a transfer if a student wanted a different roommate. My roommate and myself were able to get our dorm preference every year. We were also prefects during our six form (senior year). Being a prefect helped us learn some very valuable responsibilities and created some character building qualities on our part.
Dining:
1.) Describe the dining arrangements at your school.
We sat at long tables in the dining hall, with 8 students and one teacher at each half of the table. Each student at the table would take turns waiting on their half of the table which was an interesting experience. Every so often we would rotate to different tables and this made for a great way of meeting other students that you didn't classes with or play sports with. If you were on a varsity athletic team, then you had the opportunity to sit at that team's training table.I thought that Hill had some of the best food that a school could offer. We always had great coffee cake and fruit for breakfast. I still cherish learning what Scrapple and Lintel Soup were all about. One of my favorite meals was Shepherd's Pie and still miss it years later.There was the after hours café where we could go to get hamburgers, snacks, and drinks if we became hungry at night after studying.
Social and Town Life:
1.) Describe the school's town and surrounding area.
Pottstown was a nice sized town and very convenient to Philadelphia. We didn't have a lot of time to kill, so we didn't go into town very often.
2.) Describe the social life at your school - what did you like most about it?
At the time I attended Hill it was an all boys school, so the social life was a little lacking. The school was very good about arranging dances with other girls' schools which helped make up for this limitation. I am sure that things are much better now that Hill is co-ed.
Daily Schedule:
Weekday
Weekend
A smaller number of students attend the Hill School than most other boarding schools that I know of. This allows a more personal approach to be taken by the teachers and dorm parents, the. . .
The two aspects of The Hill School that make it unique are the professors' relationship with the students and the traditions at The Hill. First off, professors are involved in all aspects of school life. . .
It's been 50 years but the school has developed a partnership with the town of Pottstown which is unique across the country. Several alumni (in my class of '67, including the Governor of Pennsylvania). . .
Show more reviews (

5 reviews

)
Mastering the Boarding School Selection Process: A 5-Step Guide
Discover the ultimate 5-step guide to choosing the perfect boarding school for your child. Explore essential factors, such as academics, campus facilities, extracurricular activities, and more. Make an informed decision to provide your child with an enriching and transformative educational experience. Read now!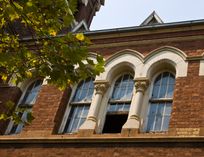 5 Founders and Their Boarding Schools
What prompts somebody to start a boarding school? The motives range from idealism to munificence right on through to capitalism. The common thread seems to be ample capital and a vision of what education can do.