Reflections and Advice:
1.) What do you think makes your school unique relative to other boarding schools?
It is a coeducational college-preparatory boarding school that focuses on small classes and extracurriculars. Choate features many signature programs such as the Science Research Program, Capstone, Directed Study, Term Abroad, and Environmental Immersion Program. Environmental Immersion Program is a year long program at the state of the art Kohler Environmental Center near the main campus. Term Abroad is a way to learn the culture and improve foreign language skills. We always had awesome Special Programs with important people from many different fields.
2.) What was the best thing that happened to you in boarding school?
I will never forget the people I met and things I learned. We had a really unique opportunity at Choate Rosemary Hall. I returned for my Five Year Reunion and forgot how much I loved the school. Its an amazing experience. I loved the resources that were available to us. Once I arrived at my undergraduate school, I already knew how to do research, write, reach out to teachers for extra help, and live in a dorm. I arrived at boarding school as a young teenager and graduated a young woman ready for the collegiate world.
3.) What might you have done differently during your boarding school experience?
I wish I had taken advantage of Term Abroad. I really regret not heading out of the country for a semester. I advice you take advantage of every opportunity and explore Choate. There are amazing resources at this great school.
4.) What did you like most about your school?
The experiences I was exposed to...via the people I met. Everyone has something to teach you.
5.) Do you have any final words of wisdom for visiting or incoming students to your school?
Just explore the campus. Chat with the mailman. Try the tuck shop. Grab a cookie from the dining hall. Head over to the Kohler center. Check out the SRP projects. See a show. Grab Chicken Pesto Pizza from Half Moon. Live in the dorms!
Academics:
1.) Describe the academics at your school - what did you like most about it?
I loved the small classes! Teachers were always available for extra help, whether during study break or during lunch or dinner. Most teachers lived on campus and if they weren't they spent a significant time on campus. Choate always encouraged students to go the extra mile in our academics. We also had an awesome library with a bunch of resources.
Athletics:
1.) Describe the athletics at your school - what did you like most about it?
Choate encouraged its students to join a sport or just be physically active in general through their athletic program. Our athletic facilities were amazing. Much of social life was surrounded around sports. We have a big Field Day in the spring. We celebrate Deerfield Day, a day of sports events against our rival school. Choate definitely encouraged school spirit through sports.
Art, Music, and Theatre:
1.) Describe the arts program at your school - what did you like most about it?
The arts programs were amazing. There was always some performance occurring at Choate, whether it be a huge play or musical or smaller black box acting shows.
Extracurricular Opportunities:
1.) Describe the extracurriculars offered at your school - what did you like most about it?
I participated in Big Brothers Big Sisters every weekend at Choate. There were also other extracurriculars and volunteer opportunities. All of the organizations have tables during the first week of school so students can find out more information and join their interests.
Dorm Life:
1.) Describe the dorm life in your school - what did you like most about it?
Dorms were very interactive. Every student had an advisor in the building who would talk to the students about a huge variety of topics from academics to social life to home. Every week we had "Mug Nights" which were mandatory student breaks when the entire dorm got together for a meal and to socialize. Often dorms would go on trips together off campus.
Dining:
1.) Describe the dining arrangements at your school.
The dining hall was awesome. Choate had Sit Down Lunches every week where students would be assignment to sit with one faculty member to get to know them and discuss...encouraging conversation. Choate had Sit Down Dinners less often. Usually the dining hall was casual. There is a more casual dining option called the Tuck Shop which served milkshakes and burgers and such. There regular staples in the dining hall, some days there would be Cobb Salads or Quesadillas.
Social and Town Life:
1.) Describe the school's town and surrounding area.
Wallingford is a great town. There is not much in the surrounding area...the Walmart was a bit of a walk, but our shuttle would drop you off there. There are very cute restaurants, Half Moon being my favorite.
2.) Describe the social life at your school - what did you like most about it?
I liked how diverse everyone was via their hometowns or experiences or interests. There were plenty of opportunities to socialize during sporting events, meals, study breaks, between classes.
One thing about Choate I really believed made it so unique was the variety of classroom experiences one could have in just ONE academic day. Many schools utilize the classic classroom set up where the. . .
The community is definitely Choate's greatest asset, and the admissions folk do a great job of picking students. We're a pretty chill bunch, so you won't find much of the cut-throat competitiveness that usually accompanies. . .
Choate was unique in that during my junior year, they did away with AP labels on courses in order to let the teachers have more power over the curriculum. This created a culture in which. . .
Show more reviews (

27 reviews

)
Mastering the Boarding School Selection Process: A 5-Step Guide
Discover the ultimate 5-step guide to choosing the perfect boarding school for your child. Explore essential factors, such as academics, campus facilities, extracurricular activities, and more. Make an informed decision to provide your child with an enriching and transformative educational experience. Read now!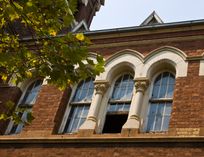 5 Founders and Their Boarding Schools
What prompts somebody to start a boarding school? The motives range from idealism to munificence right on through to capitalism. The common thread seems to be ample capital and a vision of what education can do.