Choate Rosemary Hall - Review #4
About the Author:

College Enrolled
New York University
Home Town, State (Country)
Berkeley, CA
Years Attended Boarding School
3
Activities During Boarding School
I was a Prefect my senior year at Choate. I was on the Public Relations team for the Choate Afro-Latino Student Alliance. I was also a Gold Key tour guide for the Admissions Office.
Review

Description

Brown University

Choate has a welcoming and diverse student body. It is the perfect size student body and the perfect size campus. It is a tight knit community and in my experience felt supported personally, academically, and. . .

Columbia University

I think Choate is a lot less traditional than many of its peer schools, which was one of my favorite things about the schools. Choate has an open campus, so it's not as isolated or. . .

Boston College

Choate has a large campus but many of the dorms are close together which creates an awesome, close-knit community. It also has one of the best reputations for boarding schools in New England which makes. . .

New York University

It is a coeducational college-preparatory boarding school that focuses on small classes and extracurriculars. Choate features many signature programs such as the Science Research Program, Capstone, Directed Study, Term Abroad, and Environmental Immersion Program. Environmental. . .

University of California, San Diego

Academic excellence aside, what distinguishes Choate is the culture of caring promoted throughout the campus. The faculty and staff show a genuine care for the students' development outside of the classroom. As a. . .

Show more reviews

(10

reviews)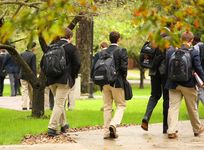 March 22, 2018
Some cynics think single-sex education is old-fashioned. The Kiski School shows how educating boys in a single-sex school is successful.
March 14, 2018
Determining which programs are 'must haves' is an important part of choosing the right boarding school for your child.
March 08, 2018
The wide range of fine academic, athletic, and other facilities found in boarding schools underscores the determination of schools to provide the very best for their students.