Reflections and Advice:
1.) What do you think makes your school unique relative to other boarding schools?
The school balances academic, athletic, arts, theater, music, and volunteering interests for all students.Access to Dartmouth College, environmental studies, international travel and studies, agriculture, and community involvement, including participating with the local fire department.
2.) What was the best thing that happened to you in boarding school?
Fosters individual growth and exploring different activities.
3.) What might you have done differently during your boarding school experience?
Get involved. Try new things. You might surprise yourself, and find your passion.
4.) What did you like most about your school?
The environment and individuality of the student body. It is a safe place and diversity is fostered.
5.) Do you have any final words of wisdom for visiting or incoming students to your school?
The campus store has an excellent supply of Swedish Fish. Take a walk to the Meriden Country Store to get a great sandwich, hot food, groceries, and ice cream. A new restaurant opened at the bottom of the hill too. Housing on campus for parents if you book early enough!
Academics:
1.) Describe the academics at your school - what did you like most about it?
Academics are diverse and collaborative. Small class sizes. A lot of AP classes. French, Spanish, Latin and Mandarin.
Athletics:
1.) Describe the athletics at your school - what did you like most about it?
Strong and competitive. They play outside the league and appear in New Englands frequently. A lot of different options. I believe must play 2 of 3 seasons.
Art, Music, and Theatre:
1.) Describe the arts program at your school - what did you like most about it?
3 school plays a year. Art gallery for local artists on campus. Music recording, lessons, etc. Lessons can be incorporated into class schedule. STEM program is very competitive.
Extracurricular Opportunities:
1.) Describe the extracurriculars offered at your school - what did you like most about it?
TONS! School is great about events on campus, inviting other local boarding schools to events, and school spirit. The school fosters student ideas and events.
Dorm Life:
1.) Describe the dorm life in your school - what did you like most about it?
Great! Good rooms for the girls - I can't speak for the boys. Singles and doubles. Desk, bed, dressers provided. Some even have bunk bed options. Frosh have their own dorms. Sophomores, Juniors and Seniors are mixed together. Students pick rooms and roommates after first year.
Dining:
1.) Describe the dining arrangements at your school.
Excellent. Lots of local produce. Students have cooking area whether they can practice culinary skills. Big salad bar.
Social and Town Life:
1.) Describe the school's town and surrounding area.
Centered around school. Boston and Burlington are 1.5-2 hrs. West Lebanon and Hanover are 15-20 mins with restaurants, shopping, etc.
2.) Describe the social life at your school - what did you like most about it?
Student club creates activity schedule.
At KUA students are encouraged to explore themselves through other means of learning for example exploring a specific scholar program or receiving a Cullman Scholarship. During my time at KUA, I dived into both ends. . .
I feel like the sense of community is like no other at KUA. I graduated nearly 4 years ago, yet I am still in daily contact with at least 15-20 students from my school. It. . .
What is really unique about KUA is that the school keeps the student size relatively small; thus, you can always feel like you're at home. Everyone knows each other and every faculty knows every student's. . .
Show more reviews (

3 reviews

)
Mastering the Boarding School Selection Process: A 5-Step Guide
Discover the ultimate 5-step guide to choosing the perfect boarding school for your child. Explore essential factors, such as academics, campus facilities, extracurricular activities, and more. Make an informed decision to provide your child with an enriching and transformative educational experience. Read now!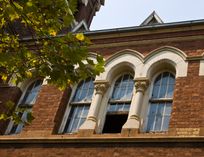 5 Founders and Their Boarding Schools
What prompts somebody to start a boarding school? The motives range from idealism to munificence right on through to capitalism. The common thread seems to be ample capital and a vision of what education can do.