Reflections and Advice:
1.) What do you think makes your school unique relative to other boarding schools?
The teachers always went above and beyond to not only be a strong teacher but also friends with many of the student, this became strong on during Outback and other Special Programs trips where students would be able to learn beyond the typical classroom style. As a student I kids work and gain responsibilities and are rewarded for their successes with the job program, students who put in the extra mile will always feel the reward from the teachers as well as their fellow students.
2.) What was the best thing that happened to you in boarding school?
Many of the people that I first met when coming to Holderness are still very close friends today and I still see them. They have a strong Alumni network that encourages students to come back.
3.) What might you have done differently during your boarding school experience?
Not really. I say jump in, don't come to a school hoping for one thing or another, just come knowing that people are there to help and support you learn and grow and be yourself.
4.) What did you like most about your school?
I really enjoyed the area, the ability to ski and learn and grow as an individual. No one says you can not accomplish things and the school is always willing to help students grow and go beyond what they though they could achieve.
5.) Do you have any final words of wisdom for visiting or incoming students to your school?
Enjoy the views, The quiet areas, the peacefulness and the ease it is to learn in a place like this.
Academics:
1.) Describe the academics at your school - what did you like most about it?
I really enjoyed the harkness table atmosphere in classroom and how every student always felt like they where entitled to talk and speak out. I enjoyed the accessibility of the teachers. While many of them where dorm parents the ones that where not would make themselves available for extra help as well as pressing head. They make every student feel like they can accomplish. The workload was always reasonable and very much self driven, one could work daily and get things done easily without having to stay up late and fall into a rut.
Athletics:
1.) Describe the athletics at your school - what did you like most about it?
The athletics are a great way to stay active and create strong bonds with the other Holderness Students. The teams ranged from highly competitive teams to ones that where mainly about enjoying the time outside and away from the classroom. Student really where able to get out what they put in.
Art, Music, and Theatre:
1.) Describe the arts program at your school - what did you like most about it?
The visual art program was very accessible being a student who took photography classes the darkroom was always available for working and then room was clean. The classes where small so we had time to work with the teachers. He would push each student to always achieve a little more.
Extracurricular Opportunities:
1.) Describe the extracurriculars offered at your school - what did you like most about it?
As a student I really enjoyed the school backing of Community Service and Volunteering. I organized a school trip to New Orleans to work on the comes in the aftermath of the Hurricanes. The school helped with organization and planning as well as helping students sign up.
Dorm Life:
1.) Describe the dorm life in your school - what did you like most about it?
Dorm life was great and continues to improve. Students are able to relatively pick their room and chose who they want to live with.
Dining:
1.) Describe the dining arrangements at your school.
Assigned seating at first is difficult to deal with but after a few months students become comfortable with everyone and the assigned dinners become a great thing.
Social and Town Life:
1.) Describe the school's town and surrounding area.
Very small town.
2.) Describe the social life at your school - what did you like most about it?
The school really helps students grow and make friends. They plan activities and events that cause the school to come together and have people interact. Its a great way for people to meet each other and become friends.
Nestled in rural New Hampshire a unique aspect of Holderness school is its proximity to the White Mountains and the integral part they play over the course of a students education at Holderness. Weekend trips. . .
The one thing about Holderness that I thought was incredibly unique, and one of my favorite aspects of the school, is the sense of community. I don't think I've ever been as close to a. . .
Holderness is a very unique school. Aside from the down to earth culture and genuine connections you will make with faculty, two things that make it unique are 'Special Programs' in the spring and the. . .
Show more reviews (

5 reviews

)
Mastering the Boarding School Selection Process: A 5-Step Guide
Discover the ultimate 5-step guide to choosing the perfect boarding school for your child. Explore essential factors, such as academics, campus facilities, extracurricular activities, and more. Make an informed decision to provide your child with an enriching and transformative educational experience. Read now!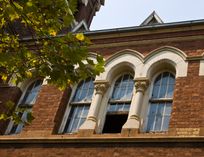 5 Founders and Their Boarding Schools
What prompts somebody to start a boarding school? The motives range from idealism to munificence right on through to capitalism. The common thread seems to be ample capital and a vision of what education can do.