Reflections and Advice:
1.) What do you think makes your school unique relative to other boarding schools?
Idyllwild Arts Academy is truly a unique experience. There are just over 300 students, so your friends and even acquaintances really become like family. I personally really like the way that the schedule works. Being an art school, it really focuses on the arts but that doesn't stop the academics from being important. In the morning from 8-1, academic classes take place. Then from 2-6:30, sometimes even 10pm, people take art classes. There is a lot of free time as well, to work on art.
2.) What was the best thing that happened to you in boarding school?
I'm proud of myself for becoming president. I've definitely grown as a writer and person from being there. It's a very unique experience. You make friends from all over the world. I have friends from Iran, China, Thailand, Mexico, Peru, Canada, Bulgaria, and more. It's a very eye-opening experience.
3.) What might you have done differently during your boarding school experience?
Do not take all your stuff! Seriously!! Packing your room at the end of the year SUCKS! Don't bring all of your clothes. Don't bring little desk toys. Christmas lights are in almost every room. Posters as well. However, other decorations make the end of the year a disastrous clutter. At this school, try not to spend too much money at the on-campus bookstore.
4.) What did you like most about your school?
That's a really tough question, something that I've been asked by family and friends all the time. I went here for four years, so I have a lot that I loved and a lot to complain about, as well. I really loved my classes and the lifelong friends I made here,
5.) Do you have any final words of wisdom for visiting or incoming students to your school?
Talk to people. Learn new things. Take classes outside your major. Get a roommate who isn't your best friend. Find friends who don't speak your language very well. Make the most of your time here. I went here for four years and I don't miss it every day, but there are times that all I want to do is go back to sophomore year and share some hot chocolate with my roommate.
Academics:
1.) Describe the academics at your school - what did you like most about it?
I really loved that the teachers understood when we couldn't finish assignments on time. They realized that we needed to focus on our arts, so the teachers allowed extra time if you tell them in advance that you are struggling to keep up with work. There are honors classes offered for sophomores through seniors which really benefit the students. Debates and projects are always fun in the class, and it is easy to talk freely because many of the teachers are not strict about colloquialism.
Athletics:
1.) Describe the athletics at your school - what did you like most about it?
There was no athletic program at my school. We had P.E. requirements twice a week for two years. The P.E. is not very difficult. Most of it is outdoor, hiking and games. Sometimes on rainy or snowy days we would go inside a dance studio and play dodge ball or do yoga.
Art, Music, and Theatre:
1.) Describe the arts program at your school - what did you like most about it?
This school was an arts school. That means that people majored in visual arts, music, and theater, among other things. Each major has its own family of students. The teachers are professionals and very intelligent and wise. The visual arts and music departments are the largest on campus (maybe 60 art students and music), whereas the creative writing department is the smallest (usually between 15-20 people). There are lots of materials to work with, like practice studios, theaters, painting/sculpture supplies, etc. Despite being in creative writing, I took art and theater classes. They were very beneficial.
Extracurricular Opportunities:
1.) Describe the extracurriculars offered at your school - what did you like most about it?
Idyllwild doesn't offer a ton of extracurricular activities, since what we are doing is mostly extracurricular by itself.
Dorm Life:
1.) Describe the dorm life in your school - what did you like most about it?
I loved living in a dorm. Although it could be hectic at times, and dorm meetings can be annoying, living next to or with your friends and classmates is great. You can have sleepovers, watch movies, study, and hang out whenever you want. Our dorm parents were very nice and always willing to talk to you. The rules are fair, and there are cameras in the hallway to avoid thievery. The dorm common room has a little kitchen with a microwave and fridge, but no stove. Fire alarms are very sensitive, so watch your popcorn!!!
Dining:
1.) Describe the dining arrangements at your school.
The dining hall is where most of the fun happens! People will often dance, sing, and have tons of fun in the dining hall! Teachers and staff will bring their young children to the dining hall and they are very cute. The food is not horrible, and the serving lines go quickly. The salad bar is very nice and there's enough seating for everyone. Dining hall staff members are extremely nice and can easily become your friends!
Social and Town Life:
1.) Describe the school's town and surrounding area.
Idyllwild is a small town on top of a mountain in the middle of nowhere. Its population is about 3000. It's 2.5 or 3 hours from Los Angeles. Civilization becomes very far away when you're at school. It's nice to get out there are be surrounded by the forest. I don't know much about the townspeople. There is a grocery store, pizza shop, and coffee shop. There are also several other shops and many restaurants.
2.) Describe the social life at your school - what did you like most about it?
As I said in earlier answers, Idyllwild creates a very familial atmosphere. We can be competitive, but it's not your typical high school. There are parties and dances and all that, very fun and exciting. Living in a dorm really brings together the students in a way that normal high schools can't.
Idyllwild Arts has an incredibly unique community of faculty and students. Since the campus and the town of Idyllwild is so isolated, those who live there become very close to each other.. . .
Comprehensive Arts Education: Idyllwild Arts Academy's dedication to providing a comprehensive arts education is one of its standout features. The academy offers a wide variety of artistic disciplines, including music, dance, visual arts, drama, film. . .
Idyllwild Arts Academy is renowned for its dedication to providing a comprehensive arts education. The school serves pupils in grades 9 through 12 and provides a wide variety of artistic disciplines, such as music, dance. . .
Show more reviews (

21 reviews

)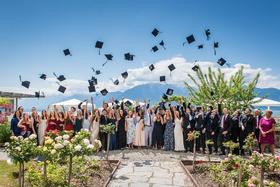 Nurturing Futures: A Journey through Boarding at Haut-Lac School in Switzerland
Nestled in the hills overlooking Lake Geneva in the French-speaking part of Switzerland lies an educational gem that embodies a unique blend of academic excellence, cultural richness and a profound sense of community. Founded over 30 years ago, Haut-Lac International Bilingual Day and Boarding School is now home to both 600 day students and a maximum of 30 boarders from around the world.
Navigating the Modern Maze: Emerging Challenges for Boarding Schools
Explore the pressing challenges facing boarding schools, from marketing difficulties and rising insurance costs to facility maintenance and recruitment of competent trustees and teachers. This article delves into these complex issues and proposes innovative strategies to overcome them.
What To Wear at Your Job Interview
Navigating job interviews can be stressful, but knowing what to wear shouldn't be. Our comprehensive guide covers the essential dress code tips for men and women interviewing at boarding schools. Make your first impression count with style and professionalism.