Reflections and Advice:
1.) What do you think makes your school unique relative to other boarding schools?
Portsmouth Abbey, located on the gorgeous Rhode Island coast overlooking Narragansett Bay is alone in its communal culture. While other boarding schools offer the same aspects of community, I maintain that Portsmouth Abbey creates a bond between faculty and student unlike any other peer schools.
2.) What was the best thing that happened to you in boarding school?
The best thing that happened to me in boarding school was probably being chosen as a prefect in the dorm my senior year. This I felt raised me to a higher standard, with responsibility for the younger students in the dorm. It also made the faculty house parents more like colleagues and we worked very closely with them to assure the dorm ran smoothly. It wasn't always easy but I feel it was extremely influential in my formation to the man I am today.
3.) What might you have done differently during your boarding school experience?
My advice for students just entering boarding school or thinking about it is to try everything. Be open to trying a new sport or taking a class you never thought you would have. Go out for a play. Introduce yourself to people and make connections. I don't think there is any way you can do too much of any of these things. At boarding school, you meet people from all over the country and the world, and it would be a waste not to get to know them since this is such a unique opportunity.
4.) What did you like most about your school?
As above mentioned, my favorite part of my experience was the connections I made. I am still closer with my friends from the Abbey than from any other experience in my life. Also, I still communicate regularly with faculty members that I had as coaches, teachers or dorm parents. I can honestly say that my teachers were my friends and I trust them in the same way. I look forward to my breaks form college to hang out with my friends from the Abbey.
5.) Do you have any final words of wisdom for visiting or incoming students to your school?
I would say definitely check out Dr. Bonin's classroom beneath the student center. It is kind of hidden from plain sight but really that just makes it cooler. Inside, the classroom literally just smells like knowledge. I can't really describe it beyond that, but there are tons of leather bound books and busts of scholars and quotes on the wall. Beyond that, the art building is really neat and if you can get onto the deck on a nice day you won't be disappointed.
Academics:
1.) Describe the academics at your school - what did you like most about it?
Most classes are taught following the 'lecture method' style of teaching. Classes are kept small which I felt both brought me closer to my classmates as well as gave me the individual attention I needed to learn the material. The Humanities program was my favorite aspect, as it covered a range of literary, philosophical and religious works all in the course of my sophomore year. The class was very work-intensive of course but I feel as though I came out with a breadth of new knowledge that I might have missed out on going to another school. It is in this class that I developed the analytical writing style that held me in good stead throughout college and still today.
Athletics:
1.) Describe the athletics at your school - what did you like most about it?
No matter who you were in the classroom or in the dorm, everybody participates in some kind of after school activity at the Abbey. I was strongly drawn to athletics, as were many of my friends. I think the junior varsity programs were the greatest aspect of the Portsmouth Abbey athletic program. They did a phenomenal job of making students feel like athletes, teaching them the skills of the game with the intention that they would one day play on the varsity, even if they had never held a squash racket or kicked a soccer ball.
Art, Music, and Theatre:
1.) Describe the arts program at your school - what did you like most about it?
Each of the three semesters, the Abbey players put on a show directed by Mr. Bragan. In the fall would be a drama, the winter a musical, and the spring a comedy. The most exciting thing about it was the Friday night performance, in which the whole school attends (mandatory) to see their friends perform. It was always great to see your friends playing different roles and feeding off the energy of their classmates. As far as the visual arts, our Art Building is gorgeous. It is a converted barn from the days when the Abbey was actually Portsmouth Priory, an all boys school. Now their is studio space and gallery showings from our talented fellow students, and it is interesting to see that skill in such a beautiful setting.
Extracurricular Opportunities:
1.) Describe the extracurriculars offered at your school - what did you like most about it?
I was involved in student council and Abbey singers. We were always busy at the Abbey because there are so many clubs and many people are involved in more than one thing between school and sports and study hall. In many cases, students cold very easily start their own club as well, simply getting a faculty member to sponsor them. Most clubs meet one to two times per week during a designated meeting period. I think the most popular club was the Student Events Panel, who planned and put together school functions like dances and events, and they were always really fun.
Dorm Life:
1.) Describe the dorm life in your school - what did you like most about it?
Living in a dorm is unlike anything else at that age. In college, you find that most people have never lived in a dorm before and are unaccustomed to sharing so much personal space. Coming from the Abbey, the transition was easy. In the dorms, we always had a roommate and dorm events like pizza nights and holiday parties. I especially liked when the whole dorm would gather on Sundays to watch NFL games. I was always closest with the guys in my dorm, and how could you not be? These are the people you live with and study with for shared classes during finals week. Also, we have competition throughout the year for the Raven Cup, which is a competition between all the dorms to earn points through athletic events and trivia bowls.
Dining:
1.) Describe the dining arrangements at your school.
The Stillman Dining Hall's best feature was the round tables. This way, groups of students could all sit together and talk facing each other, which I think is the arrangement was planned. I always thought the food was good but many of my friends were much pickier. However, there is always something offered for people who didn't want the daily hot special, such as soup, cereal, a sandwich station, salad and plenty of drink choices. Honestly, many people spent hours just hanging out in the dining hall with their friends, joking and studying between classes.
Social and Town Life:
1.) Describe the school's town and surrounding area.
Portsmouth doesn't offer much of a social scene but Newport was right down the road offering plenty of shops and restaurants to escape to on the weekends. However, most people chose to stay on campus, as that's where everyone would always be, and like I said the community here is very strong. Of course, the view of the ocean was probably the Abbey's greatest selling point. It really is gorgeous, especially at sunset and we would often play frisbee on the great lawns facing the water, even going in for a dip when it was hot.
2.) Describe the social life at your school - what did you like most about it?
The social life of the Abbey was omniscient really. Honestly, you were rarely alone seeing as you would always be in the dorm, in class, in a club, on a sports field or doing homework with your roommate. But, the thing that sticks out the most in my mind is the Tuck Dances. These were extremely fun and occurred a couple times per semester. The whole school would pack into the Tuck Shop and dance for a few hours, and often times the DJ was a student as well.
Daily Schedule:
Weekday
3:00 PM
sports/afternoon activity
Portsmouth Abbey is very different in that the community of the school is very close-knit due to its size so you really do get to know everyone there. It's also catholic so weekly mass as. . .
At Portsmouth Abbey School, the community is so engrained with basic Benedictine values that are so evident in the vibe of the campus. When yo was around everyone says hi to each other and is. . .
One thing that makes us unique from other schools is our religious aspect. We were founded by a Benedictine Catholic monastery that still is active, and it influences campus life. We have mass every Sunday. . .
Show more reviews (

2 reviews

)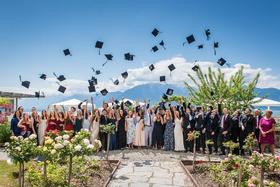 Nurturing Futures: A Journey through Boarding at Haut-Lac School in Switzerland
Nestled in the hills overlooking Lake Geneva in the French-speaking part of Switzerland lies an educational gem that embodies a unique blend of academic excellence, cultural richness and a profound sense of community. Founded over 30 years ago, Haut-Lac International Bilingual Day and Boarding School is now home to both 600 day students and a maximum of 30 boarders from around the world.
What To Wear at Your Job Interview
Navigating job interviews can be stressful, but knowing what to wear shouldn't be. Our comprehensive guide covers the essential dress code tips for men and women interviewing at boarding schools. Make your first impression count with style and professionalism.
Navigating the Modern Maze: Emerging Challenges for Boarding Schools
Explore the pressing challenges facing boarding schools, from marketing difficulties and rising insurance costs to facility maintenance and recruitment of competent trustees and teachers. This article delves into these complex issues and proposes innovative strategies to overcome them.