Reflections and Advice:
1.) What do you think makes your school unique relative to other boarding schools?
It might be a bit surprising to most people when I tell them that my graduating class consisted of nine or that my whole school's student body was around 40. Although many people may be looking for a bigger school, the size of this school is one important aspect that helps make it so unique. My classes were all small so we had group discussions. Even students who may have not felt comfortable speaking up in class were encouraged to try. I used to not like speaking in class or contributing to group discussions but Steamboat Mountain School helped me realize that my input matters. I had an advisor who helped me stay on top of my grades and organization. Every week my advisor group would meet to make sure we all knew what we were doing.
2.) What was the best thing that happened to you in boarding school?
The best thing that happened to me at Steamboat Mountain School was that I found the confidence to be myself. I grew into my opinions, my ideas and my personality. Through the Global Immersions Studies, I learned how to step outside of my comfort zone. In the ski program and outdoor activities, I learned that you have to just go for it sometimes and that you can do more than you think. I also am very thankful for the relationships and memories I made there.
3.) What might you have done differently during your boarding school experience?
I honestly can't think of anything I would do differently. I had a great experience!
4.) What did you like most about your school?
I love the community and the unique relationships within it. Even when you graduate your peers and teachers will welcome you with warm hugs anytime.
5.) Do you have any final words of wisdom for visiting or incoming students to your school?
Say "yes!" If someone wants to go on a run, even if you really do not like to run, say "yes." After your run you will have just made a memory.
Academics:
1.) Describe the academics at your school - what did you like most about it?
I did not come to Steamboat Mountain School from a rigorous school, so I had some catching up to do. I mostly just knew how to read a textbook and answer straightforward questions. I needed to get used to around two hours of homework every night and learn to sort my priorities. During class, I was encouraged to think outside of the lesson and ask more in-depth questions. Through my year-and-a-half at SMS, the support from the teachers made my academic experience wonderful. The teachers had "office hours" during snack and announcement time so if I had any questions or needed clarification, I could go to them for help. If that was not enough time, I could email them and go talk to them during a study hall or lunch. I liked how I got to know my peers through classes. At Steamboat Mountain School, my peers pushed me and I got to learn more of who they are through our class discussions. You are expected to do your homework and try your best. I looked for a peer to push me and study with me but if you prefer competing against yourself then that is great too! The classes are very productive and even when there is a wide range of abilities in the classroom, the teacher makes it challenging for everyone.
Athletics:
1.) Describe the athletics at your school - what did you like most about it?
I did not participate in any of the sports that the local public school offered but I did find plenty of athletic activities to do casually like ski, run, hike, or play basketball. If you are interested in participating in more formal sports, the high school allows people to join their teams. One of my friends was on the cheerleading team, another was on the soccer team and another one played baseball. The schedules usually work with ours but you might have to miss out on some skiing or other activities that Steamboat Mountain School has planned for after school.
Art, Music, and Theatre:
1.) Describe the arts program at your school - what did you like most about it?
Although there were no specific classes for music or theater when I attended, I was still able to participate in both of these activities through the annual talent show and the Art Exploration days. One of the two days during the week when we were not skiing, we had Art Exploration days. Students could pick between learning how to play string instruments or piano, learning how to dance or act, take art lessons etc. I decided that I wanted to learn how to play piano. My advisor who was also my English teacher, became my piano teacher as well! All of the teachers are talented and you get to know them even more. If you are really serious about music you could probably find another person to practice a duet with you but otherwise it is laid back learning and you might be mixed with students that have spent their whole lives learning an instrument to students who decided the day before that they wanted to try and learn.
Extracurricular Opportunities:
1.) Describe the extracurriculars offered at your school - what did you like most about it?
The extra-curricular activities are pretty much morphed into each student's schedule. There is always something after school whether it is community service, Global Immersion Studies meetings, piano, hiking, playing dodgeball or anything else that keeps your brain, feet and hands moving. I liked how the extracurricular activities always kept me busy with fun things to do.
Dorm Life:
1.) Describe the dorm life in your school - what did you like most about it?
It's like having a sleep over every night! Well... almost. It's a sleep over if you get all your homework done and room cleaned before a reasonable hour so you have time to hang out before getting a good night's sleep. When I first came to the school, I was put in a room with a girl from Mexico and a ski racer from Taos. You really get to know people so much more when you live with them. The dorm is a small community inside a bigger community. We had snack nights once a week and sometimes clothes swaps. You probably won't get a single room until you are an upperclassman but I liked my roommate so much that I did not want a single. Although I did not hang out with most people in my dorm a lot of the time I still consider them good friends and I know they are there when I need them.
Dining:
1.) Describe the dining arrangements at your school.
The food is great! The chefs are very accommodating. I am a vegetarian and I never had any problem finding good things to eat. The dining room is full of medium-sized round tables full of conversation when you walk in. As a boarding student, there are certain times that you have to show up for breakfast and dinner. Some people don't like that because they want to sleep in or do whatever they may be doing but I liked it because it helped me be on time and prepared every morning. On Tuesdays, there is a community dinner where students and staff are assigned to tables. This was a great way to sit with people you maybe would not sit with or learn about your teachers' families.
Social and Town Life:
1.) Describe the school's town and surrounding area.
The town is not too far away from the school. I came from a smaller town so Steamboat seemed like a city to me at first. I was entertained by skiing, movies, swimming, hiking, biking, going out to eat, exploring and tubing down the river.
2.) Describe the social life at your school - what did you like most about it?
The thing I liked most about the social life at Steamboat Mountain School was that there was always someone ready to do something. If one person did not feel like going skiing on the weekend it was easy to find someone else to go with. There are also weekend activities planned in case you don't know what to do over the weekend. Last year, there were board games, snowball fights, bonfires, movies, cookie making, trip to a fun park and more. You do need to plan a bit more than usual because the buses need to pick up up and drop you off at a certain time but you can get used to it. Since it was such a small school, I found myself hanging out with people I normally wouldn't have hung out with.
Daily Schedule:
Weekday
3:00 AM
Physical Outdoor Pursuits or Community Service
5:00 AM
Unwind, do laundry, hangout, homework
9:00 AM
Study Hall ends, do night chores
Weekend
1:00 AM
Go skiing or out to lunch with friends
Steamboat Mountain School has two amazing programs International and competitive skiing. All students go through great outdoor experiences together to develop independence and build a strong bond between the students. Class sizes are under ten. . .
(NOTE: I attended SMS my Junior and Senior year of high school) Not many teenagers can say they've traveled to Peru, Namibia, South Africa and Botswana before the age of 16 and not many high school. . .
The faculty's drive to push your limits physically and mentally is fantastic preparation for college and life. The small student body lets each faculty member get to know you personally, facilitating the overall learning experience. . .
Show more reviews (

2 reviews

)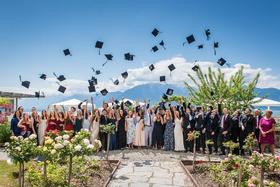 Nurturing Futures: A Journey through Boarding at Haut-Lac School in Switzerland
Nestled in the hills overlooking Lake Geneva in the French-speaking part of Switzerland lies an educational gem that embodies a unique blend of academic excellence, cultural richness and a profound sense of community. Founded over 30 years ago, Haut-Lac International Bilingual Day and Boarding School is now home to both 600 day students and a maximum of 30 boarders from around the world.
What To Wear at Your Job Interview
Navigating job interviews can be stressful, but knowing what to wear shouldn't be. Our comprehensive guide covers the essential dress code tips for men and women interviewing at boarding schools. Make your first impression count with style and professionalism.
Navigating the Modern Maze: Emerging Challenges for Boarding Schools
Explore the pressing challenges facing boarding schools, from marketing difficulties and rising insurance costs to facility maintenance and recruitment of competent trustees and teachers. This article delves into these complex issues and proposes innovative strategies to overcome them.