Reflections and Advice:
1.) What do you think makes your school unique relative to other boarding schools?
Midland's philosophy is "needs not wants." And the community lives that philosophy every day. For four years, I lived in a wood cabin (heated only if I made a fire in our room's small stove) and collaborated with my classmates to chop wood to make fires to heat our shower water. I learned how to be a member of a community--where each person's contribution matters (there is no custodial service; the community makes the place work from students working as waiters in the dining hall to gardeners in the organic garden).On almost 3,000 acres, Midland borders Los Padres National Forest. The curriculum interacts directly with the environment---the most tangible example being the three-walled classroom. The fourth wall is the world!
2.) What was the best thing that happened to you in boarding school?
Midland taught me--previously from the city--that I could hike. It showed me how much I enjoy nature, and benefit from time spent slowing down and being outside. I live in a major international city now, but the Midland part of me always reminds me to take time to slow down, to find quiet. I find that my work and my life benefits from this reminder.
3.) What might you have done differently during your boarding school experience?
Midland is unlike any other boarding school. I had never considered boarding school until I found Midland. I chose Midland (not boarding school). If you choose Midland, throw yourself into the experience. You will get what you put in.
4.) What did you like most about your school?
Midland lives its philosophy every day. And its reliance on the land, connection to nature, commitment to experiential education--is relevant today more than ever. I've worked on issues of climate change at the international level. I'm continually struck by how we, as a world--need to live more like Midland.
5.) Do you have any final words of wisdom for visiting or incoming students to your school?
Check out the garden! Learn how to make a shower fire!
Academics:
1.) Describe the academics at your school - what did you like most about it?
The small teacher-student ratio meant that I got help where I needed it and could push ahead where I was excelling. Once I arrived at Stanford, I similarly sought out my professors. Midland taught me that I could do that. My classmates went to a wide range of schools--tailored to their talents and interests, and encouraged by the faculty.
Athletics:
1.) Describe the athletics at your school - what did you like most about it?
I became an athlete at Midland. The school is small, which means that everyone must join teams. It gave me incredible self confidence to play soccer, to learn lacrosse, to run in the hills. And, through athletics, I became friends with people across classes. It also allowed me to see my teachers in a different light that in a classroom.
Art, Music, and Theatre:
1.) Describe the arts program at your school - what did you like most about it?
Great program--culminating in a theatre production at the Thanksgiving holiday (where the Midland community and parents descend upon the school to break bread together).
Extracurricular Opportunities:
1.) Describe the extracurriculars offered at your school - what did you like most about it?
I sought out my own extracurricular activities. I heard that there had been a Midland Radio Station---so I asked a teacher who'd been involved. He helped me resurrect it. It is a small enough community that things like this can happen!
Dorm Life:
1.) Describe the dorm life in your school - what did you like most about it?
I enjoyed living in cabins---and the architecture of the "quads" is cool. There are three circles of cabins in the "Lower Yard", where the girls live. One for freshman, one for sophomore and one for juniors. The seniors live amongst the underclasswomen, with the respective prefects keeping an eye out for their respective classes. I enjoyed the community aspect of the cabins.
Dining:
1.) Describe the dining arrangements at your school.
Organic food straight from the garden! Fresh strawberries from the fields, immediately following lacrosse practice. When else in my life will I eat such amazing food on such a regular basis.
Social and Town Life:
1.) Describe the school's town and surrounding area.
The land is stunning. The Santa Ynez Valley (now famous for the movie Sideways). Midland is located off the main road, down a beautiful road (so picturesque that some car commercials have been filmed there). There isn't much interaction with Los Olivos, about 6 miles away. But the town is great and when my parents came to visit, we would eat there.
2.) Describe the social life at your school - what did you like most about it?
Sitting down to dinner five nights a week, at a different table each week, with students and faculty. It is a real community. You get to know everyone.
Few schools empower you the way Midland does. The school's experiential learning coupled with its student run maintenance program gives students the skill set to pursue and build their own projects. For instance. . .
Midland is an incredibly unique educational opportunity. What sets it apart are the values of self-reliance and the relationship with the land. The emphasis placed on experiential learning and leadership really grow out of the. . .
Midland's philosophy is "needs not wants." And the community lives that philosophy every day. For four years, I lived in a wood cabin (heated only if I made a fire in our room's. . .
Show more reviews (

1 review

)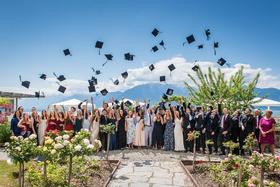 Nurturing Futures: A Journey through Boarding at Haut-Lac School in Switzerland
Nestled in the hills overlooking Lake Geneva in the French-speaking part of Switzerland lies an educational gem that embodies a unique blend of academic excellence, cultural richness and a profound sense of community. Founded over 30 years ago, Haut-Lac International Bilingual Day and Boarding School is now home to both 600 day students and a maximum of 30 boarders from around the world.
What To Wear at Your Job Interview
Navigating job interviews can be stressful, but knowing what to wear shouldn't be. Our comprehensive guide covers the essential dress code tips for men and women interviewing at boarding schools. Make your first impression count with style and professionalism.
Navigating the Modern Maze: Emerging Challenges for Boarding Schools
Explore the pressing challenges facing boarding schools, from marketing difficulties and rising insurance costs to facility maintenance and recruitment of competent trustees and teachers. This article delves into these complex issues and proposes innovative strategies to overcome them.