Midland School - Review #2
About the Author:

College Enrolled
Lehigh University
Home Town, State (Country)
Washington DC, DC
Years Attended Boarding School
4
Activities During Boarding School
As a junior in high school I became very interested in organic farming. It was the mid nineties and the movement was starting to find a resurgence, albeit, not the commercial success it is today. So I began by growing my own little vegetable garden by my cabin. Over the course of the year, I further pursued this interest and spent the following summer working on an organic farm. When I returned my senior year, I was the founding student for the school's organic garden, which is in operation to this day.
Review

Description

Stanford University

Midland's philosophy is "needs not wants." And the community lives that philosophy every day. For four years, I lived in a wood cabin (heated only if I made a fire in our room's. . .

Lehigh University

Few schools empower you the way Midland does. The school's experiential learning coupled with its student run maintenance program gives students the skill set to pursue and build their own projects. For instance. . .

Smith College

Midland is an incredibly unique educational opportunity. What sets it apart are the values of self-reliance and the relationship with the land. The emphasis placed on experiential learning and leadership really grow out of the. . .

University of Oregon

Small school that teaches one the basic of life. From collecting wood to heat your shelter to mathematical equations to solve the economic world problems. A unique education.. . .

Show more reviews

(-1

reviews)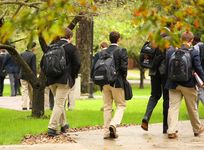 March 19, 2018
Some cynics think single-sex education is old-fashioned. The Kiski School shows how educating boys in a single-sex school is successful.
March 14, 2018
Determining which programs are 'must haves' is an important part of choosing the right boarding school for your child.
March 08, 2018
The wide range of fine academic, athletic, and other facilities found in boarding schools underscores the determination of schools to provide the very best for their students.