Loomis Chaffee - Review #5
About the Author:

College Enrolled
Mount Holyoke
Home Town, State (Country)
Willington, CT
Years Attended Boarding School
4
Activities During Boarding School
I participated in choir all 4 four years and the higher level choir chamber singers as well. I also was in the club fencing sport and participated in tutoring via the schools community service program.
Review

Description

Brown University

The unique community feel is certainly special. As an arriving senior, it was tough to get acclimated to a place that people had been at for four years. Some other boarding schools I looked at. . .

Villanova University

Good balance between day students and boarders created a non isolated feeling to the campus. Overall feeling on campus was unified and together. Smaller school population is a reason for this.. . .

Stonehill College

The location of the school in Windsor, CT that was formed into basically an island. This provides some security and well as comfort for the students and faculty living on campus. The campus also was. . .

Brown University

The writing program was quite special. All sophomores had to take a Writing Workshop class where we were taught a particular way of enhancing our analytical skills with "interpretive sentences." We also had workjobs --. . .

Mount Holyoke

LC has a work job program and every term, you'll be assigned a new work job to carry out. You may end up cleaning the art building, or sweeping the dining hall-everyone does one because. . .

Show more reviews

(11

reviews)
April 20, 2018
Actually, there is no secret to getting your child into boarding school. Just a lot of hard work and a heavy commitment of time.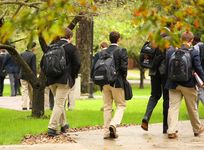 March 22, 2018
Some cynics think single-sex education is old-fashioned. The Kiski School shows how educating boys in a single-sex school is successful.
March 08, 2018
The wide range of fine academic, athletic, and other facilities found in boarding schools underscores the determination of schools to provide the very best for their students.