Reflections and Advice:
1.) What do you think makes your school unique relative to other boarding schools?
I loved how every teacher there was your friend. They honestly cared how you were doing, that you had full understanding of all the subjects you were studying and especially that you had a purpose for what you were studying. I always felt like I had support when I needed it, but also the freedom to fail and pick myself back up again.
2.) What was the best thing that happened to you in boarding school?
I feel like Delphian instilled in me a lifelong love of learning. I feel very passionately about the subject of education and dislike that so many schools attempt to create well-behaved but creatively stifled children. Delphian brings out your creativity and does it by empowering students and treating them with respect and kindness.I feel very lucky to have attended Delphian.
3.) What might you have done differently during your boarding school experience?
I would say to take advantage of all the clubs, activities and arts. There are so many things to do and to try. If you can, be a part of every club and take every art class. Explore!
4.) What did you like most about your school?
The individualized nature and the friendships I had with the students, faculty and staff. The alumni are very engaged in the school and we come back to Alumni Weekend in Oct almost every year. Usually about 250 attend and it's great to reconnect and also network with all the alumni.
5.) Do you have any final words of wisdom for visiting or incoming students to your school?
Hike! The campus is beautiful and there are some incredible hikes you can take. Also try to attend the summer program at least one year. They have horses in the summer and you can take trail rides into the hills and forests.
Academics:
1.) Describe the academics at your school - what did you like most about it?
I loved that each student had their own unique program, especially the last two years of high school. The program can be tailored to your own interests and needs. Also, it is not lecture method. Students study independently and get help if needed on a subject.There are some classes that are seminar style, and my favorite was probably current events.
Athletics:
1.) Describe the athletics at your school - what did you like most about it?
I liked that the school is small enough to allow most students who were interested to be on a team and actively participate. I know that the athletics program has grown quite a bit since I graduated and they now have a newly renovated gym, a track program and many other upgrades.
Art, Music, and Theatre:
1.) Describe the arts program at your school - what did you like most about it?
The Arts Program at the school was amazing. I would say a large number of students participated in some aspect of the arts, so we had many in choir, plays and art classes. The school is basically a gallery of student art, including many wall murals.
Extracurricular Opportunities:
1.) Describe the extracurriculars offered at your school - what did you like most about it?
This has always been a bit part of Delphian. The school works with many volunteer organizations in the local community as well as world wide. I always felt like there were many opportunities for me to volunteer and the school backed this.
Dorm Life:
1.) Describe the dorm life in your school - what did you like most about it?
I loved how the friends I made in school are still my friends today. I also love the views from most dorms, especially Dragon Hall. It had a view from every window of the Willamette Valley and some mornings you would see deer walking on the lawn outside your window. Really beautiful.The campus is also on 700 acres on a big forested hill, so you have a lot of privacy and safety. Kids never worry about walking around on campus and it did feel like a home instead of a school most of the time.
Dining:
1.) Describe the dining arrangements at your school.
There is one big dining hall and people ate family style at long tables. There is a lot of variety in the food, especially because there are so many different countries represented at the school, so different food preferences. You can sit where you like, there is not assigned seating.
Social and Town Life:
1.) Describe the school's town and surrounding area.
The town closet to the school is pretty small, so if we went out on the weekends we would usually go to McMinnville, which is a larger town about 20 minutes away. The Coast is also only about 50 min away.
2.) Describe the social life at your school - what did you like most about it?
There are clubs in the evening and a big recreation room with a snack bar, games, etc that we would hang out during the evening. Dragon Hall also has a large lounge and kitchen. There were activities every weekend, including off campus trips, dances, etc. There was always something going on.
What made my school different from other boarding schools was that I was able to move through my program at my own pace. I didn't have to worry about catching up with my class because. . .
The fact that we study for real world application rather than just trying to spit things back out on an exam. This makes the education 10 times more valuable than any other school I have. . .
Here at the Delphian School, all the exams are done one-on-one, where the examiner will ensure that all the student's questions regarding the subject they just studied are solved and answered to satisfaction.The Delphian. . .
Show more reviews (

21 reviews

)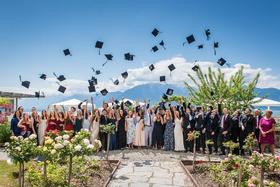 Nurturing Futures: A Journey through Boarding at Haut-Lac School in Switzerland
Nestled in the hills overlooking Lake Geneva in the French-speaking part of Switzerland lies an educational gem that embodies a unique blend of academic excellence, cultural richness and a profound sense of community. Founded over 30 years ago, Haut-Lac International Bilingual Day and Boarding School is now home to both 600 day students and a maximum of 30 boarders from around the world.
What To Wear at Your Job Interview
Navigating job interviews can be stressful, but knowing what to wear shouldn't be. Our comprehensive guide covers the essential dress code tips for men and women interviewing at boarding schools. Make your first impression count with style and professionalism.
Navigating the Modern Maze: Emerging Challenges for Boarding Schools
Explore the pressing challenges facing boarding schools, from marketing difficulties and rising insurance costs to facility maintenance and recruitment of competent trustees and teachers. This article delves into these complex issues and proposes innovative strategies to overcome them.