Reflections and Advice:
1.) What do you think makes your school unique relative to other boarding schools?
Learning is tailored to the individual student and is based on results and actual knowledge rather than the amount of time spent in the class room. That way, your education is solid. You can use it in life and in your future career, rather than learning advanced subjects when you haven't truly understood more basic ones.Additionally, the community is unlike anything I have experienced elsewhere. Everyone, students and faculty alike, are there to help each student succeed. There is a lot of practical application of what you learn in the classroom. Be that English, science or leadership.
2.) What was the best thing that happened to you in boarding school?
I came to this school to learn in English for a year. I was shy and terrified of being in a different country, learning a new language, etc. But the staff and students were so warm and welcoming that I soon felt at home. I learned English quickly through the excellent English as a Second Language program and lost my shyness. Now, when I tell people that I used to be extremely shy, they don't believe it. I ended up finishing high school here rather than returning to Germany to finish school.
3.) What might you have done differently during your boarding school experience?
You very much get out of your experience at this school what you put into it. I was very heavily focused on my academics and wish I had taken even more advantage of the extra-curricular activities to gain even more experience and grow even more as a person. What this school offers is unique and I should have spent a little bit more time taking advantage of it.
4.) What did you like most about your school?
The people and the community. The love for learning that the students develop. The friendships that I formed that have lasted to this day. The education that I was able to take with me that I have been able to use and that has helped me every day since I have graduated.
5.) Do you have any final words of wisdom for visiting or incoming students to your school?
Honestly, nothing specific stands out. I loved it all.
Academics:
1.) Describe the academics at your school - what did you like most about it?
I liked that my program was based on me personally. I didn't have to learn what I already knew, I reviewed subjects I was uncertain about, I continued my high school education with that solid foundation and I learned what I wanted to learn based on my career interests. I was able to learn at my own pace and ensure that I truly understood what I was learning and knew how to use it in life. The teachers are extremely helpful and friendly and work with you one-on-one as much as you need it. There is a wide variety of classes available and you are challenged to succeed, even in areas you thought you might never master.
Athletics:
1.) Describe the athletics at your school - what did you like most about it?
Athletics were mandatory, and there was such a wide variety available that there was something for everyone. Volleyball, tennis, baseball, basketball, soccer, gym, yoga, etc. The school often goes to state competitions, they have a soccer field, baseball field, several tennis courts, a gym, inside and outside running track, etc.
Art, Music, and Theatre:
1.) Describe the arts program at your school - what did you like most about it?
The visual arts, music and theater are probably the strongest point of the school. There is a wide variety available - painting, pottery, photography, digital arts, choir, theater, etc. I had always liked art, but coming to this school, I felt for the first time that not everything I created was evaluated, graded or looked down upon before I had ever had a chance to learn the craft. Here, I was left to create what I wanted, was given help and assistance in terms of knowledge, skills and practice and was thus able to blossom as an artist.
Extracurricular Opportunities:
1.) Describe the extracurriculars offered at your school - what did you like most about it?
I was very happy about the extra-curricular activities available at my school as I learned a tremendous amount and was able to grow as a person from these experiences. I was able to volunteer as a tutor at other schools in the area, do internships in the fields I was interested in as a career, etc. The opportunities are many and also tailored to the individual student and their interest. You are encouraged to be involved in the community of the school as well as the surrounding cities and internationally.
Dorm Life:
1.) Describe the dorm life in your school - what did you like most about it?
You share a room with one other student. I had plenty of space. The rooms were always clean. I got along well with the different roommates I had over the years.
Dining:
1.) Describe the dining arrangements at your school.
Breakfast, lunch and dinner are served buffet style. In addition to the main meal, there is always a salad bar available, and alternatives for vegetarians, etc. The food is healthy, i.e. it's not hot dogs and fries. The variety is good. There are always snacks available. The seating is not assigned.
Social and Town Life:
1.) Describe the school's town and surrounding area.
The school is on a hill in beautiful country side. The city at the bottom of the hill is small with a population of 5,000 people. The school arranges regular trips to nearby larger cities, like McMinville and Portland for the students.
2.) Describe the social life at your school - what did you like most about it?
I liked that people were very friendly and inclusive. It's a relatively small school and community and there weren't cliques or negative rivalry. The students got along with each other. As the school is based so much on the individual student, being an individual (rather than the same as everyone else) is accepted and your individual skills, characteristics and achievements are encouraged and acknowledged.
What made my school different from other boarding schools was that I was able to move through my program at my own pace. I didn't have to worry about catching up with my class because. . .
The fact that we study for real world application rather than just trying to spit things back out on an exam. This makes the education 10 times more valuable than any other school I have. . .
Here at the Delphian School, all the exams are done one-on-one, where the examiner will ensure that all the student's questions regarding the subject they just studied are solved and answered to satisfaction.The Delphian. . .
Show more reviews (

21 reviews

)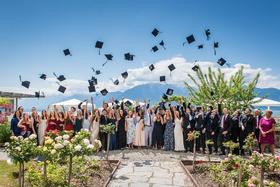 Nurturing Futures: A Journey through Boarding at Haut-Lac School in Switzerland
Nestled in the hills overlooking Lake Geneva in the French-speaking part of Switzerland lies an educational gem that embodies a unique blend of academic excellence, cultural richness and a profound sense of community. Founded over 30 years ago, Haut-Lac International Bilingual Day and Boarding School is now home to both 600 day students and a maximum of 30 boarders from around the world.
Navigating the Modern Maze: Emerging Challenges for Boarding Schools
Explore the pressing challenges facing boarding schools, from marketing difficulties and rising insurance costs to facility maintenance and recruitment of competent trustees and teachers. This article delves into these complex issues and proposes innovative strategies to overcome them.
What To Wear at Your Job Interview
Navigating job interviews can be stressful, but knowing what to wear shouldn't be. Our comprehensive guide covers the essential dress code tips for men and women interviewing at boarding schools. Make your first impression count with style and professionalism.