Reflections and Advice:
1.) What do you think makes your school unique relative to other boarding schools?
What the Hill was to me?The Hill was an opportunity for me to achieve greatness. The Hill allowed me to take advantage of opportunities not given to many individuals from Harlem. It is because of the Hill that I find strength to continue in the face of adversity. I became an orphan while at the Hill, but thanks to Assistant Head Master Harry Price I found a new Dad and who can forget my friends Brent, Lance, DJ, Joey, Rollin, Jay, Mathew, and so many more. It just would not be fair if I did not thank Doc Finn, Mr. Becker, Coach D, Mr. McAlpine, and Joe B for helping become a better person. The Best thing The Hill has to offer is character, integrity, education, and most importantly, friendships.
2.) What was the best thing that happened to you in boarding school?
I believe that I am a well-rounded individual because of The Hill School. My deep, driven desire to learn is because of The Hill. I went on to attend the University of Miami because of The Hill. I am applying to graduate school for an MBA because of The Hill. Remember that I was born and raised in Harlem, a place in NYC many don't go, a place where your future has been decided for you before you're even born. Your choices are death, jail, or a dead end job. The Hill changed that for me, showed me a different life; that a kid from Harlem could attend the same school as Donald Trump Jr. The Hill School gave me a sense of self, the desire to achieve and be great, and today I am a better person spiritually and mentally because of The Hill.Eric Ocasio '94
3.) What might you have done differently during your boarding school experience?
I would have stayed to graduate with my friends......
4.) What would you never want to change about your school?
The history......
5.) What things could be improved about your school?
Increase the Student body.
6.) Do you have any final words of wisdom for visiting or incoming students to your school?
Life at The Hill is what you make of it! Enjoy it and learn from it.
Academics:
1.) What did you like best about your school's academics?
The best thing about the Hill's academics is the individual attention by the teachers and the incredible resources at your disposal. I remember the language lab, art center, library, work shop class and an incredible science lab run by Mr. Taylor and Mr. Lodish. The Hill School is a community of tomorrow's leaders. The Hill is an academic institution with a deep, driven desire to excel in a competitive global market.
2.) What did you like least about the academics in your school?
The amount of studying you had to do to pass the classes. Honestly, there is nothing bad to say about the academics at the Hill school.
Athletics:
1.) What did you like best about your school's athletics?
The athletics at The Hill are not just competitions of strength and skills, they are learning experiences. What I remember most is not my first touchdown on the varsity football team or the schools longest homerun I hit against Chestnut Hill in the spring of 1992 or my first practice on the varsity basketball team; it was becoming a leader of men and helping my teammates achieve a common goal. My teammate helping me cope with my mother's death and my coach's driving 4 hours to be with me at my mother's funeral. That is what I like most about The Hill School's Athletics programs.
2.) What did you like least about the athletics in your school?
I really had no complaints about the Athletic program, they took very good care of me….thanks Joe B for that!
Art, Music, and Theatre:
1.) What did you like best about your school's art program?
I enjoyed the Art program very much, I learned about music and Art history. The school spent millions of dollars to build a state of art facility. The Hill Tones are a wonderful band.
2.) What did you like least about your school's art program?
I did not spend that much time in the Art building.
Extracurricular Opportunities:
1.) What did you like most about the extracurricular activities offered at your school?
Regretfully, I didn't have time to join any of the school social programs or student organizations due to my heavy sport schedule. However, I wanted very much to study abroad.
2.) What did you like least about the extracurricular activities offered at your school?
Mandatory chapel on Wednesday and Sunday.
Dorm Life:
1.) What was the best thing about dorm life in your school?
My first year was spent in the Johnson House with Mr. Taylor and it was by far the greatest time I have ever experienced. The best thing was my friends.
2.) What did you like least about dorm life?
lights out at 11:00pm
Dining:
1.) What was the best thing about your dining arrangements?
The grill at the student center was great; I can still remember the breakfast burritos and chicken sandwiches I ate every morning during my break.
2.) What did you like least about your dining arrangements?
I didn't care for the traditional assigned seating dining experience but the food was not bad.
Social and Town Life:
1.) How welcome did you feel by the other students when you first arrived at the school
That was a problem for me when I first got to the school. I was a black/hispanic kid from Harlem in one of the richest schools in America........but after a few weeks I made friends of all walks of life, an experience I would not trade for anything in the world.
2.) Describe the level of diversity and integration of students in your school:
I think the school is a perfect reflection of our society. the majority of the student body was white. Not many people of color, although that might have changed. But when I attended the The Hill, it was an all Boys School. It has since become co-ed.
3.) Describe typical fun activities you did on a weekend:
I played football, basketball, or baseball. We had several dances during the school year. I was part of the Gun Club so we would go to the off campus site and trap shot.
4.) What was the town like?
In my case, I did not leave campus unless I was going out with friends to their homes.
Daily Schedule:
Weekday
Weekend
11:00 AM
Prep for game/ or travel
A smaller number of students attend the Hill School than most other boarding schools that I know of. This allows a more personal approach to be taken by the teachers and dorm parents, the. . .
The two aspects of The Hill School that make it unique are the professors' relationship with the students and the traditions at The Hill. First off, professors are involved in all aspects of school life. . .
It's been 50 years but the school has developed a partnership with the town of Pottstown which is unique across the country. Several alumni (in my class of '67, including the Governor of Pennsylvania). . .
Show more reviews (

5 reviews

)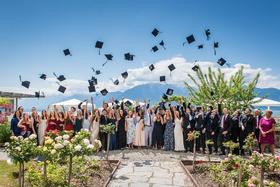 Nurturing Futures: A Journey through Boarding at Haut-Lac School in Switzerland
Nestled in the hills overlooking Lake Geneva in the French-speaking part of Switzerland lies an educational gem that embodies a unique blend of academic excellence, cultural richness and a profound sense of community. Founded over 30 years ago, Haut-Lac International Bilingual Day and Boarding School is now home to both 600 day students and a maximum of 30 boarders from around the world.
What To Wear at Your Job Interview
Navigating job interviews can be stressful, but knowing what to wear shouldn't be. Our comprehensive guide covers the essential dress code tips for men and women interviewing at boarding schools. Make your first impression count with style and professionalism.
Navigating the Modern Maze: Emerging Challenges for Boarding Schools
Explore the pressing challenges facing boarding schools, from marketing difficulties and rising insurance costs to facility maintenance and recruitment of competent trustees and teachers. This article delves into these complex issues and proposes innovative strategies to overcome them.