Reflections and Advice:
1.) What do you think makes your school unique relative to other boarding schools?
Thacher maintains a purposeful equipoise: a sincere balance between the physical and the intellectual. In no other school of which I am aware is nature such a dominant presence. While the school has mellowed and grown luxurious since my time, I visit campus often and am confident that much of the culture abides. Last fall I attended the memorial service for a legendary faculty member. Afterwards, I shared some thoughts with a recent graduate who had studied with the same teacher who made a big impression on me 45 years ago. I realized then that Thacher's "stamp" is like human DNA. It evolves, but the core impulses remain.
2.) What was the best thing that happened to you in boarding school?
Confidence in my own set of values. Confidence to travel the world and know that I'm okay.
3.) What might you have done differently during your boarding school experience?
If you decide to go to Thacher, be prepared to jettison the shallow world from which you probably have come. Before Thacher, I was a TV addict. Today, I do have a smart TV, but it is not connected to anything but a DVD player and the internet. And I have probably watched it fewer than ten hours in the past 12 months.
4.) What did you like most about your school?
Thacher is all about values: independent thought and strong character. It is a bastion of lasting values in an America which seems to have gone the way of ancient Rome in its worst days.
5.) Do you have any final words of wisdom for visiting or incoming students to your school?
If you need to spend your weekends partying, please go somewhere else. Thacher really isn't for spoiled, shallow people. Millennials with purpose will find a great deal here.
Academics:
1.) Describe the academics at your school - what did you like most about it?
Thacher was far more challenging academically for me than was Harvard. But I also received a better education, thanks to the seminar style courses with authentically engaged teachers. I don't remember ever feeling academic competition, but remember, this was decades ago.
Athletics:
1.) Describe the athletics at your school - what did you like most about it?
Highly allergic to horses and suffering from serious asthma, I did experience some dramatic health effects from owning and "operating" a horse and living in the sage covered mountains. However, the long terms effects of horse camping and hiking have made me far more fit than most people. On the other hand, I am somewhat judgmental of people who slack and let themselves go soft. Thacher really does have an almost ancient Greek cultural ethos of sound body/sound mind. I'm grateful for that to this day. I'll be hiking in the Swiss Alps in six weeks-- without a map, without a compass, alone. Thanks to Thacher's sports program, I feel comfortable in the Sierra, Rockies, Alps, Himalayas (my favorite part of the world), and Andes.
Art, Music, and Theatre:
1.) Describe the arts program at your school - what did you like most about it?
I loved that Thacher has a Greek theater that is as beautiful as anything in Greece, and that I saw Antigone in the magic of a night under the oaks.
Extracurricular Opportunities:
1.) Describe the extracurriculars offered at your school - what did you like most about it?
I did lots of volunteering at Thacher, but I wouldn't say that this was a unique aspect of the school, except that we did take developmentally disabled people into the wild, an idea that in the end probably wasn't so wise. We also pushed the safety envelope when it came to wilderness sports, though I think lawyers and a generally more cocooning culture has probably fenced off anything really worth doing!
Dorm Life:
1.) Describe the dorm life in your school - what did you like most about it?
Dorm life at Thacher was about creating a close-knit community. Freshman year was too regimented-- with constant inspection for clean-up. But as we got older it got more relaxed.
Dining:
1.) Describe the dining arrangements at your school.
Food service has improved greatly since my time, though I regret that the nightly formal dinner has been replaced by only a once a week equivalent. Good chance to connect also with faculty.
Social and Town Life:
1.) Describe the school's town and surrounding area.
The best thing about Thacher is that it exists on the edge of thousands of square miles of true wilderness. Bears, mountains lions, snakes, coyotes-- all are found on and around campus. It is this element, combined with challenging academics, that defines the school.
2.) Describe the social life at your school - what did you like most about it?
True community. Everybody knows everything. It is life the was human beings lived before the "liquid materialism" and transactional social arrangements that have vulgarized modern life and stripped value from every human relationship. One teacher told us freshmen year that we would never find this again, and that we would cherish it. He wasn't right: I found it living in Italy and spending time in developing countries. But certainly, modern urban America, with its wretchedly shallow consumer culture has proven that teacher right. Thacher's sense of community does not produce Willy Lomans.
Daily Schedule:
Weekday
7:00 AM
Cleaning horse stable
Weekend
The tight knit community is a really rare quality at high schools in general but especially boarding schools. The relationships with teachers and students is so close and the fact that there is very few. . .
The horse department at Thacher is both unique and outstanding. Unique because the school strives to keep the cowboy culture alive with over 100 horses and a fully outfitted western riding center. It is outstanding. . .
Thacher's community on campus is unlike any other, connections at the school go beyond merely knowing every student's name but having had interacted closely with everyone whether on a camping trip, in the dining hall. . .
Show more reviews (

23 reviews

)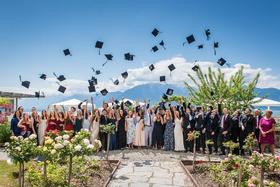 Nurturing Futures: A Journey through Boarding at Haut-Lac School in Switzerland
Nestled in the hills overlooking Lake Geneva in the French-speaking part of Switzerland lies an educational gem that embodies a unique blend of academic excellence, cultural richness and a profound sense of community. Founded over 30 years ago, Haut-Lac International Bilingual Day and Boarding School is now home to both 600 day students and a maximum of 30 boarders from around the world.
Navigating the Modern Maze: Emerging Challenges for Boarding Schools
Explore the pressing challenges facing boarding schools, from marketing difficulties and rising insurance costs to facility maintenance and recruitment of competent trustees and teachers. This article delves into these complex issues and proposes innovative strategies to overcome them.
What To Wear at Your Job Interview
Navigating job interviews can be stressful, but knowing what to wear shouldn't be. Our comprehensive guide covers the essential dress code tips for men and women interviewing at boarding schools. Make your first impression count with style and professionalism.