Baylor School - Review #1
About the Author:

College Enrolled
Mercer University
Home Town, State (Country)
Cullowhee, NC
Years Attended Boarding School
3
Activities During Boarding School
I was a member of the school's football and wrestling teams. Sports were a big part of my time at Baylor and playing helped me for close relationships with friends I would have for years later.
Review

Description

Mercer University

Baylor School helped me get to where I am today. Without the culture of success that Baylor produces, there is no way I would have been able to survive being a college athlete. It seems. . .

Yale University

Baylor has a unique camaraderie among its students. I have witnessed family relationships between faculty and friends that will last forever. These people keep in touch with me, and I feel like my connections opened. . .
April 20, 2018
Actually, there is no secret to getting your child into boarding school. Just a lot of hard work and a heavy commitment of time.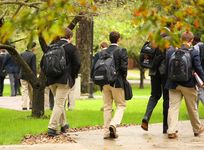 March 22, 2018
Some cynics think single-sex education is old-fashioned. The Kiski School shows how educating boys in a single-sex school is successful.
March 08, 2018
The wide range of fine academic, athletic, and other facilities found in boarding schools underscores the determination of schools to provide the very best for their students.