New Mexico Military Institute - Review #2
About the Author:

College Enrolled
Texas Tech University
Home Town, State (Country)
Torreon, TX
Years Attended Boarding School
1
Activities During Boarding School
Activities at New Mexico Military Institute are very extensive. We definitely have academic activities after class. Personally, I was more involved in physical activities such as cross country, track and swimming but we also have football, basketball and all other high school sports. We also have a great fencing and pentathlon coach. All of the activities are free. We also have a gym with weight room, basketball courts, tennis courts, locker rooms and a 25 yard pool that has a trampoline as well. You can also get in to many JROTC activities such as shooting, color guard or flame guard. Leadership positions are extensive as the entire school in based on a leadership-subordinate model. Cadets (students) are assigned a rank that comes with responsibilities.
Daily Schedule:
Weekday
| | |
| --- | --- |
| 6:00 AM | Reveille / Wake up Call |
| 6:15 AM | Mandatory Breakfast Formation |
| 8:00 AM | School Starts |
| 12:00 AM | Mandatory Lunch Formation |
| 3:00 PM | School Ends |
| 4:00 PM | Extracurricular activities |
| 6:30 PM | Mandatory Dinner Formation |
| 7:00 PM | Study Time Starts |
| 9:30 PM | Study Time Ends / Free 4th Meal |
| 10:00 AM | Night Time |
Weekend
| | |
| --- | --- |
| 8:00 AM | Morning Formation, no breakfast |
| 8:30 AM | Free time until 6pm |
| 9:00 AM | Brunch |
| 6:00 PM | Dinner Formation |
| 7:30 PM | Study Time |
| 10:00 PM | Night Time |
Review

Description

New Mexico Military Institute

New Mexico Military Institute (NMMI) is one of the few schools that is Army based, High School and Junior College, as well as Early Commissioning Program (ECP) Senior Reserved Officers Training Corps (SROTC). As a. . .

Texas Tech University

First of all, this is a military boarding school. Military discipline is strictly enforced throughout the year and uniforms are worn daily. Every building on campus has the same architecture and this really creates a. . .

Colorado school of mines

The military environment supported rigorous academics as well as athletics and active extracurricular activities. Its location in the American Southwest provides a unique experience from traditional boarding schools back east.. . .

New Mexico Military Institute

One aspect of New Mexico Military Institute that makes it unique is the way it is run. It is run by a cadet chain of command which is set up just like the military. First. . .

Eastern New Mexico Unversity

The military environment is very conducive to scholastics and athletic excellence. . .

Show more reviews

(2

reviews)
April 20, 2018
Actually, there is no secret to getting your child into boarding school. Just a lot of hard work and a heavy commitment of time.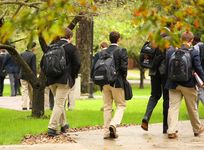 March 22, 2018
Some cynics think single-sex education is old-fashioned. The Kiski School shows how educating boys in a single-sex school is successful.
March 08, 2018
The wide range of fine academic, athletic, and other facilities found in boarding schools underscores the determination of schools to provide the very best for their students.