Reflections and Advice:
1.) What do you think makes your school unique relative to other boarding schools?
Not a strict dress code, Call faculty members by first name.
2.) What was the best thing that happened to you in boarding school?
The best thing that happened to me at boarding school was the athletics. It made me into the athlete I am today and grew me to be able to play it at a collegiate level. I was all league going my senior year in both football and baseball. The athletics shaped me into who I am today and where I am today.
3.) What might you have done differently during your boarding school experience?
My only advice was to try to do as well as you can your first two years of high school because those are your easy years and it makes it easier to sustain a higher GPA once an upperclassman.
4.) What did you like most about your school?
I most liked the people I met. The people I met will be people I will be in contact with for the rest of my life. These people will be my friends and will always be there for me because of everything we went through while at Proctor.
5.) Do you have any final words of wisdom for visiting or incoming students to your school?
Peabody Dorm is the best!
Academics:
1.) Describe the academics at your school - what did you like most about it?
The best part about the academics is the faculty members that teach and are involved. Each teacher holds a significant amount of extra help time and is always willing to help a student in need. Their seemed to be this idea that you would have to try to fail. Teachers would get on your case if you were not doing well and make sure they knew how to get you to be more successful.
Athletics:
1.) Describe the athletics at your school - what did you like most about it?
The competition at the varsity level was what I most liked about my time within athletics at Proctor. Proctor's athletic coaches have a true passion for the sport and expect to be successful with their league. Football was one of the most successful sports while I was there and you saw this with the amount of students who went on to play football in college. The quality of facilities and equipment is something that set Proctor away from other schools with 2 turf fields and a beautiful hockey rink.
Art, Music, and Theatre:
1.) Describe the arts program at your school - what did you like most about it?
I did not participate within these programs.
Extracurricular Opportunities:
1.) Describe the extracurriculars offered at your school - what did you like most about it?
I was a leader for the group of tour guides of the school. We gave tours to all prospective families. I feel as though I had a impact on selling the school to these families and selling the great time I had at Proctor.
Dorm Life:
1.) Describe the dorm life in your school - what did you like most about it?
I lived in three different styles of living at Proctor. The first one was a large dorm with a large mix freshman through seniors. The second one was a smaller dorm with mostly freshman and sophomores. Lastly I lived in the newest dorm at the time on campus with mostly upper class men. The best part about the new dorm is most bathrooms were only shared with one other room. The dorm parents would often make us food and welcome us into there homes to hang out and watch big time sporting events.
Dining:
1.) Describe the dining arrangements at your school.
Since leaving Proctor they just built a brand new dinning facility. From what I have heard it is beautiful and has lots of different choices. Even when I went there they had lots of choices with healthy options such as salad bars and rice bars as well.
Social and Town Life:
1.) Describe the school's town and surrounding area.
Andover is a very small town with one gas station, and one restaurant. Both of these places were always filled with Proctor students. My friends and I use to go to the gas station often for lunch because they had great sandwiches. Other than food Andover mostly consisted of one middle school and homes.
2.) Describe the social life at your school - what did you like most about it?
The best part about the social life at Proctor was the Wise Center. This was the student center which had a food bar such as grilled cheese, frappes, etc. It also had a pool table and ping pong tables. This is where everyone normally hung out at night before study hall.
Proctor is a unique school due to the experiential learning model. This includes a variety of off-campus programs including programs in Spain, France, Costa Rica, and Ocean classroom and mountain classroom. Proctor also owns over. . .
The off-campus programs that Proctor has to offer make it particularly unique in relation to other boarding schools. I was lucky enough to participate in Ocean Classroom, which is an off-campus program where we sail. . .
Proctor is unique in way too many ways to describe, but I will name a few. First, you get the opportunity to go abroad in high school! A four year student can have the opportunity. . .
Show more reviews (

9 reviews

)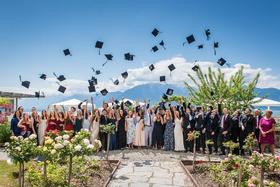 Nurturing Futures: A Journey through Boarding at Haut-Lac School in Switzerland
Nestled in the hills overlooking Lake Geneva in the French-speaking part of Switzerland lies an educational gem that embodies a unique blend of academic excellence, cultural richness and a profound sense of community. Founded over 30 years ago, Haut-Lac International Bilingual Day and Boarding School is now home to both 600 day students and a maximum of 30 boarders from around the world.
What To Wear at Your Job Interview
Navigating job interviews can be stressful, but knowing what to wear shouldn't be. Our comprehensive guide covers the essential dress code tips for men and women interviewing at boarding schools. Make your first impression count with style and professionalism.
Navigating the Modern Maze: Emerging Challenges for Boarding Schools
Explore the pressing challenges facing boarding schools, from marketing difficulties and rising insurance costs to facility maintenance and recruitment of competent trustees and teachers. This article delves into these complex issues and proposes innovative strategies to overcome them.