Reflections and Advice:
1.) What do you think makes your school unique relative to other boarding schools?
Having been through all 4 years, I can only say that being at Choate is one of the best things that happened in my life.
2.) What was the best thing that happened to you in boarding school?
One of the moments I still remember well was when one of my sibilings (who also attended Choate) was ill and was admitted to Yale Hospital for about a week. Mr. Chrisholm, one of the Deans in our form (aka grade), volunteered to drive me to visit him every afternoon. Even more, Mr. Doster, my sibling's then-mathematics teacher cared so much to write down and organize neatly a weeks-worth of detailed lecture notes for the classes that my sibling missed! I certainly could not expect any teacher at other schools to care about his/her students as well as this.
3.) What might you have done differently during your boarding school experience?
Nothing really. The 4 years were definitely challenging. But now that I have graduated and been able to look back at those experiences, I cherish every minute of my experiences there.
4.) What did you like most about your school?
Diversity, opportunities to try different things at the school, and the rigor of all the classes.
5.) Do you have any final words of wisdom for visiting or incoming students to your school?
On a side note, try listening to the Boy's a capella group, Maiyeros!! They are awesome.
Academics:
1.) Describe the academics at your school - what did you like most about it?
Choate definitely offers a wider variety of courses, at all levels (from the most basic to college-level courses), than other schools do. There are classes ranging from typical classes like Mathematics and History to rare classes like Marine Biology. Teachers there definitely try to push the students to excel academically (and of course, socially!) as much as they can. One of the good things is that most of the teachers (I believe over 90%) live on campus, so extra-helps are ALWAYS available and social talks on just about anything are welcome.
Athletics:
1.) Describe the athletics at your school - what did you like most about it?
Choate is particularly strong at Ice Hockey and Volleyball. We are also really good at other sports ranging from Soccer, Basketball, Swimming, Squash, Field Hockey, and Lacrosse as well.No matter how good you are at sports, you will find your own niche because Choate offers sports at many different levels ranging from Intramural (normally people who never played sports or would like to participate for fun), Thirds, Junior Varsity (JV) to Varsity.
Art, Music, and Theatre:
1.) Describe the arts program at your school - what did you like most about it?
The end of the school year's Musical Play is one of the things I always look forward to attending at Choate.There are also private musical lessons given to students who would like to start/continue playing their instruments (for extra fees). If you are just plain intersted in theatre, there are also dance, theatres, and history of music classes for you to take (these are without extra fees) and fulfill the graduation requirements as well.
Extracurricular Opportunities:
1.) Describe the extracurriculars offered at your school - what did you like most about it?
Almost all students join some types of students' organizations. There are many organizations for you to join-- visit the school's website...as there are so many of them!!Volunteer opportunities are also available. When I was at Choate, I also had an opportunity at the Albert Schweitzer Center to help document, pack, and send medical supplies to the Third World Contries as well.
Dorm Life:
1.) Describe the dorm life in your school - what did you like most about it?
Freshmen (9th grade) live in their own dorms. Seniors usually live in smaller houses. All dorms are either all-girls or all-boys, with 3-4 parent houses and several prefects (senior students).
Dining:
1.) Describe the dining arrangements at your school.
The food was okay, but definitely better than that offered at other prep schools. We had a variety of choices of food to choose from everyday. Each day we have a choice of delis, pizzas, pastas, vegetarian food, salad bar, and 1 or 2 hot meals.Certain weekends like Easter or Thanksgiving, Choate also offers meals that celebrate the importance of the holidays as well.About once a month or so we have form dinner where everyone in the class meets up for formal dining.
Social and Town Life:
1.) Describe the school's town and surrounding area.
I graduated a long time ago, but back then some of the places I could visit were the ice-cream shop, candy store, restaurants, etc. Occasionally, students can take trips (of course, with the school's permission) to Boston and NYC on weekends as well.
2.) Describe the social life at your school - what did you like most about it?
There are many types of students there ranging from the rich (celebrities, royalties) to the normal and the poor students. Despite this fact, students mingle well, and social class was rarely an issue at Choate.
Daily Schedule:
Weekday
7:30 AM
Get up (or earlier if u want to eat break fast)
10:00 AM
School Meeting/Reflection
10:45 PM
Lights out (but many people just stay up til later anyways :))
Weekend
8:30 AM
Detention (if you ever have one)
10:00 AM
Free for any activities/Socialize
At Choate, I felt that the faculty and administration really cared about my wellbeing and growth. Classes were mostly organized to allow for discussion and office hours were easy to attend and allowed for personal. . .
Choate has a diverse and interesting study body from all around the world. While it is an old and prestigious boarding school, I found Choate to be less traditional than some of its peer schools. . .
The community is definitely Choate's greatest asset, and the admissions folk do a great job of picking students. We're a pretty chill bunch, so you won't find much of the cut-throat competitiveness that usually accompanies. . .
Show more reviews (

27 reviews

)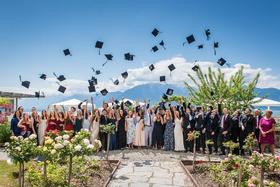 Nurturing Futures: A Journey through Boarding at Haut-Lac School in Switzerland
Nestled in the hills overlooking Lake Geneva in the French-speaking part of Switzerland lies an educational gem that embodies a unique blend of academic excellence, cultural richness and a profound sense of community. Founded over 30 years ago, Haut-Lac International Bilingual Day and Boarding School is now home to both 600 day students and a maximum of 30 boarders from around the world.
What To Wear at Your Job Interview
Navigating job interviews can be stressful, but knowing what to wear shouldn't be. Our comprehensive guide covers the essential dress code tips for men and women interviewing at boarding schools. Make your first impression count with style and professionalism.
Navigating the Modern Maze: Emerging Challenges for Boarding Schools
Explore the pressing challenges facing boarding schools, from marketing difficulties and rising insurance costs to facility maintenance and recruitment of competent trustees and teachers. This article delves into these complex issues and proposes innovative strategies to overcome them.