Reflections and Advice:
1.) What do you think makes your school unique relative to other boarding schools?
The Cranbrook Schools campuses are literally and figuratively works of art. You are living and matriculating in a masterpiece. It is very inspirational to know how many have gone before you and you do feel like you are a part of history. It is a unique place and the envy of many.
2.) What was the best thing that happened to you in boarding school?
Cranbrook opened up my entire world and I was never the same after attending this school It was an amazing experience overall. I have different standards now of everything since attending that school and I share a bond with other alums that other people just do not and will never understand. We all know it was unique and very special.
3.) What might you have done differently during your boarding school experience?
I would take advantage of all of the things they have to offer and try to really explore both the school and all the aspects of yourself Use the knowledge of the faculty and other students Really experience everything the school has to offer and do things that you do not think you can do Stretch yourself and try new things. A lot of times people from very unique backgrounds attend schools like this so get to know them and make some lifelong friends. Engage, stay positive, and if the atmosphere is competitive use it to fuel your motivation.
4.) What did you like most about your school?
It was beautiful, just breathtakingly beautiful and it was like living in a museum. The people who went there were fantastic and they are all very successful and unique, I would not trade that experience for anything. Just enjoy it.
5.) Do you have any final words of wisdom for visiting or incoming students to your school?
Just enjoy it. Really drink it in. It is a uniquely special place and you will not find anything like it in your life again so really drink it in.
Academics:
1.) Describe the academics at your school - what did you like most about it?
Most of the faculty at these schools are world class They are happy to be there with all of these bright young minds who love to learn. They get to live in a masterpiece and they entire school is a family. It is competitive at times, but you are encouraged always to become the best version of yourself to challenge yourself in new ways. There are classes on everything and you end up wishing you could take EVERY class they offer. I learned how to challenge myself and grow as a person it was a magnificent experience.
Athletics:
1.) Describe the athletics at your school - what did you like most about it?
I loved that there were so many different ways you could choose to do athletics You could do racquetball, ballet, dance, lacrosse field hockey tennis running I mean anything you liked to do you could try it. I learned how to go spelunking. I learned survival skills.
Art, Music, and Theatre:
1.) Describe the arts program at your school - what did you like most about it?
There were so many opportunities to participate in all kinds of forms of performing and fine arts. Weaving, sculpture, jewelry making, lapidary, dance, theatre and if you had never done it before, so what? just give it a try! Stretch your imagination and it is there.
Extracurricular Opportunities:
1.) Describe the extracurriculars offered at your school - what did you like most about it?
There was not a lot of time to participate in activities but the clubs around the school were very very active and did a lot of fun things. In Sophomore year there is a Wilderness trip on Spring break and it is fantastic
Dorm Life:
1.) Describe the dorm life in your school - what did you like most about it?
It was a very tight knit group of 98 girl boarders,. We were a family and it was such a great experience I made lifelong friends and these are people that I still talk to still socialize with still relate to at age 52. There is nothing like living in a dorm it was fantastic and I loved every single minute of it.
Dining:
1.) Describe the dining arrangements at your school.
When you are there everyday attending classes there you forget what a masterpiece of architecture you are living and dining in. The kitchen staff becomes like family and they get to know you. The food is really pretty good actually.
Social and Town Life:
1.) Describe the school's town and surrounding area.
Cranbrook is located in a suburb north of Detroit and very posh one at that. The school takes the boarders to shopping and movies and ice cream and things but there is just so much to do on campus that you really do not need to leave campus to have fun.
2.) Describe the social life at your school - what did you like most about it?
There was a distinct separation between the boarding students and the Day Students and sometimes they did not mix together much I was very close to the boarders
Daily Schedule:
Weekday
4:00 PM
most activities and sports start
6:00 PM
dinner & Work duties
7:00 PM
mandatory study hall
1:00 AM
Curfew for boarders on Fri and Sat Nights
Extremely diverse educational community that encourages students to get involved. The school has a very well-rounded educational team that makes you feel home whilst providing with an excellent academic schedule. All the teachers and staff. . .
Definitely its renowned Harkness discussion. The principal is based off the idea that the students are of such a high intellect that they are able to teach each other, and thus the teacher of the. . .
For me, living and working on a boarding school campus that was surrounded in nature made Cranbrook a very special place. Everyday was like finding a new adventure to embark on - from the small. . .
Show more reviews (

7 reviews

)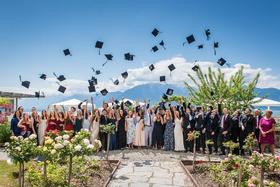 Nurturing Futures: A Journey through Boarding at Haut-Lac School in Switzerland
Nestled in the hills overlooking Lake Geneva in the French-speaking part of Switzerland lies an educational gem that embodies a unique blend of academic excellence, cultural richness and a profound sense of community. Founded over 30 years ago, Haut-Lac International Bilingual Day and Boarding School is now home to both 600 day students and a maximum of 30 boarders from around the world.
What To Wear at Your Job Interview
Navigating job interviews can be stressful, but knowing what to wear shouldn't be. Our comprehensive guide covers the essential dress code tips for men and women interviewing at boarding schools. Make your first impression count with style and professionalism.
Navigating the Modern Maze: Emerging Challenges for Boarding Schools
Explore the pressing challenges facing boarding schools, from marketing difficulties and rising insurance costs to facility maintenance and recruitment of competent trustees and teachers. This article delves into these complex issues and proposes innovative strategies to overcome them.