Reflections and Advice:
1.) What do you think makes your school unique relative to other boarding schools?
For me, living and working on a boarding school campus that was surrounded in nature made Cranbrook a very special place. Everyday was like finding a new adventure to embark on - from the small forests, great open spaces, lakes, and gardens, it was truly a magical experience. If I pair adventuring through this campus with learning on this campus, one can imagine that it made for a truly sublime high school experience.Furthermore, I met some of the most wonderful teachers and friends here. The teachers care deeply for their students and many of them lived on campus with us. Some would take me out for dinner or snacks, and some even invited me to their homes breakfast or dinner.
2.) What was the best thing that happened to you in boarding school?
The best thing that happened to me was that I became able to see and understand different parts of the world. Suddenly, the world became a massive place as I was able to encounter so many kinds of different people and topics of study.It was a wonderful experience of which I am very appreciative. If you take to your studies well, there are also many rewards you can get for your dedication to your studies. It feels good to be rewarded for studying.
3.) What might you have done differently during your boarding school experience?
If I were to re-do the experience, I was focus more on finding a way to better blend both my social life and my academics. I felt the urge to pour most of my efforts into my studies, where in reality there was probably an easier way to do both.Remember that the boarding school is a dynamic experience and while studying is important, a healthy social life is a large part of a healthy mentality and life in general as well.
4.) What did you like most about your school?
Overall, I loved being surrounded by nature and the diversity of people.It helped me grow rather quickly as a person and being on my own helped me prepare for the college experience of taking care of oneself.
5.) Do you have any final words of wisdom for visiting or incoming students to your school?
If able, try to take in as much of the campus as possible. Study and play as well, but because the campus is so beautiful, I would try to enjoy it as much as one can.Also do your best to make friends with with teachers as they are very helpful and very kind. Many of them will go the extra mile to help you. In fact, some of my teacher's have graciously extended their kindness to me on so many occasions that I often felt that I had to do well to make them proud.While they do want you to do well, one should always prioritize one's health over the expectations of others. Cranbrook is a preparatory high school, and thus the courses hold rigor. But, if one is falling behind or is stressed, it is best to let someone know rather than hold it in.
Academics:
1.) Describe the academics at your school - what did you like most about it?
Academics can be rigorous at this school as this is a school but those who want to challenge themselves can take full advantage of the rigor. That being said, they are as hard or difficult as you make them. If you want an easier coarse load, they are classes that will be easier. If you want a more difficult course load, those most certainly exist as well.The best thing is, whether you find yourself struggling in either those hard or easy courses, professors always happy to help and have office hours where you are allowed you can ask questions. These professors are not stupid, so do not come to them at the last minute for their help. They appreciate it if you take them time to try and then if you are confused, shoot an e-mail and set up a time (if you have classes during their office hours).I took courses mostly in the Social Sciences realm have spent many hours in my teacher's officers talking about not only classes, but life in general. They are happy to talk with you about the subjects at hand, but also about other things.Classes are very diverse and there is usually a classes that touches on your general interests.
Athletics:
1.) Describe the athletics at your school - what did you like most about it?
There is a wide variety of sports at Cranbrook. In fact, most students are required to undergo sports during their time at Tufts. These sports include things like: track and field cross country football basketball volleyball Hockey Lacrosse And of course many others. If you find yourself unable to compete in team or club sports, there is also a "gym and conditioning option" and well as a community service option. Although being on a team is a great way to make friends, alternative activities will net you a friend group as well.Sports culture is a mixed bag. Certain sports are bigger than others and will attract greater turnout at games. For me, I liked that being on a team does not mean that all your friends will come from that team. Some sports are more exclusive, but I hear that things are changing as a part of the school's focus toward fostering better leadership and communication between students.Facilities are kept in great condition.
Art, Music, and Theatre:
1.) Describe the arts program at your school - what did you like most about it?
Cranbrook is known for churning out very talented musicians. This is not my forte, but I have gone to many concerts. There are many opportunities for those interested in music to show and improve their skills. The music department is often praised for its great professors who often taken time out to help their students.The two that I know both live on campus and are some of the most friendly teachers around.As far as theater, I once worked on the behind the scenes of the sets. I helped to build and manage props. Typically, there are 2~3 majors theater shows in one semester. Each of them are taken very seriously by the actors and the stage crew alike. Student productions can be pitched as well.
Extracurricular Opportunities:
1.) Describe the extracurriculars offered at your school - what did you like most about it?
For me, because I worked within the social sciences, my extra-curricular activities reflect my desire to see social movements put in place. My favorites were bridge the divide and being a resident adviser.Bridge the Divide, as the title suggest, focuses on having students think in terms what makes us similar rather than what creates difference. A lot of topics, such a race, gender, etc are able to come up through the discussions we had there.If you are interested in other clubs, there are a host of others that you can join, ranging from board games to video games to a a club about committing random acts of kindness.
Dorm Life:
1.) Describe the dorm life in your school - what did you like most about it?
As a boarder, one of my favorites parts has to be the dorms. I was able to meet a lot of students from several different countries and with vastly different backgrounds.The boys dormitory holds about 130 students. All rooms are singles within the boy's dormitory and from what I remember, all the showers have dividers. There are four different halls, each designated by grade. The boy's dorm is closest to math and science courses.The girl's dormitory might have more students (as they have doubles and sometimes triples!). The girl's dorm next to a beautiful garden and a massive lake. It is closest to literature, history, and art courses.There really isn't much need for transferring out of a room (at least not one that I can imagine), but if there is a problem and there is a free room it is usually an easy process. For example, student's who break a leg are able to move to a dorm that will be easier to access.Some teachers also take on the role of monitoring the dorms after 6:00PM. Boarding students are required to check around 6:30 ( but are free to come and go after they sign in and until 8:00 study hall). If for some reason you are late to sign in, there is a telephone number to call. Simply call that line and tell them that you will be late. It is not much of a hassle.There is a mandatory study hall on the weekdays (excluding Friday and including Sunday) where students must study from 8 PM and until 10 PM. During this time, doors must be open and students are expected to do work. If you are in good standing, you are given a little more leniency and freedom.
Dining:
1.) Describe the dining arrangements at your school.
There are two dining halls, one Cafe, and one book store (that sells snacks too). Each dorm is in close proximity to one of the dining halls.The dining hall closest to the girl's dorm, in my opinion, often had more creative foods. I assume the cafe is a very popular, but I have not been as it was opened after my graduation.The dining hall closest to the boy's dorm had good foods, and due to ease of access, I spent most of my time there.There are no assigned seats and either gender can of course at any dining hall.Both have salad bars, soup station, and the girl's dining hall had ice cream. I believe both closes around 8 PM and opened at 7 AM.Each dorm as has a kitchen that students can use until about 11:00 PM (if I remember correctly) although it is best if you are in you're in your own dorm room before then.
Social and Town Life:
1.) Describe the school's town and surrounding area.
The town life isn't very dynamic. There is a massive mall, a park, a library lots of eateries, and a theater - but as a boarder it was easy to get bored of the town.There is an amazing thai food place that I want to return to because the food is so good.However, the town can be quite expensive. I do not recommend going into the mall if you are looking for cheap clothing.
2.) Describe the social life at your school - what did you like most about it?
Most of my friends were boarders because all lived together. I enjoyed my time with them immensely. On the weekends, we went and ate in the town or saw a movie together.Often we hung out in the dorms, watched movies in the dorms, or ordered food to the dorms and played games.
Daily Schedule:
Weekday
7:00 AM
Go to dining hall, return to dorms then to freshen up afterwards
2:30 PM
5th and final class
Weekend
11:00 AM
Dining halls open at 11
6:00 PM
Dorm check-in time is around 6:30
8:00 PM
Mandatory Study Hall begins
10:00 PM
Mandatory Study Hall ends
Extremely diverse educational community that encourages students to get involved. The school has a very well-rounded educational team that makes you feel home whilst providing with an excellent academic schedule. All the teachers and staff. . .
Definitely its renowned Harkness discussion. The principal is based off the idea that the students are of such a high intellect that they are able to teach each other, and thus the teacher of the. . .
For me, living and working on a boarding school campus that was surrounded in nature made Cranbrook a very special place. Everyday was like finding a new adventure to embark on - from the small. . .
Show more reviews (

7 reviews

)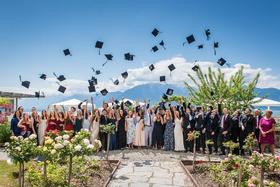 Nurturing Futures: A Journey through Boarding at Haut-Lac School in Switzerland
Nestled in the hills overlooking Lake Geneva in the French-speaking part of Switzerland lies an educational gem that embodies a unique blend of academic excellence, cultural richness and a profound sense of community. Founded over 30 years ago, Haut-Lac International Bilingual Day and Boarding School is now home to both 600 day students and a maximum of 30 boarders from around the world.
What To Wear at Your Job Interview
Navigating job interviews can be stressful, but knowing what to wear shouldn't be. Our comprehensive guide covers the essential dress code tips for men and women interviewing at boarding schools. Make your first impression count with style and professionalism.
Navigating the Modern Maze: Emerging Challenges for Boarding Schools
Explore the pressing challenges facing boarding schools, from marketing difficulties and rising insurance costs to facility maintenance and recruitment of competent trustees and teachers. This article delves into these complex issues and proposes innovative strategies to overcome them.