Reflections and Advice:
1.) What do you think makes your school unique relative to other boarding schools?
Darlington School equipped me with the tools necessary to be not only successful in college, but in life. I feel that I was prepared to step out into the world and be a confident contributor to the global world. The greatest part about Darlington was the House system. The House system provided me with a person that I could rely upon to challenge me to become the best version of myself possible.
2.) What was the best thing that happened to you in boarding school?
The best thing that happened to me in my entire life has been Darlington School. I wouldn't be the person that I am today without having attended. The motto, Wisdom more than Knowledge, Service beyond Self, Honor above Everything has stuck with me today. I truly believe that if I shape my life around these three pillars, then I would have lived a purposeful life.
3.) What might you have done differently during your boarding school experience?
I would recommend any student to take full advantage of the opportunities presented to them while at Darlington, whether it is taking a role as a Prefect or trying something new. Darlington will give you what you put into it. Don't be scared to try new things but most important invest your time wisely.
4.) What did you like most about your school?
The friendships that I formed. The students came from over 40 different countries so this experience allowed me to gain a global perspective without having to leave the country.
5.) Do you have any final words of wisdom for visiting or incoming students to your school?
None.
Academics:
1.) Describe the academics at your school - what did you like most about it?
The best part about the academics was that the teachers know who you are. You are not just another number and you couldn't hide in the back of the classroom. They taught me how to be an active participant in my educational journey. They knew my strengths and weakness and challenged me to be better every day through a deeper dive into the material rather than focusing on the breadth.
Athletics:
1.) Describe the athletics at your school - what did you like most about it?
Top notch. Amazing facilities and coaches. The facilities are comparable to a Division 1 university.
Art, Music, and Theatre:
1.) Describe the arts program at your school - what did you like most about it?
The Fine and Performing Arts at Darlington are welcoming. My greatest fear was being able to stand on stage to perform, but Darlington provided a safe environment for any student to try new things and explore new passions.
Extracurricular Opportunities:
1.) Describe the extracurriculars offered at your school - what did you like most about it?
There were plenty of opportunities to explore and become involved. Our star football player was also in the school musical. It's just a welcoming atmosphere where all who want to try can try. Leadership opportunities are also made available to those who want to pursue that route.
Dorm Life:
1.) Describe the dorm life in your school - what did you like most about it?
The House system was amazing. I was able to have an adult who I could count on being there for me in times I needed them and time the were celebratory. This was the best part about Darlington.
Dining:
1.) Describe the dining arrangements at your school.
The food services are amazing. The atmosphere of the dining hall, the camaraderie built, and the ability to have family style seating allowed for special moments. Quite frequently you would see a teacher and their family in the dining hall, which created an even deeper connection.
Social and Town Life:
1.) Describe the school's town and surrounding area.
Rome, Ga is a quite an safe town. Plenty of activities around town and close to Atlanta. Being an expat living in an international country, I was worried about this when I first arrived but quickly found out that the downtown area had more than enough to offer students and families.
2.) Describe the social life at your school - what did you like most about it?
The social life at Darlington is one that in inclusive rather than exclusive. The school promotes healthy friendship and creates opportunities for students to develop deep connections with one another.
The campus is breathtakingly beautiful. Complete with its own lake and full brick buildings from the dorms to the classrooms. There was never a dull day on campus because just sitting out around with friends. . .
Walking onto the campus and seeing the beautiful architecture and landscape of Darlington is absolutely a highlight of the school. You feel like you've been transported somewhere incredibly quaint and special.One thing that I. . .
I thought it was very unique how my school would pair boarding students with families of day students who lived in the area and attended the school in order to give the boarding students opportunities. . .
Show more reviews (

8 reviews

)
Mastering the Boarding School Selection Process: A 5-Step Guide
Discover the ultimate 5-step guide to choosing the perfect boarding school for your child. Explore essential factors, such as academics, campus facilities, extracurricular activities, and more. Make an informed decision to provide your child with an enriching and transformative educational experience. Read now!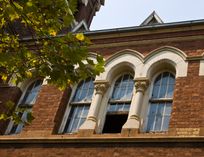 5 Founders and Their Boarding Schools
What prompts somebody to start a boarding school? The motives range from idealism to munificence right on through to capitalism. The common thread seems to be ample capital and a vision of what education can do.