Reflections and Advice:
1.) What do you think makes your school unique relative to other boarding schools?
The Delphian School campus is really like no other campus I have visited. What I enjoyed about it most was being away from the city and immersed in nature. The campus is huge and it sits on over 700 acres surrounded by trees. The first thing you notice right off the bat is the way in which you learn. I no longer had to study in order to pass a test but only moved forward in my studies when I could show application of the materials. This meant I could spend as long as I needed on math until I really understood it.
2.) What was the best thing that happened to you in boarding school?
One of the best things I took away from the school was fully understanding the concepts of ethics and integrity. The Delphian School holds a high standard in these areas. I never saw drugs and students didn't feel a need to cheat on their studies. The students were actually the ones who kept the ethical standards high not the teachers.
3.) What might you have done differently during your boarding school experience?
My advice for any parent is to visit as many boarding schools as possible and see which one fits you best. Go with your first instinct when you visit the school. If you don't feel it, then try another one.
4.) What did you like most about your school?
The skills I learned to communicate effectively and solve problems at the Delphian School helped me move up the ranks quickly in my law enforcement profession where I eventually became I a successful homicide detective in Los Angeles. One wouldn't think a high school could give you such a strong foundation but you would need to see it to believe it. There is a reason why so many students take on leadership roles and are extremely successful after they graduate.
5.) Do you have any final words of wisdom for visiting or incoming students to your school?
Be prepared to be challenged especially on the practical program. If you are looking for an easy school to breeze your way through then look elsewhere.
Academics:
1.) Describe the academics at your school - what did you like most about it?
The academics are not like any other school. It is proficiency or also called competency based learning and has been since the school was founded. The school uses Mr. Hubbards study technology, which in a nut shell, gives a student the basics on how to effectively study. So bring a good dictionary and be ready to improve your vocabulary. Proficiency or competency based learning is also becoming more and more main stream. Several other states like Maine and New Hampshire are now beginning to implement it. I personally loved learning this way and it made studying enjoyable rather than a slugfest.So if you are looking for very traditional teaching methods then definitely look elsewhere.
Athletics:
1.) Describe the athletics at your school - what did you like most about it?
I loved the basketball and soccer program. The soccer team continues to make it into the state playoffs. The school just recently started a track and field program which I am excited that my kids get to experience.
Art, Music, and Theatre:
1.) Describe the arts program at your school - what did you like most about it?
I wasn't much into the arts but they have a big arts and choir program. The school has won the state championships in choir and have placed in the top five for I think the last 15 years. Many students have been recognized for their artwork and ceramic pieces all over the United States. The school also provides training in computer coding, ceramics, video editing, photography classes, and more.
Extracurricular Opportunities:
1.) Describe the extracurriculars offered at your school - what did you like most about it?
There are a lot of different activities students do on and off campus. Students visit the capitol, sit in on criminal or civil trials, help in the local community, or just do fun activities in Portland or at the beach. Students also do large scale outreach projects where they visit other countries.
Dorm Life:
1.) Describe the dorm life in your school - what did you like most about it?
Everybody gets along. Seriously!! Yeah, there are occasional disagreements, but they are handled by the dorm captains or student council members. The students are expected to take responsibility for each other which is where they begin to learn life skills.
Dining:
1.) Describe the dining arrangements at your school.
The cafeteria has improved greatly since I last attended. There is a large selection of different foods and the kitchen prides itself on not using GMO's. The school uses Sage Dining Services which you can look up on the internet if interested.It's not five star dining but it's pretty darn good for cafeteria food.
Social and Town Life:
1.) Describe the school's town and surrounding area.
The nearest major city is an hour away. You are on a hill in the country surrounded by farms. So if you want your kids close to the city life then this would not be the school for you. The students do regularly attend events in the major cities nearby.
2.) Describe the social life at your school - what did you like most about it?
All the students are different and come from all different backgrounds. The school attracts students from all over the world including China, Canada, Mexico, Russia, Saudi Arabia, South Africa, and more. It was cool interacting with so many people of different backgrounds.
What made my school different from other boarding schools was that I was able to move through my program at my own pace. I didn't have to worry about catching up with my class because. . .
The fact that we study for real world application rather than just trying to spit things back out on an exam. This makes the education 10 times more valuable than any other school I have. . .
Here at the Delphian School, all the exams are done one-on-one, where the examiner will ensure that all the student's questions regarding the subject they just studied are solved and answered to satisfaction.The Delphian. . .
Show more reviews (

21 reviews

)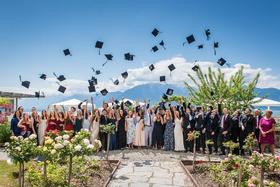 Nurturing Futures: A Journey through Boarding at Haut-Lac School in Switzerland
Nestled in the hills overlooking Lake Geneva in the French-speaking part of Switzerland lies an educational gem that embodies a unique blend of academic excellence, cultural richness and a profound sense of community. Founded over 30 years ago, Haut-Lac International Bilingual Day and Boarding School is now home to both 600 day students and a maximum of 30 boarders from around the world.
What To Wear at Your Job Interview
Navigating job interviews can be stressful, but knowing what to wear shouldn't be. Our comprehensive guide covers the essential dress code tips for men and women interviewing at boarding schools. Make your first impression count with style and professionalism.
Navigating the Modern Maze: Emerging Challenges for Boarding Schools
Explore the pressing challenges facing boarding schools, from marketing difficulties and rising insurance costs to facility maintenance and recruitment of competent trustees and teachers. This article delves into these complex issues and proposes innovative strategies to overcome them.