Reflections and Advice:
1.) What do you think makes your school unique relative to other boarding schools?
Westtown's quaker philosophy, that there is that of God in every person, sets it apart from other boarding schools. The School acknowledges that every student has a gift - whether academic, athletic, artistic or social. This translates to an acceptance and celebration of a variety of students - no cookie-cutter "prep school" kids here. The combination of tolerance and acceptance, a challenging curriculum, competitive athletics, outstanding facilities, and a beautiful 600 acre campus (only 25 miles from Philadelphia and 17 miles from Wilmington!) sets Westtown apart from its competitors.
2.) What was the best thing that happened to you in boarding school?
I started Westtown in 1977 - a fourteen year old whose parents were working in Venezuela. I loved the independence and success I gained at Westtown, both academically and personally. The teachers were caring and challenging - but I never felt smothered or over-burdened. The entire culture of the School is one that I wish every student could experience.
3.) What might you have done differently during your boarding school experience?
I would have done nothing different.My advice to kids going to boarding school is enjoy your independence and take advantage of every opportunity given to you - whether academic, athletic, artistic or social. and, for goodness sake, don't risk the amazing opportunity you are given by breaking major school rules. Just not worth it!
4.) What did you like most about your school?
I loved Westtown's culture and philosophy. And I also appreciate the faculty's dedication to the School and its mission. The whole package is what I like most!
5.) Do you have any final words of wisdom for visiting or incoming students to your school?
Can't recommend anything because I graduated too long ago....
Academics:
1.) Describe the academics at your school - what did you like most about it?
Academics at Westtown are excellent. Senior year at Westtown was more challenging than my freshman year at Haverford College - a highly competitive institution. Completely prepared for college academics and time management.Student and faculty relationships at Westtown are relaxed, yet respectful, which is what I like best about the academics. No multiple choice tests - you actually have to THINK. Lively classroom discussions are encouraged.
Athletics:
1.) Describe the athletics at your school - what did you like most about it?
Westtown is far more competitive athletically than when I was a student 36 years ago. They have one of the top high school basketball programs in the country! Current facilities are top notch, with beautiful fields, a swimming pool, field house, and workout facilities. All students are encouraged to participate in sports at all levels. I do not believe there are "cuts.' You might not be on Varsity, but you will play if you want to!
Art, Music, and Theatre:
1.) Describe the arts program at your school - what did you like most about it?
Westtown has always had an outstanding performing arts program. The School boasts a 600 seat theater with excellent acoustics. Student performances rival local area theaters. The visual arts are excellent as well - with painting, pottery and sculpture. Unsure of current music status.
Extracurricular Opportunities:
1.) Describe the extracurriculars offered at your school - what did you like most about it?
As a student, I liked that everyone was encouraged to get involved in areas of interest, whether this was a weekend activities committee, and outdoor club, or a gardening club. Not sure what is offered now, but am sure philosophy is still the same. The creation of clubs also encouraged.
Dorm Life:
1.) Describe the dorm life in your school - what did you like most about it?
As a student 36 years ago, boarding was mandatory for all juniors and seniors. Spending 24 hours a day with all your classmates is an excellent way of bonding wholeheartedly with the community. Alumni are very, very loyal to Westtown.Although not all students board in high school, the majority still do and weekends are lively with activity. This is not a suitcase boarding school where everyone leaves on the weekend.
Dining:
1.) Describe the dining arrangements at your school.
The head of dining services at Westtown when I was a student still works there! The food is nutritious though not fancy.The dining room is set up family style - not cafeteria except for breakfast and brunch. There is a faculty member at almost every table.
Social and Town Life:
1.) Describe the school's town and surrounding area.
Westtown is five miles from West Chester, the home of West Chester University, It is 25 miles from Philadelphia and 17 miles from Wilmington. It odes not feel isolated at all and the School offers various opportunities to visit the town and cities for theatrical productions, museums, sporting events etc. Love that there is 600 acres of school yet you are close to anything you would like to do.
2.) Describe the social life at your school - what did you like most about it?
I liked that Westtown is not a suitcase boarding school - when I was a student and now. The friends I made at Westtown are still my closest ones. I have never missed a five-year reunion. I have given every year to the Annual Fund. I love keeping up with my Westtown friends on Facebook.
Daily Schedule:
Weekday
8:15 AM
Academic Day Beginning
3:30 PM
Academic Day ending
4:00 PM
Sports and Extra Curriculars
Weekend
10:00 AM
Van to somewhere/school planned activity
8:00 PM
Movie or Theatrical production
Westtown has a beautiful campus. It was beautiful and especially safe to walk around any time of day. Also the style of teaching is very hands on and has small classes, usually with. . .
Small Quaker school, tight group, not so much focused on strong academics as much as creating good individuals in society.. . .
Extremely beautiful campus. It is a Quaker boarding school with wonderful teachers. They require a senior project where students can travel the world. Also encourages volunteer work and has a campus farm. . .
Show more reviews (

41 reviews

)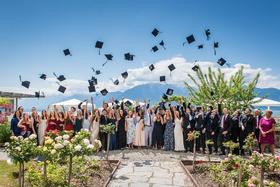 Nurturing Futures: A Journey through Boarding at Haut-Lac School in Switzerland
Nestled in the hills overlooking Lake Geneva in the French-speaking part of Switzerland lies an educational gem that embodies a unique blend of academic excellence, cultural richness and a profound sense of community. Founded over 30 years ago, Haut-Lac International Bilingual Day and Boarding School is now home to both 600 day students and a maximum of 30 boarders from around the world.
What To Wear at Your Job Interview
Navigating job interviews can be stressful, but knowing what to wear shouldn't be. Our comprehensive guide covers the essential dress code tips for men and women interviewing at boarding schools. Make your first impression count with style and professionalism.
Navigating the Modern Maze: Emerging Challenges for Boarding Schools
Explore the pressing challenges facing boarding schools, from marketing difficulties and rising insurance costs to facility maintenance and recruitment of competent trustees and teachers. This article delves into these complex issues and proposes innovative strategies to overcome them.