Reflections and Advice:
1.) What do you think makes your school unique relative to other boarding schools?
The boarding community was very unique. The dorm parents were great! The hall felt like one big family. Unlike most boarding schools, upperclassmen live right above the classrooms. Each grade was in one place, for the most part. Being with 60 other people on one hall was very unique. Everyone kept their door open, because there was so much trust. The senior projects are also very unique to Westtown. I went to Israel and the West Bank with about 20 other students. Other school trips were to Peru, Ghana, and Europe. The chance to travel abroad for 2 weeks with teachers and classmates is still one of my fondest memories.
2.) What was the best thing that happened to you in boarding school?
The best thing that I have taken away from school is the friendships I made there. There are still people I talk to every week, even though it has been a few years since I have seen them. I became more independent at Westtown and was very used to living with other people. I am forever grateful that I was able to go to Westtown.
3.) What might you have done differently during your boarding school experience?
I would have reached out to more people. I was shy, and looking back, that is my main regret. I am very social now, but back then it was hard for me to enter in 10th grade when a lot of the students had been there for a while. The grade was small, but I kept to my friend group of about 10 people. I wish I have made friends with more people.
4.) What did you like most about your school?
I liked that there were students from all over the U.S. and all over the world. It was great to make friends with people from other places than the Philadelphia area. I am also happy that university work has been manageable because I was so well academically prepared.
5.) Do you have any final words of wisdom for visiting or incoming students to your school?
Take time to explore the campus. Walk around with your friends. Go to Pete's produce. Take long walks. Going on walks with friends around the campus was was of my favorite things to do because we had really good conversations. Oh and definitely walk around the lake!
Academics:
1.) Describe the academics at your school - what did you like most about it?
I got a really good foundation on how to research and write papers at Westtown School. The course work was pretty heavy, but I learned a lot. This fully prepared me for the amount of work that I had to put into university work. I liked how the teachers really cared. They fully read multiple drafts of your essays and helped you in any way they could, even outside of the classroom.
Athletics:
1.) Describe the athletics at your school - what did you like most about it?
Everyone had to do some sort of sport activity after school. I chose tennis, which was my favorite sport. The 16 courts at the school are beautiful. Sports was where most people met their friends and where you could meet students in other grades. All of the facilities are top notch.
Art, Music, and Theatre:
1.) Describe the arts program at your school - what did you like most about it?
I didn't participate in a lot of the art program. I took darkroom photography, which I really liked. While I didn't play any instruments, there were a number of concerts put on throughout the year, which I was always blown away by. Students who have a passion for art have ample opportunities and support to do so at Westtown.
Extracurricular Opportunities:
1.) Describe the extracurriculars offered at your school - what did you like most about it?
Sports were everyday after school, so that was my main extra-curricular. However, on days when classes ended early, there was time to meet with clubs. There were a ton of clubs that you could belong to. In addition, everyone has to complete 60 hours of volunteer work and write an essay about it. This was hard on top of school, but it was a humbling experiance.
Dorm Life:
1.) Describe the dorm life in your school - what did you like most about it?
Dorm life was my favorite part. I loved how open and friendly the hall was. There were always people in the hall who you could hang out with. Some of the rooms were small, but the cool thing was that the beds are loft style.
Dining:
1.) Describe the dining arrangements at your school.
The school goes to a lot of effort to provide healthy local food. Because the school has their own mini farm, we were able to eat some of what was actually grown at the school. Most meals were served family style. Students have different jobs such as serve, clear, and wash. Some nights the meals were buffet. Every Tuesday night there was community dinner, and always followed by a performance by a student.
Social and Town Life:
1.) Describe the school's town and surrounding area.
There wasn't too much to do around the school. On the weekends there were trips to King of Prussia mall and other local shopping places. There was usually a big trip on the weekend and a movie trip. Trips were mostly student suggestions.
2.) Describe the social life at your school - what did you like most about it?
A lot of my friends were international students. This was a great aspect of going to a boarding school. I made life long friends. I got the chance to travel to other countries to visit my friends at their own homes. Everyone was pretty friendly.
Westtown has a beautiful campus. It was beautiful and especially safe to walk around any time of day. Also the style of teaching is very hands on and has small classes, usually with. . .
Small Quaker school, tight group, not so much focused on strong academics as much as creating good individuals in society.. . .
Extremely beautiful campus. It is a Quaker boarding school with wonderful teachers. They require a senior project where students can travel the world. Also encourages volunteer work and has a campus farm. . .
Show more reviews (

41 reviews

)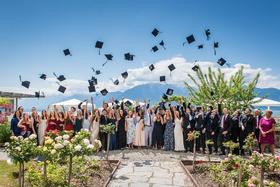 Nurturing Futures: A Journey through Boarding at Haut-Lac School in Switzerland
Nestled in the hills overlooking Lake Geneva in the French-speaking part of Switzerland lies an educational gem that embodies a unique blend of academic excellence, cultural richness and a profound sense of community. Founded over 30 years ago, Haut-Lac International Bilingual Day and Boarding School is now home to both 600 day students and a maximum of 30 boarders from around the world.
What To Wear at Your Job Interview
Navigating job interviews can be stressful, but knowing what to wear shouldn't be. Our comprehensive guide covers the essential dress code tips for men and women interviewing at boarding schools. Make your first impression count with style and professionalism.
Navigating the Modern Maze: Emerging Challenges for Boarding Schools
Explore the pressing challenges facing boarding schools, from marketing difficulties and rising insurance costs to facility maintenance and recruitment of competent trustees and teachers. This article delves into these complex issues and proposes innovative strategies to overcome them.