Reflections and Advice:
1.) What do you think makes your school unique relative to other boarding schools?
The Quaker values set Westtown out from other schools. The sense of community is palpable, and the teachers genuinely care about the students. Mandatory work program also helps grow personal responsibility.
2.) What was the best thing that happened to you in boarding school?
I don't think I'd be who I am today without Westtown. The Quaker values taught, as well as the independence from living away from home for 4 years. The education was top-notch as well. I feel like Westtown really prepared me for college much more than a traditional high school could have. Additionally, I had a much better relationship with my parents than I would have if I were living with them. That made all my subsequent years a lot easier, without having had the traditional strife between teenagers and parents.
3.) What might you have done differently during your boarding school experience?
My advice would be that you're going to feel homesick, and that's ok. Everyone else is feeling the same way, even though they might not show it. Get out there, make new friends and enjoy the experience and it won't be long before school feels more like home than home does.
4.) What did you like most about your school?
I loved the sense of welcoming and community most. It really felt like an accepting place.
5.) Do you have any final words of wisdom for visiting or incoming students to your school?
There's a lot to do: Visit the lake. Go sledding on the lawn. Do the ropes course. Take advantage of all the activities.
Academics:
1.) Describe the academics at your school - what did you like most about it?
The academics were challenging, without being overly difficult. I definitely felt like I gained an education that I would not have received elsewhere. Teacher were excellent and made classes enjoyable. Homework load was appropriate.
Athletics:
1.) Describe the athletics at your school - what did you like most about it?
Athletics are not my thing. Students are required to participate in sports every term, though yoga and theater set design were options. I generally tried to do the least "sport" sports available, so I can't really comment on the quality of facilities. I do appreciate now the requirement to be active every day, even if I didn't enjoy it then.
Art, Music, and Theatre:
1.) Describe the arts program at your school - what did you like most about it?
The Arts program at Westtown was excellent. I participated in theatre extensively, and the quality of the productions was excellent. Additionally there was a great range of type of show - musicals, drama, comedy.
Extracurricular Opportunities:
1.) Describe the extracurriculars offered at your school - what did you like most about it?
There were lots of student organizations - almost everything you could think of. I didn't participate in a lot of them, but there were enough options that anyone could find a place to fit.
Dorm Life:
1.) Describe the dorm life in your school - what did you like most about it?
Dorm life was great - it made the Westtown experience, IMO. Rooms were small, but adequate, and the sense of community on the dorms was incredible. The dorm staff were caring and helpful. At the time, we bristled a the required study hall times and the lights out times, but looking back, I know it was a good system.
Dining:
1.) Describe the dining arrangements at your school.
The food was good, and I loved the family style meals. It was a great opportunity to get to know your teachers better, as they frequently came to meals, even with their families sometimes. It definitely helped make Westtown more home-like to be able to sit down at a table and share a meal with "parental figures" and your friends.
Social and Town Life:
1.) Describe the school's town and surrounding area.
When I was at westtown, there wasn't a lot in the area surrounding school. It's a fairly suburban area and not much is in walking distance (and students generally don't have cars). There was a grocery store within walking distance.
2.) Describe the social life at your school - what did you like most about it?
The school was definitely a community. Sure, there were the cliques that all schools have, but generally, everyone was very friendly and accepting. Our social activities were probably a lot different from non-boarding high schools, due to the fact that most of us were living on campus, but we had fun and enjoyed our time.
Westtown has a beautiful campus. It was beautiful and especially safe to walk around any time of day. Also the style of teaching is very hands on and has small classes, usually with. . .
Small Quaker school, tight group, not so much focused on strong academics as much as creating good individuals in society.. . .
Extremely beautiful campus. It is a Quaker boarding school with wonderful teachers. They require a senior project where students can travel the world. Also encourages volunteer work and has a campus farm. . .
Show more reviews (

41 reviews

)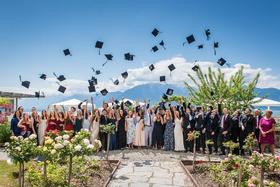 Nurturing Futures: A Journey through Boarding at Haut-Lac School in Switzerland
Nestled in the hills overlooking Lake Geneva in the French-speaking part of Switzerland lies an educational gem that embodies a unique blend of academic excellence, cultural richness and a profound sense of community. Founded over 30 years ago, Haut-Lac International Bilingual Day and Boarding School is now home to both 600 day students and a maximum of 30 boarders from around the world.
What To Wear at Your Job Interview
Navigating job interviews can be stressful, but knowing what to wear shouldn't be. Our comprehensive guide covers the essential dress code tips for men and women interviewing at boarding schools. Make your first impression count with style and professionalism.
Navigating the Modern Maze: Emerging Challenges for Boarding Schools
Explore the pressing challenges facing boarding schools, from marketing difficulties and rising insurance costs to facility maintenance and recruitment of competent trustees and teachers. This article delves into these complex issues and proposes innovative strategies to overcome them.