Reflections and Advice:
1.) What do you think makes your school unique relative to other boarding schools?
Idyllwild Arts is unique in that it is both (a) an academy dedicated to the arts and artistic students and (b) it is entrenched in the outdoors. For me this resulted in many positive outlets for which to express myself as a teenager, but more importantly as a human. The setting of IAA, and the persistent encouragement from faculty and staff to truly experience this setting, sets it apart from other boarding schools that I've known. To get to class I walked through the woods. Had a bad day? Create something.This meant that not only was I growing more emotionally mature (my EQ increased exponentially in my time at IAA) but also that my body was on use (dancing, moving, hiking). This paired with teachers and mentors who valued the students, their opinions, their ideas, and enough structure to keep us all out of trouble.
2.) What was the best thing that happened to you in boarding school?
I participated in a play called "A Piece of My Heart" that changed me as a person. This performance, which was about the Vietnam War, taught me to think of the world beyond myself. It also demonstrated the power of art to move people to action, and to think beyond themselves as well.
3.) What might you have done differently during your boarding school experience?
I wouldn't have done anything differently. I'd encourage kids to participate in everything, try out several types of art when possible.
4.) What did you like most about your school?
Freedom of thought.
5.) Do you have any final words of wisdom for visiting or incoming students to your school?
I loved living in Husch! Spend time outside whenever possible.
Academics:
1.) Describe the academics at your school - what did you like most about it?
The academics at IAA were rigorous. There were options for 'honors' style classes, which I participated in. In addition to traditional academics (humanities, foreign language, sciences), I took daily (5-days per week) courses in theatre. This included acting, movement, voice and diction, stage management, and theatre history. As part of my curriculum I also participated in "Company" which is the (graded) participation in theatre productions. This included acting, costume design, stage management, and - as my interests were also in directing - assistant direction.The environment was above average in terms of emotional and intellectual support. Students were encouraged to produce deep and meaningful works of art, and were encouraged to apply the same level of attention to their coursework. The professors, who lived on campus, grew to know each student personally and challenged them academically and artistically.
Athletics:
1.) Describe the athletics at your school - what did you like most about it?
We did not have a traditional athletics program. There was a requirement for Physical Education which was generally met through movement or dance.
Art, Music, and Theatre:
1.) Describe the arts program at your school - what did you like most about it?
The state of the art mentorship, facilities, and professors made this program world class. The depth of topics covered (Linklater technique among them), the caliber of the teachers (Michele Marsh and Howard Shangraw), the intimacy of the community. I cannot overstate how much I learned about the craft, and about myself, as a result of being in the Theatre program at IAA.The learning was a combination of skill based (how to manage a theatre production, how to sing) and academic (theatre history), and emotional (voice and diction helped you to "find your voice", in addition to high level diction).
Extracurricular Opportunities:
1.) Describe the extracurriculars offered at your school - what did you like most about it?
There were many avenues for extra curricular - hiking, trips to town, theatre productions in LA, symphony trips. Many of the extra curricular were related to other arts departments (I.E. a dance show we'd all attend, a public reading).
Dorm Life:
1.) Describe the dorm life in your school - what did you like most about it?
The dorms are beautiful and spacious, the beds comfortable, and we all had a bathroom in our suite. There were two students (in rare cases three) per room. There were bunkbeds, but they could be separated. Each room had built in closets and drawers, so no extra space was dedicated to furniture. Each room had a bathroom with a bathtub. Downstairs was a common area with a kitchen and a lounge. There were porches with spectacular views of the mountains. You could request a specific roommate, or be assigned one.
Dining:
1.) Describe the dining arrangements at your school.
There was a single dining hall with descent food (omelets on weekends!). It was open for three meals a day.
Social and Town Life:
1.) Describe the school's town and surrounding area.
The town is unbelievably lovely and very quaint. You can walk to town from campus. There are many art galleries and small restaurants. Too small to have traffic or to make trouble.
2.) Describe the social life at your school - what did you like most about it?
The openness. Every gender, nationality, and sexual orientation was valued. Political beliefs were largely liberal, and common courtesy and tolerance was the foundation of student interactions.
Idyllwild Arts has an incredibly unique community of faculty and students. Since the campus and the town of Idyllwild is so isolated, those who live there become very close to each other.. . .
Comprehensive Arts Education: Idyllwild Arts Academy's dedication to providing a comprehensive arts education is one of its standout features. The academy offers a wide variety of artistic disciplines, including music, dance, visual arts, drama, film. . .
Idyllwild Arts Academy is renowned for its dedication to providing a comprehensive arts education. The school serves pupils in grades 9 through 12 and provides a wide variety of artistic disciplines, such as music, dance. . .
Show more reviews (

21 reviews

)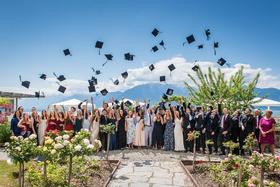 Nurturing Futures: A Journey through Boarding at Haut-Lac School in Switzerland
Nestled in the hills overlooking Lake Geneva in the French-speaking part of Switzerland lies an educational gem that embodies a unique blend of academic excellence, cultural richness and a profound sense of community. Founded over 30 years ago, Haut-Lac International Bilingual Day and Boarding School is now home to both 600 day students and a maximum of 30 boarders from around the world.
What To Wear at Your Job Interview
Navigating job interviews can be stressful, but knowing what to wear shouldn't be. Our comprehensive guide covers the essential dress code tips for men and women interviewing at boarding schools. Make your first impression count with style and professionalism.
Navigating the Modern Maze: Emerging Challenges for Boarding Schools
Explore the pressing challenges facing boarding schools, from marketing difficulties and rising insurance costs to facility maintenance and recruitment of competent trustees and teachers. This article delves into these complex issues and proposes innovative strategies to overcome them.