Reflections and Advice:
1.) What do you think makes your school unique relative to other boarding schools?
Idyllwild is idyllic- it is in the mountains with only a small town (also artistic) community to surround it. The atmosphere of a nature retreat to hone artistry and grow academically could not be better designed. And that atmosphere is only the geography, the beginning. That all teachers, deans, even dorm parents and most staff are all working & teaching artists makes IAA the warmest, most culturally compassionate place I have ever been. I live in Brooklyn now and it is still no stretch to say that.
2.) What was the best thing that happened to you in boarding school?
Going to Idyllwild was the best decision I ever made. The motto of the school, recited at every "all school" was "Remember who you are, and what you stand for." Without prescribing values or morals, IAA showed me by example how to treasure people. For parents, deciding who gets to influence your children is a giant responsibility. I think my parents took a leap of faith, and they won the jackpot. I've changed carreer paths, and am now a sports therapist. The catalyst for that was the dance dean showing me how to heal a broken metatarsal in 3 days (enouch to perform on). Now I help dancers maintain a body they can dance with until they choose not to. I married a musician. And I have a son of my own now. My husband, son, and I are all left handed/right brain dominant, and one of our biggest challenges is shuffling multimedia art supplies around our Brooklyn home. We hope to raise another generation of artists committed to contributing to our world in powerful ways.
3.) What might you have done differently during your boarding school experience?
I would have sought more counsel and advice, and made more friends. I was shy, and I wish I would have asked more questions, and gotten to know more disciplines. It's a big transition coming from public school to boarding school. My advice would be to not be embarrassed about your experience. Yes, you're not the first to go through this, but instead of trying to be more mature than you are- go through the ritual, like so many before you, and express what the changes are- the culture shock, the joy, the homesickness. Learn to communicate better now. And take joy in the group of people you've joined- they feel similarly.
4.) What did you like most about your school?
I love the energy at Idyllwild. The bustling of art making juxtaposed, or even in harmony with, the mountain forest. I get so much satisfaction when I feel like people are living well. Just about every soul on that mountain is living truly well. It's peaceful, and deeply inspiring. I get the same butterflies in my stomach each time I go back to visit as I did the day I auditioned & interviewed. Not out of nervousness, but exhilaration!
5.) Do you have any final words of wisdom for visiting or incoming students to your school?
•When school is definitely not in session & you're under your parents supervision: take a hike to the point, and the grotto. •The townies aren't all that mockable. We tried- but they're pretty great, get to know a few. •Cafe Aroma is amazing & still welcomes world class musicians. •Watch every single performance & go to every opening. Homework may be squished for time, but you'll never remember the satisfaction of completed-on-time homework the way you will remember cheering on classmates & teachers. •Jazz in the Pines- go to it.
Academics:
1.) Describe the academics at your school - what did you like most about it?
The academic classes were all taught by phenomenal, generous, enthusiastic teachers. All of them required critical thinking, which is usually the psychological push reserved for colleges. Having this skill taught young meant we were all equipped to really participate in society- in our culture, professions, families. I don't think that's touted on the IAA website, but it's definitely an undercurrent on campus. That's the groundwork for the adults treating us like we were preparing for adulthood fully; with respect and expectation, not condescension. Every teacher also had a rich life & artistry that informed their teaching that inspired us. I think in high school especially- the people teaching you must be interesting, and not contained by the subject matter (in personality or curriculum). The workload was heavy, but manageable. And every subject I studied instilled a love of learning. I still have my notes from those classes because I've continued studying the subjects. One very important thing at IAA was that an external competitive nature (student against student) is absolutely void. The only competition here is personal growth. That means student friendships and collaborations are never threatened or strained. It makes for an incredibly healthy learning environment. Even in college applications/acceptances or competitions outside school. If someone did well, we were free to enjoy their success.
Athletics:
1.) Describe the athletics at your school - what did you like most about it?
We had a "soccer" field. I saw a ball on it a few times. It was used more for drum circles and picnics. We were/are proud of that. There is a pool also. There aren't any competitive sports teams that I know of, and we didn't have a mascot. Our spirit and pride was for the pursuit of art & the type of people that made us. Having active & able bodies wasn't hindered. We hiked to academic classes & the dining hall in the snow uphill both ways.
Art, Music, and Theatre:
1.) Describe the arts program at your school - what did you like most about it?
The visual and performing arts... is the entire school. The entire school. As even a base level arts enthusiast, this place still makes me cry tears of joy that it exists, so pure. I loved training here. My teachers here became mentors- one even came with me to college to teach there. These people are still the voice in my head. And I wouldn't want it any other way. The studios are beautiful, utterly beautiful- watch snowfall on the pine trees outside the huge door/window while you're at the barre. The theater is incredible too. Small but so capable. Now that I've been in many more, I'm grateful for IAA's commitment to a small scale fully operational theater. I was so well prepared here. I wish it were a college too, like UNCSA. I would have stayed in a magical heartbeat. But most of its magic is that it's small. I know about Interlochen and Walnut Hill, and the even younger school by Brochus. I have dear friends that went to those shools, but they're either bigger (easier to slip through the cracks), more classical (not as well rounded), or in the city/suburbs (not a retreat for focus).
Extracurricular Opportunities:
1.) Describe the extracurriculars offered at your school - what did you like most about it?
Our extra curriculars were world class master classes, field trips to Downtown LA for classes or performances, field trips to natural hot springs, or flying to auditions together. We could explore Idyllwild's town center on the weekends, and take small extra classes like yoga, or go on hikes together. Our extra curriculars were real life, necessary experiences. We learned to work hard and play hard. And we learned to love our planet and people. Our prom was on an historical boat/yacht. And we got to participate in Disney's grad night.
Dorm Life:
1.) Describe the dorm life in your school - what did you like most about it?
I loved having the independence and freedom living in the Pierson dorms gave me. It's the farthest from other buildings. (I'm an introvert/INFP & this dorm seemed to be the quieter of the 2 girls dorms.) But I was also surrounded by very available dorm parents. Each dorm room has its own bathroom (yes!!!!!) and the common rooms might be plain, but they're as warm as the company that gathers there (which wasn't often for me). The offices were actually a more welcoming place to hang out. That's where all the sage advice from dorm parents is dolled out. I do have to say I had a couple moments in my room where teachers would actually check in on homework/projects at night & see how progress was coming, or if we had questions. I still have mixed feelings about that! Though it was definitely always for my benefit.I know other students had requested roommates, but I never did. We were allowed to keep a mini fridge in the room. I don't remember ever ever having a need unmet. There was always someone with an open door.
Dining:
1.) Describe the dining arrangements at your school.
Our dining hall food was not camp food, or crappy cafeteria food. We had hot meals and a cold/salad bar available every day. They were fantastic about allergies, and we had a cultural food night once a semester where students would make family recipes. The round tables in the dining room meant it was harder to be excluded from a table. And it encouraged conversation. These tables were also used for All School meetings once a week during lunch. We were allowed a minifridge in our dorm rooms if we wanted to have breakfast in PJs, and we could take extra snacks to our room, or buy food in town to keep in our rooms.
Social and Town Life:
1.) Describe the school's town and surrounding area.
Idyllwild is rustic, hippy, small, and arts oriented. The town center has all the hearty artisan shops with none of the hipster aesthetic. It's quaint, but doesn't skimp on good food or good people. I don't remember a solid book store- I hope they've grown one!
2.) Describe the social life at your school - what did you like most about it?
Because everyone at the school loved an art as much as I did, it was difficult to find someone I didn't admire. I never tried to. I'm still friends with fellow classmates, and Idyllwild provides me with friends even now, because any alumni I meet is sure to feel just as fondly about IAA. In bigger or public schools, friends are made by students in the same classes. But at Idylwild, it's small enough with enough common interest that friendships are made with every other year, or dorm neighbor, or teacher.
Daily Schedule:
Weekday
8:00 AM
homework/rehearsal
Weekend
1:00 AM
Elective academic class
1:00 AM
Free van trips to town
Idyllwild Arts Academy is renowned for its dedication to providing a comprehensive arts education. The school serves pupils in grades 9 through 12 and provides a wide variety of artistic disciplines, such as music, dance. . .
Comprehensive Arts Education: Idyllwild Arts Academy's dedication to providing a comprehensive arts education is one of its standout features. The academy offers a wide variety of artistic disciplines, including music, dance, visual arts, drama, film. . .
The academy lays a lot of emphasis on encouraging its students' creativity, focus, and artistic expression. A strong academic program is combined with a demanding arts curriculum to give children a well-rounded education. Students are. . .
Show more reviews (

21 reviews

)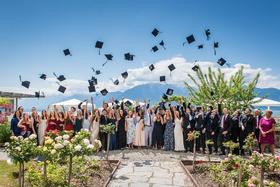 Nurturing Futures: A Journey through Boarding at Haut-Lac School in Switzerland
Nestled in the hills overlooking Lake Geneva in the French-speaking part of Switzerland lies an educational gem that embodies a unique blend of academic excellence, cultural richness and a profound sense of community. Founded over 30 years ago, Haut-Lac International Bilingual Day and Boarding School is now home to both 600 day students and a maximum of 30 boarders from around the world.
What To Wear at Your Job Interview
Navigating job interviews can be stressful, but knowing what to wear shouldn't be. Our comprehensive guide covers the essential dress code tips for men and women interviewing at boarding schools. Make your first impression count with style and professionalism.
Navigating the Modern Maze: Emerging Challenges for Boarding Schools
Explore the pressing challenges facing boarding schools, from marketing difficulties and rising insurance costs to facility maintenance and recruitment of competent trustees and teachers. This article delves into these complex issues and proposes innovative strategies to overcome them.